Download CBSE Class 10 Social Science Manufacturing Industries Notes Set A in PDF format. All Revision notes for Class 10 Social Science have been designed as per the latest syllabus and updated chapters given in your textbook for Social Science in Standard 10. Our teachers have designed these concept notes for the benefit of Grade 10 students. You should use these chapter wise notes for revision on daily basis. These study notes can also be used for learning each chapter and its important and difficult topics or revision just before your exams to help you get better scores in upcoming examinations, You can also use Printable notes for Class 10 Social Science for faster revision of difficult topics and get higher rank. After reading these notes also refer to MCQ questions for Class 10 Social Science given our website
Manufacturing Industries Class 10 Social Science Revision Notes
Class 10 Social Science students should refer to the following concepts and notes for Manufacturing Industries in standard 10. These exam notes for Grade 10 Social Science will be very useful for upcoming class tests and examinations and help you to score good marks
Manufacturing Industries Notes Class 10 Social Science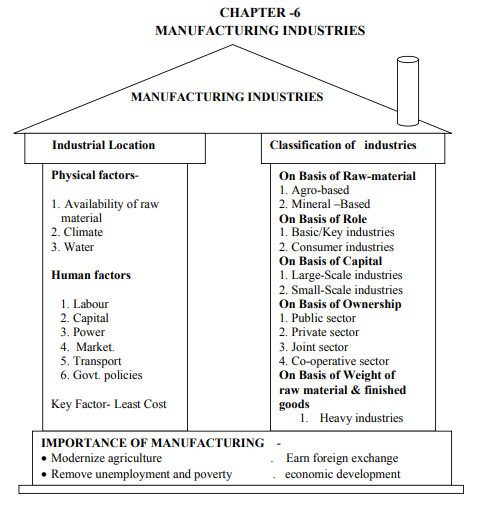 Key Points to Remember-
· Manufacturing –It is production of goods in large quantities after processing raw materials to more valuable Products.
· NMCC(National Manufacturing Competitiveness Council) -It was set up when it was felt that, with appropriate policy interventions by the government and renewed efforts industries can improve productivity and achieve its target
· Agro-based industries:- Industries based on agricultural raw materials for example cotton textiles jute textiles, silk textiles, synthetic textiles, sugar industry
· Mineral-based industries: Industries using minerals as their raw materials- iron and steel, cement, chemical industries, Aluminum smelting, copper smelting, fertilizer industry etc.
· Small scale industry- Investment is rupees one crore.
· Large Scale Industries- Investment is more than one crore.
SHORT ANSWER TYPE
1. What are agglomeration economies?
• Many industries tend to come together to make, use of the advantages offered by the urban institutions such as banking, insurance, transport, labour. This is known as agglomeration economies.
2. Which factors are responsible for the decentralization of cotton textile mills in India?
• Cotton textile have a very high demand throughout the country.
• Major inputs like banking, electricity, transportation are available in almost every part of the country
• Textile industry is labour intensive industry and labour is easily available in India.
• Textile industry requires less technological inputs and can be carried out using simple tools and machines.
3. What are the major problems of cotton textile industry?
• Lack of good quality long staple cotton
• Erratic power supply
• Out dated machinery and technology
• Low output of workers
• Stiff International Competition
4. What are the factors responsible for Jute industry in Hugli basin?
• Proximity of jute producing areas
• Inexpensive water transport
• Well-connected roads, rail and waterways.
• Abundant water
• Cheap labour from adjoining areas
• Banking facilities in Kolkata
5. What were the major objectives of National Jute Policy 2005? Why is the internal demand for jute increasing?
• To increase the productivity
• To improve the quality
• Ensuring good prices to the jute farmers
• Enhancing the yield per hectare
• The internal demand for jute has been on the increase because -
o Government policy of mandatory use of jute packaging
o The growing global concern for environment friendly biodegradable materials.
6. Why is iron and steel industry called a basic industry?
• It is the industry which lays the foundation of rapid development of other industries such as Heavy Engineering,Defence equipment,Automobiles,Aeroplanes etc.
• It is also helpful in providing employment.
• It also helps in the economic development
7. The sugar industry is now shifting from north to south. Mention main reasons.
• The sugar contents in the cane is higher i.e. 10.5% in Maharashtra and other southern states.
• Climate is suitable for the cultivation of sugarcane.
• South has better export facilities as compared to North.
• Cooperative sugar mills are more successful in management in south India.
• The Peninsular climate helps to extend the crushing season by two months in the south India than north India.
8. How are integrated steel plants different from mini steel plants?
• Integrated Steel Plant is larger in size than Mini Steel Plant.
• Integrated Steel Plant handle everything in one single Complex from putting together raw material to steel making, rolling and shaping while the Mini steel Plants use steel scrap, sponge iron and sometimes steel ingots supplied by integrated Steel Plants.
• Integrated Steel Plants manufacture all types of steel but Mini steel Plants produce mild and alloy steel of give specification
9. Discuss the steps to be taken to minimise environmental degradation by industries.
• Restricting use of fossil fuels and using hydel power
• Fitting smoke stacks to factories with electrostatic precipitators, fabric filters, scrubbers and inertial separators.
• Discharging the dirty water after treating it.
• Machinery and equipment and generators can be fitted with silencers
• Redesign machinery to make them energy efficient and to reduce noise.
Important Questions NCERT Class 10 Social Science Chapter 6 Manufacturing Industries
Question. Why has the 'National Manufacturing Competitiveness Council' been set-up?
Ans. To improve the productivity of the industrial sector. However, this has been wound up in March 2016.
Question. Mention any two factors that have contribute to a healthy growth of the automobile industry in India? Name two centres where this industry is located.
Ans. (i) The introduction of new and contemporary models stimulated the demand for vehicles in India.
(ii) Foreign Direct Investment (FDI) brought in new technology and aligned the industry with global development. The two centres of automobile industry are Jamshedpur and Gurgaon.
Question. Which one of the following has been the major source of foreign exchange for IT industry?
(a) BHEL
(b) SAIL
(c) BPO
(d) OIL
Ans. (c) BPO
Question. Explain any five measures to control industrial pollution in India.
Ans. Five ways to reduce industrial pollution are as follows :
(i) Restructuring the manufacturing processes to reduce pollutant by pollution prevention methods.
(ii) Creating cooling ponds, which are designed to cool the hot waters from industries.
(iii) Treatment of sewage in water treatment plants attached to industries.
(iv) Polluting industries should be set-up far from residential areas.
(v) Industries must follow the government norms of pollution control strictly.
Question. Classify industries on the basis of capital investment. How are they different from one another? Explain with examples.
Ans. (i) Classification of the industries on the basis of capital investment :
(a) Small Scale Industry (b) Large Scale industry
(ii) Difference :
Small scale Industries : They employ less number of people and capital. Most of the work is done by small machines and manpower. They use less raw material and their production is also less. Example Radio, TV making, agricultural implements etc.
Large scale Industries : These industries employ large number of people and capital. Work is done by large machines and manpower. They use large amount of raw materials and produce more products. Examples are textile industry, steel industry, etc.
Question. What is the importance of the information technology sector for the Indian economy? Explain.
Ans. The importance of IT sector is as follows :
(i) It has provided employment to over one million people.
(ii) This industry is a major foreign exchange earner.
(iii) It has helped in the growth of the service sector in India.
Please click the link below to download pdf file for CBSE Class 10 Social Science Manufacturing Industries Notes Set A.
Click for more Social Science Study Material
›