Download CBSE Class 10 Social Science Nationalist Movement In Indo China Notes in PDF format. All Revision notes for Class 10 Social Science have been designed as per the latest syllabus and updated chapters given in your textbook for Social Science in Standard 10. Our teachers have designed these concept notes for the benefit of Grade 10 students. You should use these chapter wise notes for revision on daily basis. These study notes can also be used for learning each chapter and its important and difficult topics or revision just before your exams to help you get better scores in upcoming examinations, You can also use Printable notes for Class 10 Social Science for faster revision of difficult topics and get higher rank. After reading these notes also refer to MCQ questions for Class 10 Social Science given our website
Nationalist Movement In Indo China Class 10 Social Science Revision Notes
Class 10 Social Science students should refer to the following concepts and notes for Nationalist Movement In Indo China in standard 10. These exam notes for Grade 10 Social Science will be very useful for upcoming class tests and examinations and help you to score good marks
Nationalist Movement In Indo China Notes Class 10 Social Science
CHAPTER-2
NATIONALIST MOVEMENT IN INDO-CHINA
INDO-CHINA- Comprises of Vietnam, Laos and Cambodia – French colony
Dilemma of colonial education- Education was limited to few in Vietnam by French- French education
institutions were introduced to reduce Chinese culture- Education was intended to establish an Asiatic
France- But a few French officials were against it as they feared loss of employment for colons.
PAUL BERNARD- A influential writer and policy maker of the French in Indo-China.
The Tonkin free school was established in 1907 to provide western style of education Huynh Phu So was the founder of Hoi Hai movement.
Rat hunt was started in 1902 the French hired Vietnamese workers and paid them for each rat they caught - natives cheated the masters in rat hunt.
In 1907-8, some 300 Vietnamese student went to Japan to acquire modern education, to drive out the French from Vietnam- Go East Movement
Ho Chi Minh Trail - An immense network of footpaths and roads used to transport men and materials from North Vietnam to South Vietnam.
'Electrical fuses of Vietnam' – Nghe An and Ha Tien – revolutionary activities Communist movement and Vietnamese Nationalism Vietnamese communist party by Ho Chi Minh – Vietminh
Role of women- Women as rebels-Role plays in women-Trang sisters-Trieu Au against china- Women as warriors and portrait as young, brave and dedicated – Guyana Thi-Xuan
US intervention- fear of communism- War between USA and Vietnam
Vietnamese war with US called 'Television war'- Battle scenes were shown on the daily news programs
of Televisions- B52s, chemical weapons –Napalm and Agent Orange and phosphorous bombs - types of weapons used by US in Vietnam
John Wayne's- Green Berets - Film that supported the war John Ford Coppola's - Apocalypse Now- critical of the war
End of the War - Defeat of US in the war - Unification of Vietnam under Communist rule In 1975, Vietnam became new independent nation.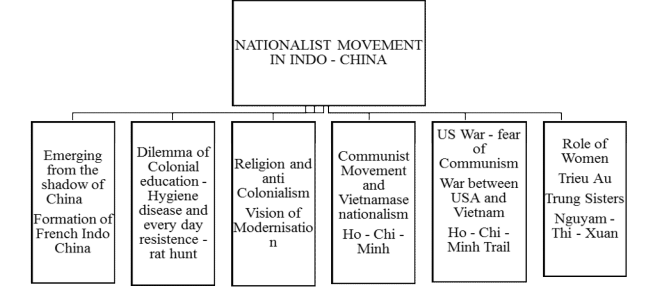 SHORT ANSWER TYPE QUESTIONS 
1. What are the economic barriers to Vietnam identified by Paul Bernard?
Ans. High population in Vietnam - Low agricultural productivity-Extensive indebtedness among peasants-Lack of industries.

2. Why there aroused difference over the medium of instruction in the school during the French reign in Vietnam?
Ans. Some policy makers emphasized the need for French language as the medium of instruction-By learning French the Vietnamese would familiarize the western culture –Asiatic France –Loyal to French Govt.-The others suggested for Vietnamese to be taught in lower classes and the French can be taught in higher classes-Continue their ties with China.

3. How was the school text books reflected in Vietnam during the French Rule?
Ans. The text books glorified French and colonial rule-The Vietnamese were treated as primitive and backward-They are manual labourers and skilled copyists but not creative.

4. What was the role of women in the Anti-Imperial Struggle in Vietnam?
Ans. They worked as potters, carried 25kgs of food and war material on their back.-They helped the wounded, dug tunnels to save the army-They neutralized tens of thousands of bombs and short down many enemy planes-They kept open many strategic roads and guarded key points.

5. What were the causes of defeat of French forces in the battle of Dien Bien Phu?
Ans.The valley where the French garrisons were located was flooded in the monsoons which made it impossible for the French forces and tanks to move-The whole area was covered with bushes and jungles making it difficult for the French air force to trace anti-aircraft guns hidden in bushes and the jungles.
LONG ANSWERS TYPE QUESTIONS(5 MARKS)
1. The battle against French colonial education became part of the larger battle colonization and for independence. Explain
Ans.Teachers and students should not follow the curriculum of French Govt-Students fought the colonial efforts to prevent Vietnamese getting white collar job-They fought with patriotic feeling- Students formed political associations- There were protest from different schools.
2. What were the causes of US involvement in war in Vietnam?
Ans. Foremost was the fear of spread of communism in Vietnam-US regarded the spread of communism as a great danger to the capitalist countries-The next cause was US entry in Vietnam was an insult that France had to face in Vietnam-US wanted to crush Vietnam at all cost to save the prestige of the capitalist countries-The Geneva conference had divided Vietnam into 2 parts-North and South Vietnam-When Ho Chi Minh government in North Vietnam and National Liberation Front in South Vietnam tried to unify the two parts, in violation of Geneva conference, US could not tolerate this and hence, she decided to intervene in Vietnam.

3. Explain the role of religious groups in the resistance movement against French Colonialism.
Ans.Vietnam was the centre of many religions like Buddhism, Confucianism and local practice-The French Missionaries very often destroyed the religious beliefs of Vietnamese-Many religious movements started by Vietnamese-The Scholars revolts of 1868 organized by some officials to fight against Christianity-Thousands of Catholics were killed- Hoa-Hao Movement was very popular movement in Mekong Delta which roused anti-colonial feeling.
4. Briefly explain the communist movements in Vietnam.
Ans.In Vietnam communist movement was started under Ho Chi Minh-He founded the Vietnam communist party Vietminh-the communist waged a series of struggles against USA and France- During World war II when Japan attacked Vietnam the communist party of Vietnam bravely fought against both Japan and France and captured Hanoi- The North Vietnam Republic was established byVietminh there after-Though French retained its control in south through Bao Dai was also defeated by the communists-In 1954, as per general agreement the Vietnam was renamed as north and south separately under Vietnamese and French respectively-But Ho Chi Minh along with NLF fought for an undivided Vietnam-With the intension of checking the growth of communism, later USA intervened in Vietnam-After defeating US, Vietnam was united under communist rule.

5. What was Phan Chu Trinh's objective for Vietnam? How were his ideas different from those of Phan Boi Chau?
• Ans. Phan Chu Trinh was a Vietnamese nationalist. He sought to end France's brutal occupation of Vietnam- He was intensely hostile to the monarchy and opposed to the idea of resisting the French with the help of the court-He was influenced by democratic ideas of the west.
• Phan Boi Chau was greatly influenced by Confucian ideas. His plan was to use the monarchy and the court to drive out the French.

Additional questions:
1 .What are the characteristics of Tonkin Free School?
2. Discuss the importance of Ho Chi Minh Trail in US war with Vietnam.
3. How did schools in Vietnam play its role in the resistance movement?
4. Explain the role of Ho Chi Minh in Vietnamese national movement?
5. What type of weapons were used by US forces in Vietnam War?
6. How did the Vietnamese make use of the Rat Hunt?
7. What steps have been taken by the French to increase rice cultivation in Vietnam?
Please click the link below to download pdf file for CBSE Class 10 Social Science Nationalist Movement In Indo China Notes
Click for more Social Science Study Material
›