Download CBSE Class 10 Geography Mineral and Energy Resources Notes Set A in PDF format. All Revision notes for Class 10 Social Science have been designed as per the latest syllabus and updated chapters given in your textbook for Social Science in Standard 10. Our teachers have designed these concept notes for the benefit of Grade 10 students. You should use these chapter wise notes for revision on daily basis. These study notes can also be used for learning each chapter and its important and difficult topics or revision just before your exams to help you get better scores in upcoming examinations, You can also use Printable notes for Class 10 Social Science for faster revision of difficult topics and get higher rank. After reading these notes also refer to MCQ questions for Class 10 Social Science given our website
MINERAL & ENERGY RESOURCES
MINERAL
Geologists define mineral as a "homogenous, naturally occurring substance with a definable internal structure and chemical composition.
Rocks are combinations of homogenous substances called minerals.
A particular mineral that will be formed from a certain combination of elements depends upon the physical and chemical conditions under which the material forms.
1. Importance of minerals for a country:
(i) Minerals are an indispensable part of our lives, Almost everything we use are made up of minerals.
(ii) Car, buses, trains , aeroplanes are manufactured from minerals and run on power resources derived from the earth.
(iii) Even the food that we eat contains minerals.
(iv) In all stages of development, human beings have used minerals for their livelihood, decoration, festivities, religious and ceremonial rites.
2. Classification of minerals: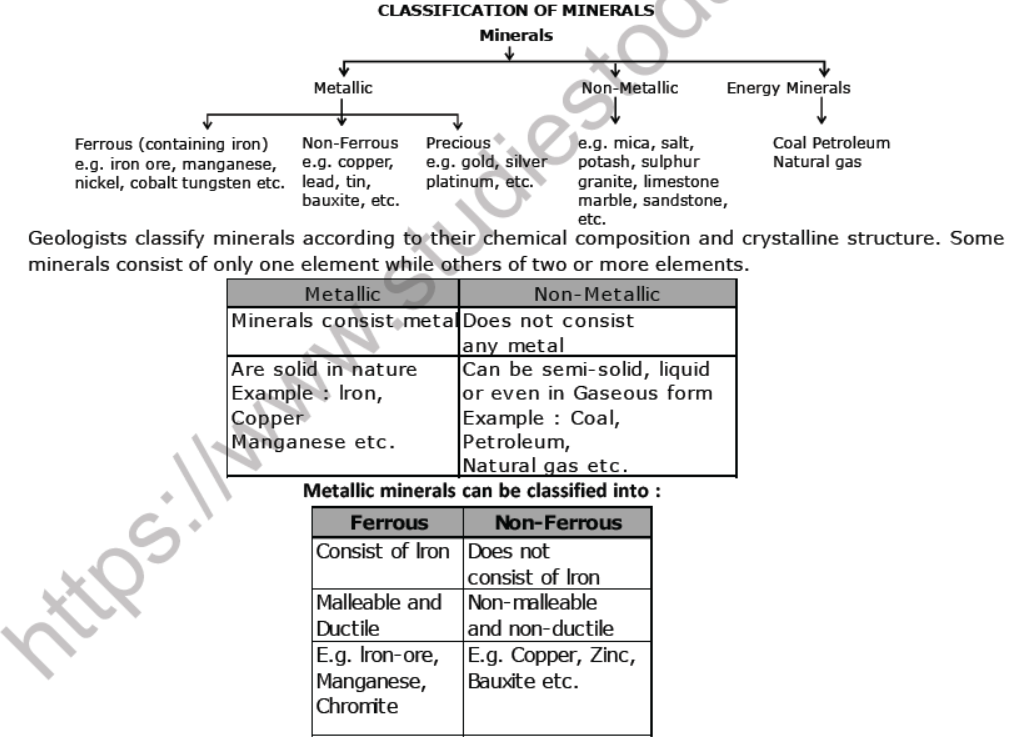 3. "India has fairly rich and varied mineral resources" :
(i) Peninsular rocks contain most of the reserves of coal, metallic minerals, mica and many other non-metallic minerals.
(ii) Sedimentary rocks on the western and eastern flanks of the peninsula, in Gujarat and Assam have most of the petroleum deposits .
(iii) Rajasthan with the rock systems of the peninsula has reserves of many nonferrous minerals.
(iv) The vast alluvial plains of north India are almost devoid of economic minerals.
These variations exist largely because of the differences in the geological structure, processes and time involved in the formation of minerals.
The concentration of mineral in the area, the ease of extraction and closeness to the market play an important role in affecting the economic viability of a reserve.
MODE OF OCCURRENCE OF MINERALS
1. In Igneous and Metamorphic rocks, minerals mainly occur in the cracks, crevices, faults or joints. The smaller occurrences are called veins and the larger are called lodes. Major metallic minerals like tin, copper, zinc and lead etc., are obtained from veins and lodes.
2. In sedimentary rocks a number of minerals occur in beds or layers. They have been formed as a result of deposition, accumulation and concentration in horizontal strata. Coal, iron ore, gypsum, potash salt and sodium salt are a few examples.
3. Decomposition of surface rocks, and the removal of soluble constituents, leaves a residual mass of weathered material containing ores. Bauxite is formed this way.
4. 'Placer deposits', occur as alluvial deposits in sands of valley floors and the base of hills. Gold, silver, tin and platinum is most important among such minerals.
5. The ocean water contains vast quantities of minerals, for example common salt, magnesium and bromide.
FERROUS MINERALS
1. Iron ore :
Importance:
(i) Backbone of modern civilization.
(ii) Metal of universal use.
(iii) Used for manufacturing of machines, agricultural implements and items of general use.
Varieties:
(i) Magnetite: The finest iron ore with a very high content of iron up to 70 percent. It has excellent magnetic qualities, especially valuable in the electrical industry.
(ii) Hematite: The most important industrial iron ore in terms of the quantity used, but has a slightly lower iron content than magnetite. (50-60 percent) Major iron ore belts in India:
(i) Orissa-Jharkhand belt: Badampahar mines in the Mayurbhanj and Kendujhar districts. Gua and Noamundi mines in Singbhum district of Jharkhand.
(ii) Durg-Bastar-Chandrapur belt lies in Chhattisgarh and Maharashtra. Bailadila range of hills in the Bastar district of Chattisgarh comprise of 14 deposits of super high grade hematite iron ore, has the best physical properties needed for steel making, is exported to Japan and South Korea via Vishakapatnam port.
(iii) Bellary-Chitradurga-Chikmaglur-Tumkur belt, Kudremukh mines in the Western Ghats of Karnataka.
(iv) Maharashtra-Goa belt includes the state of Goa and Ratnagiri district 'of Maharashtra.
2. Manganese ore :
Importance:
(i) Used for making Iron and Steel and preparing ferro-manganese alloys.
(ii) Used for manufacturing Bleaching powder, Insecticides, Paints and Batteries.
Orissa is the largest producer of manganese ore in India. It accounted for one-third of the country's total production in 2000-01.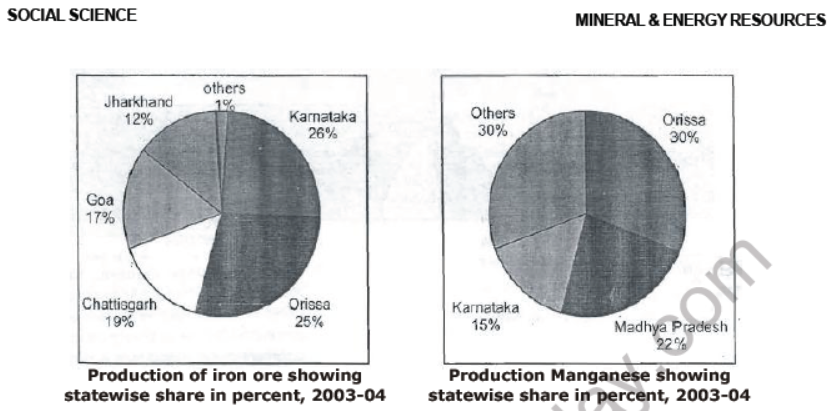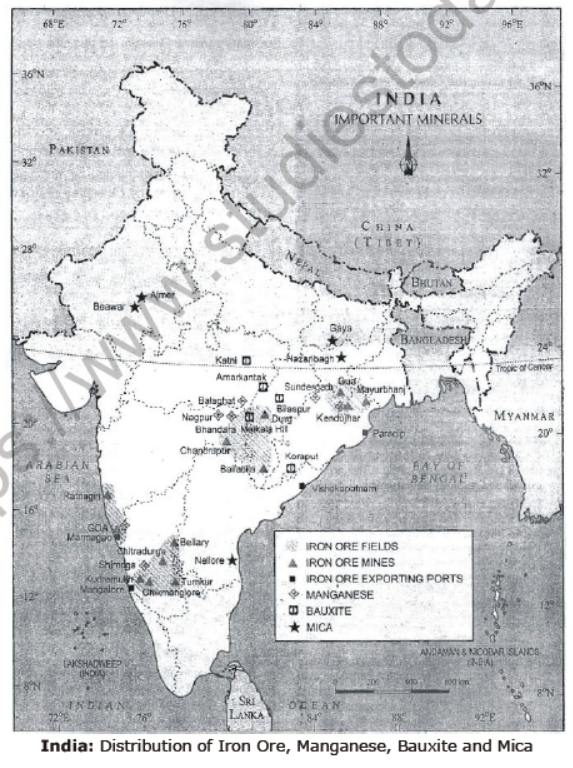 NON-FERROUS MINERALS
1. Copper :
(i) India is critically deficient in the reserve and production of copper.
(ii) Being malleable, ductile and a good conductor, is mainly used for making electrical cables and in electronics and chemical industries.
(iii) Found in Madhya Pradesh, Rajasthan, Jharkhand, Karnataka and Andhra Pradesh (The Balaghat mines in Madhya Pradesh produce 52 percent of lndia's copper production. The Singbhum district of Jharkhand is also a leading producer of copper. The Khetri mines in Rajasthan are also famous.)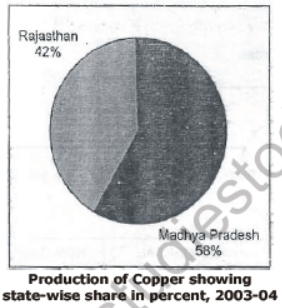 Please click the link below to download CBSE Class 10 Geography Mineral and Energy Resources Notes Set A.
Click for more Social Science Study Material
›