Download CBSE Class 10 Social Science Lifelines Of National Economy Notes Set A in PDF format. All Revision notes for Class 10 Social Science have been designed as per the latest syllabus and updated chapters given in your textbook for Social Science in Standard 10. Our teachers have designed these concept notes for the benefit of Grade 10 students. You should use these chapter wise notes for revision on daily basis. These study notes can also be used for learning each chapter and its important and difficult topics or revision just before your exams to help you get better scores in upcoming examinations, You can also use Printable notes for Class 10 Social Science for faster revision of difficult topics and get higher rank. After reading these notes also refer to MCQ questions for Class 10 Social Science given our website
Lifelines Of National Economy Class 10 Social Science Revision Notes
Class 10 Social Science students should refer to the following concepts and notes for Lifelines Of National Economy in standard 10. These exam notes for Grade 10 Social Science will be very useful for upcoming class tests and examinations and help you to score good marks
Lifelines Of National Economy Notes Class 10 Social Science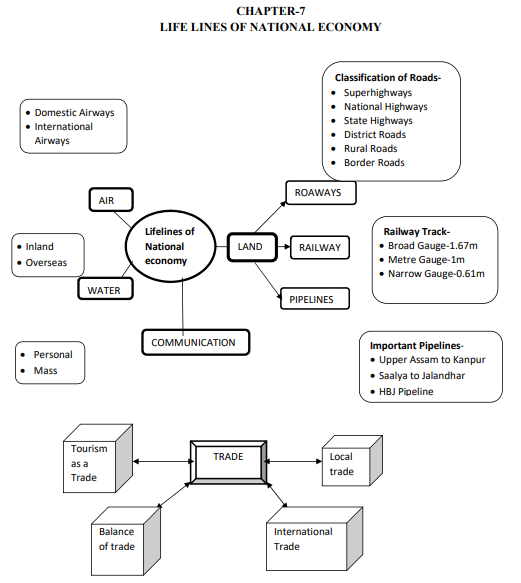 Key points to remember
· Road Density -The length of road per 100 sq kms of area is known as density of roads.
· Golden Quadrilateral Super Highways -It is major road development project linking the four metropolitan cities-Delhi, Kolkata, Mumbai and Chennai by six lane super highways.
· North-South Corridor- Roads linking Srinagar to Kanya Kumari.
· East-West Corridor- Road slinking Siltier (Assam) to Porbandar(Gujarat)
· National Highways- Major roads connecting state capitals and metropolitan cities of a country.
· State Highways- Roads linking a state capitals with different district headquarters.
· International Trade-Trade between two countries is called international trade
• Export: When the goods are sent to other country for sale it is called as export.
• Import: When the goods come from other country to be sold in India it is called import.
• Balance of Payment: This is the difference between export and import of a country.
SHORT ANSWER TYPE (3 MARKS)
1.Why is air travel preferred in North-East?
• Uneven and mountain terrain,Dense forests, Presence of big rivers,frequent floods, international frontiers.
2.Write three advantage of waterways.
• Cheapest means of transport,can carry heavy and bulky goods, do not cause air pollution.
3.Name three National waterways .
• The Ganga river between Allahabad and Haldia
• Brahamaputra river between Sadiya and Dhubri
• West Coast Canal in Kerala.
LONG ANSWER TYPE (5 MARKS)
1. What are the advantages of transport?
• Facilitates easy and free movement of people from one place to another.
• Helps to carry goods and materials from one place to another
• Helps in production and distribution of goods.
• Connect markets with the production centres.
• Promotes easy accessibility of goods and services.
• Helps in development of trade and commerce.
• Helps to increase the volume of the Trade.
2. What are the problems faced by Indian roadways?
• Road network is inadequate for increasing volume of traffic.
• About half of the roads are unmetalled.
• The National Highways are inadequate and are poorly maintained.
• The roadways are highly congested in cities and are lacking safety measures.
• Most of the bridges and culverts are old and narrow.
• Lack of proper security measures.
3. What are the Problems Faced by Indian Railways?
• Requires huge investment at the time of installation.
• Maintenance and upkeep is very costly.
• Construction is difficult and costly in uneven and high hills and deserts.
• Not suitable for transportation of perishable goods.
• Ticket-less travellers.
• Thefts and damaging of railway property.
• Unnecessarily chain pulling to stop train.
• Gauge Conversions.
• Sinking and slipping of tracks in rains.
• Modernization and Electrification.
4. Why is transport and communication called lifelines of a country?
• Connects far lying areas of the country
• They benefit trade and commerce
• Help in the development of agriculture and industry.
• Helpful during calamities
• Promotes unity of the country
Please click the link below to download pdf file for CBSE Class 10 Social Science Lifelines Of National Economy Notes
Click for more Social Science Study Material
›