Download CBSE Class 10 Social Science Resources And Development Notes Set B in PDF format. All Revision notes for Class 10 Social Science have been designed as per the latest syllabus and updated chapters given in your textbook for Social Science in Standard 10. Our teachers have designed these concept notes for the benefit of Grade 10 students. You should use these chapter wise notes for revision on daily basis. These study notes can also be used for learning each chapter and its important and difficult topics or revision just before your exams to help you get better scores in upcoming examinations, You can also use Printable notes for Class 10 Social Science for faster revision of difficult topics and get higher rank. After reading these notes also refer to MCQ questions for Class 10 Social Science given our website
Resources And Development Class 10 Social Science Revision Notes
Class 10 Social Science students should refer to the following concepts and notes for Resources And Development in standard 10. These exam notes for Grade 10 Social Science will be very useful for upcoming class tests and examinations and help you to score good marks
Resources And Development Notes Class 10 Social Science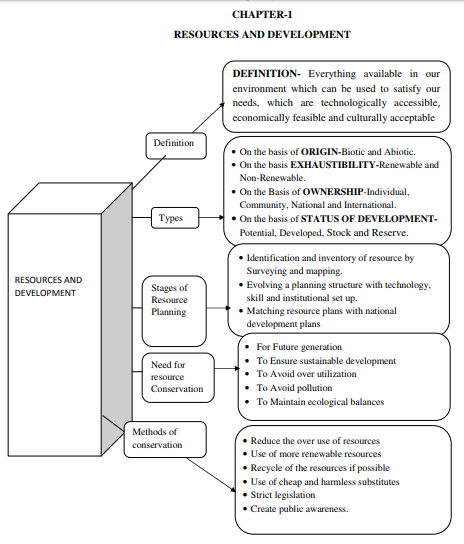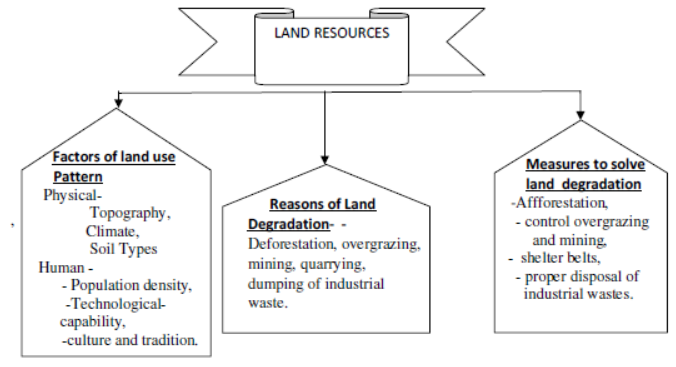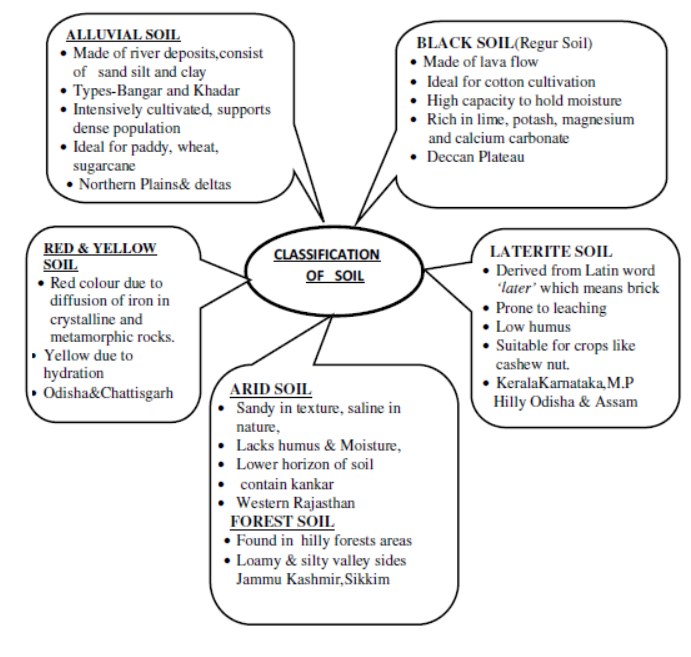 Key Concepts to Remember-

• Renewable Resources- Resources which can be reproduces or renewed by physical, chemical or mechanical process. Eg.Solar, wind.
• Non-Renewable Resources-Resources which get exhausted with their use.Eg. Coal, Petroleum.
• Individual resources-Owned by individuals Eg. Own land, House.
• Community Owned Resources- Resources which are accessible to all the members of the community Eg. Parks, Playground.
• National Resources-Resources which belong to the nation. Eg. Roads, Railways.
• International resources-Resources which no individual country can utilize. Eg. Oceanic waters beyond 200 km
• Potential resources-Resources found in a region but not in use. Eg. Solar Energy in Rajasthan, wind in Gujarat.
• Stock- Resources available but do not have appropriate technology to access.Eg Lack of technical know how to use hydrogen and oxygen as source of energy.
• Reserve- Subset of stock. Can be used for future needs.Eg. Water in the dams, forest resources.
• Development of Resources
• It means the extraction and utilization of resources using the available technology, to satisfy human needs.
• Sustainable development
a)Development should take place without damaging the environment.
b)Present development status should continue and grow in future.
c)Development in the present should not compromise with the needs of the future
• Land under important relief features in India –
Plains-43%,Mountains-30%, Plateaus-27%
• Land Degradation
Continuous use of land over a long period of time without taking appropriate measures to conserve and manage it.
• Soil erosion
The denudation of the soil cover and subsequent washing down is soil erosion.
• Reasons for soil erosion include
a) Human activities like deforestation, over grazing, construction, mining, defective method of farming etc
b) Natural forces like wind, glacier and water flow

Types of Erosion
• Gully Erosion-the running water cuts through the clayey soils and makes deep channels known as gullies.This makes the land bad land and in the Chambal basin such land is
known as ravines.
• Sheet Erosion-When top soil over large area is washed away it is known as sheet erosion.
• Methods to prevent Soil Erosion in Hilly Area
a) Ploughing along the contour lines-contour ploughing
b) Terrace cultivation
c) Strip farming
d) Shelter belts
Important Questions NCERT Class 10 Social Science Chapter 1 Resources and Development
Question. What are resources which are found in a region but have not been utilised called?
Ans. Potential resources
Question. How is over irrigation responsible for land degradation in Punjab?
Ans. Over irrigation in Punjab causes the lowering in fertility rate of the soil because of water logging leading to increased salinity and alkalinity of the soil.
Question. Why is soil considered as a resource? Explain with five arguments.
Ans. (i) Soil is considered as a resource because it is used to satisfy our needs.
(ii) It is the most important renewable natural resource.
(iii) It is the medium of plant growth.
(iv) It supports different types of living organisms on the earth.
Question. Distinguish between red soil and laterite soil stating any three points of distinction.
Ans. Red soils
(i) Red soil is formed due to weathering of igneous and metamorphic rocks.
(ii) It is highly porous and less fertile but where it is deep it is fertile.
(iii) It is less crystalline.
(iv) It is red in colour due to presence of iron in it. They occur in parts of Tamil Nadu, Karnataka, Andhra Pradesh, Orissa and Jharkhand.
Laterite soil
(i) It is formed by the leaching process in the heavy rainfall areas of tropical India.
(ii) It is less fertile, only grass grows on it in abundance.
(iii) It is crystalline.
(iv) It is found in hills of the Deccan, Karnataka, Kerala, Orissa, Assam and Meghalaya.
Question. Which geographical factors are responsible for the evolution of black soil? Why is it considered the most suitable for growing cotton?
Ans. (i) Climatic conditions along with present rock material are important factors for making of black soil. The parent rock is volcanic rocks.
(ii) It is ideal for growing cotton because of the following reasons :
(a) It has capacity to hold moisture.
(b) It is rich in soil nutrients such as calcium carbonate and potash.
(c) Deep cracks in the soil help in aeration.
Question. Describe any three measures of controlling land degradation.
Ans. (i) Afforestation and proper management of grazing can help in controlling of land degradation.
(ii) Planting of shelter belts, control on overgrazing, stabilisation of sand dune by growing thorny bushes, are important ways.
(iii) Proper management of wastelands, control of mixing activities, proper discharge and disposal of industrial effluents and wastes after treatment can reduce land and water degradation in industrial and sub-urban areas. These are some of the methods to check land degradation.
Question. What are the three stages of resource planning in India? Why is it essential to have resource planning?
Ans. Resource planning is a technique or skill for proper utilization of resources.
(a) As resources are limited, their planning is necessary so that we can use them properly and also save them for our future generation.
(b) Resources are not only limited but they are distributed over different parts of the country.
(c) Resource planning is also essential for production of resources and to protect them from over exploitation.
Also,
(i) Identification and inventory of resources across the regions of the country.
(ii) Evolving a planned structure endowed with appropriate technology, skill and institutional set up for implementing resource development plans.
(iii) Match the resource development plans with overall national development plans.
Please click the link below to download pdf file for CBSE Class 10 Social Science Resources and Development Notes Set B
Click for more Social Science Study Material
›