Download CBSE Class 10 Social Science Democratic Politics Notes in PDF format. All Revision notes for Class 10 Social Science have been designed as per the latest syllabus and updated chapters given in your textbook for Social Science in Standard 10. Our teachers have designed these concept notes for the benefit of Grade 10 students. You should use these chapter wise notes for revision on daily basis. These study notes can also be used for learning each chapter and its important and difficult topics or revision just before your exams to help you get better scores in upcoming examinations, You can also use Printable notes for Class 10 Social Science for faster revision of difficult topics and get higher rank. After reading these notes also refer to MCQ questions for Class 10 Social Science given our website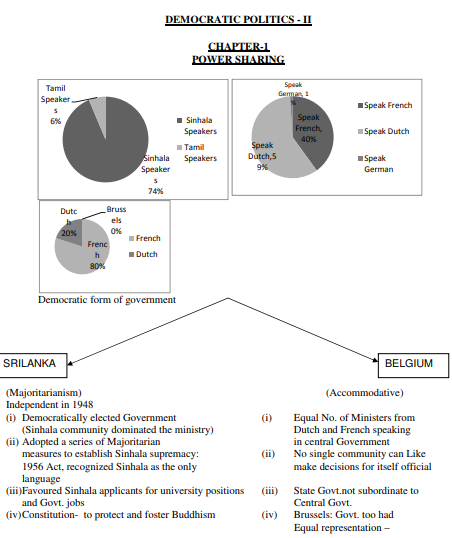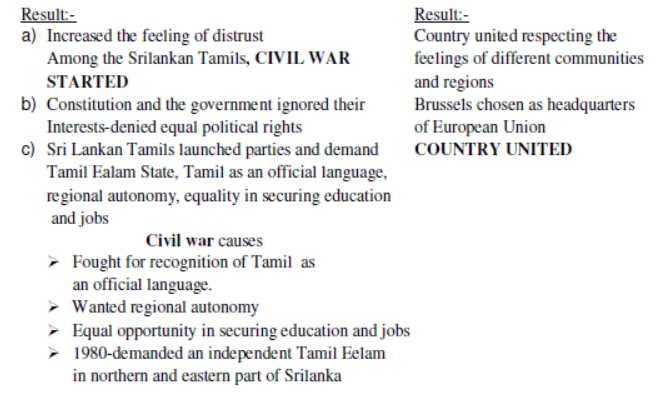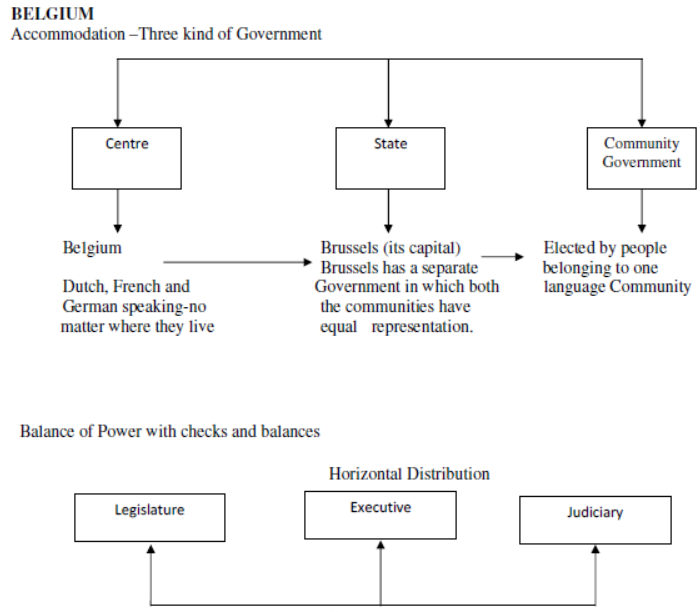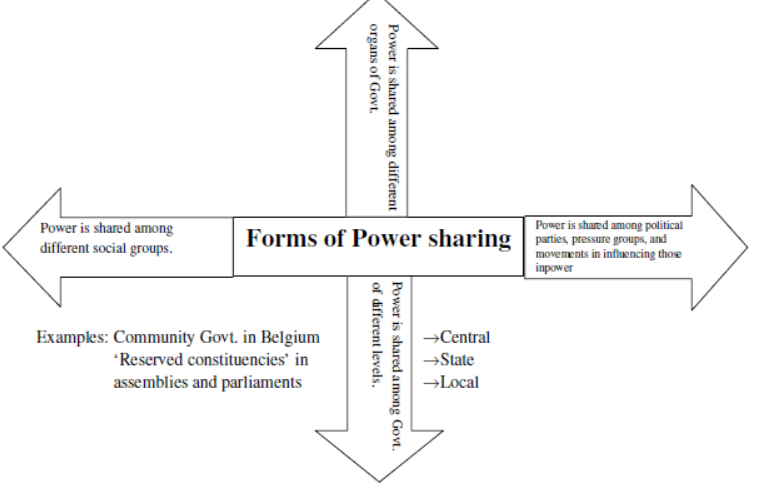 ANSWER THE FOLLOWING-[3-MARKS]
1. Mention the three causes for the Civil War in Sri Lanka?
The distrust between the two communities, Sinhala and Tamil turned into conflict.
The Srilankan Tamils had launched Parties and struggles -
• Their demand for more autonomy to provinces populated by the Tamils was denied.
• Struggles for the recognition of Tamil as an official language, for regional autonomy and equality of opportunity in securing education and jobs failed.
• In 1980s several political organizations were formed demanding an independent Tamil Eelam [state] in northeren and eastern part of Srilanka. It soon turned into a Civil War.

2. List the three merits of Power Sharing?
• Power sharing is a good way to ensure the stability of political order.
• It is the very spirit of democracy.
• It brings in the unity of the nation.

3. How has the democratically elected government in Srilanka established 'Majoritarian, measures?
• In 1956,an Act was passed to recognize Sinhala as the only official language, disregarding Tamil.
• The government followed Preferential policies that favoured Sinhala applicants for University positions and government jobs.
• Protected and fostered Buddhism.

4. Why has Brussels ,been chosen as the headquarters of the European Union?
• They recognized the existence of regional differences and cultural diversities and the arrangement [Accommodation] they worked out is different from any other country and is innovative.
• It has avoided Civic problems and division on linguistic basis, instead brought stability.
• Though complicated, this arrangement has enabled everyone to live together within the same country.

5. How is the system of ' checks and balances' maintained among the different organs of the government?
• Power is shared among the different organs of the government such as the
• legislature, executive and judiciary.
• It allows different organs of the government placed at the same level to exercise different powers.
• Such a separation ensures that none of the organs can exercise unlimited power. Each organ checks the other .This result in balance of power.

LONG ANSWERS QUESTIONS [5marks]

Q.1 How has the Belgian government solved its ethnic Problem?
• The Path of accommodation adopted in Belgium -
• Dutch and French speaking ministers shall be equal in the central govt.
• Many Powers of the central government have been given to state govt. The state Govt is not subordinate to the Central Govt.
• Brussels has a separate Govt. in which both the communities have equal representation.
• There is a third kind of Govt. called community Govt. elected by the people belonging to Dutch, French and German no matter where they live.
• When many countries of Europe came together to form the Europe union, Brussels was chosen as its headquarters.

Q.2- Explain the four forms of Power Sharing with examples.
• Horizontal distribution of power.[between the organs of the government-Legislature,
• Executive and Judiciary]- India
• Vertical distribution of power. [among Central level, state level and local level] - India
• Power sharing among different social groups.[ Community Government, [Belgium]
• reserved seats, Women ]- India
• Power sharing among different political parties, Pressure groups and Movements.- In India [Coalition government]

VALUE BASED QUESTION
1. Give any four values that can be promoted through Power sharing.
2. Unity and Understanding , Respect for each other, Caring and Sharing, Trust and Peace and appreciate each others culture, religion, language.

QUESTION BANK
Q.1 Why is power sharing good for democracies? Why is it desirable in the modern world?
Q.2 Explain how the Civil War can be turned down and peace be restored in Srilanka .
Q.3 Explain different forms of power sharing in modern democracies.
Q.4 Explain the drawbacks of majoritarianism.
Q.5 Give a comparative analysis between Belgium and India.
Q.6 What is a 'Community Government'- How is this formed in Belgium.
Q.7 How is the balance of power maintained among the three organs of the government?
Q.8 Why do we have 'reserved constituencies'?
Please click the link below to download pdf file for CBSE Class 10 Social Science Democratic Politics Notes.
Click for more Social Science Study Material
›