Download CBSE Class 10 Social Science Agriculture Notes in PDF format. All Revision notes for Class 10 Social Science have been designed as per the latest syllabus and updated chapters given in your textbook for Social Science in Standard 10. Our teachers have designed these concept notes for the benefit of Grade 10 students. You should use these chapter wise notes for revision on daily basis. These study notes can also be used for learning each chapter and its important and difficult topics or revision just before your exams to help you get better scores in upcoming examinations, You can also use Printable notes for Class 10 Social Science for faster revision of difficult topics and get higher rank. After reading these notes also refer to MCQ questions for Class 10 Social Science given our website
Agriculture Class 10 Social Science Revision Notes
Class 10 Social Science students should refer to the following concepts and notes for Agriculture in standard 10. These exam notes for Grade 10 Social Science will be very useful for upcoming class tests and examinations and help you to score good marks
Agriculture Notes Class 10 Social Science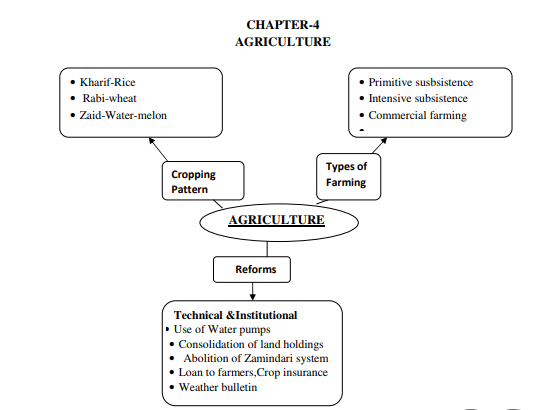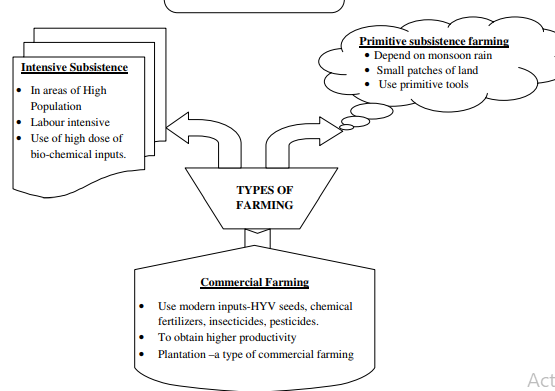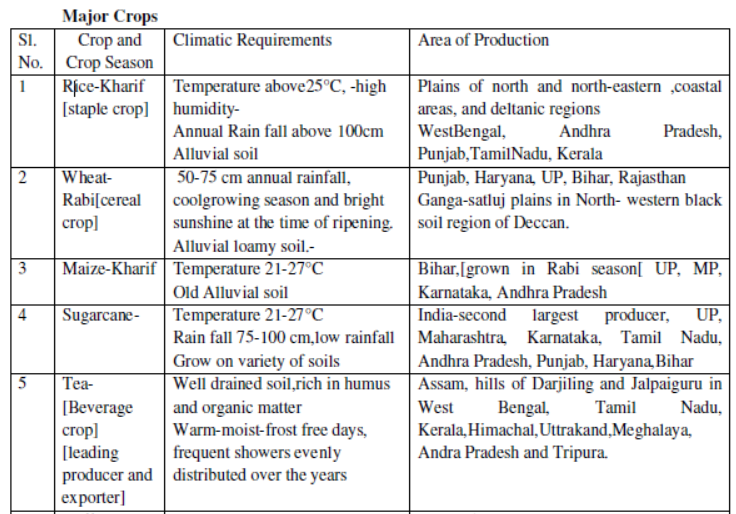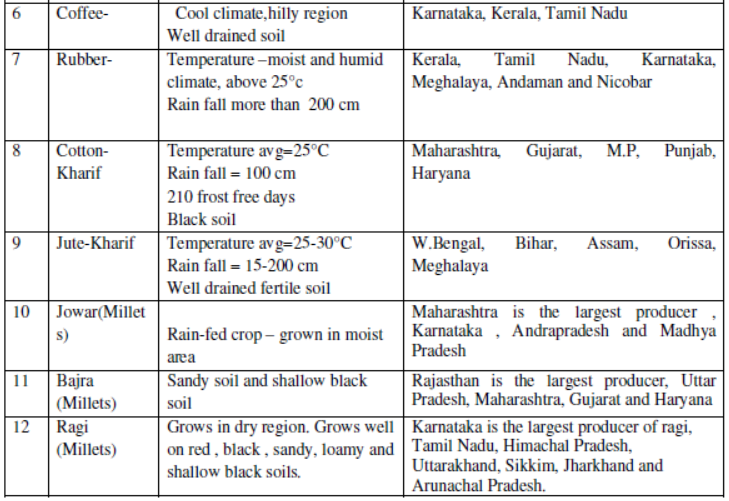 • Slash and burn' agriculture -Clears a patch of forest land and produce crops, when the soil fertility decreases the farmer shifts and clear a fresh patch of land, known by different
names in different parts of India- like Jhumming,mostly done in the Northeastern-states
• Rabi Crops-Sown in Winter from October to December and harvested in Summer from April to June-eg. Wheat, Barley, Peas, Gram
• Kharif Crops-Grown with the onset of the Monsoon, harvested in September Octobereg. paddy, Maize, Jowar, Bajra
• Zaid Crops-in between Rabi and Kharif season-short season during the summer monthseg. water melon, cucumber.

Question and Answer (3 Mark)
1. Write the uses of jute. Why is it losing its market in India today?
• It is known as the golden fibre. It is used in making gunny bags, mats, ropes, yarn, carpets and other artefacts. Due to its high cost, it is losing market to synthetic fibres and packing materials, particularly the nylon.
2. List the two beverage crop of India and write the climatic conditions need for its growth.
• Tea- Well drained soil,rich in humus and organic matter-Warm-moist-frost freedays,frequent showers evenly distributed over the years Coffee- Cool climate,hilly region - Well drained soil Question and Answer (5 Marks)
3. Explain any five features of Indian agriculture.
• Intensive subsistence, labour intensive farming, high doses of bio chemical inputs and irrigation are used for obtaining high yield. The right of inheritance has led to
division of land among successive generations.

CLASS X –MAP WORK FOR SA-I GEOGRAPHY
Chapter 1 : Resources and Development
Identification only : Major soil Types.
Chapter 3 : Water Resources-Locating and Labelling - Dams:
• Salal
• Bhakra Nangal
• Tehri
• Rana Pratap Sagar
• Sardar Sarovar
• Hirakud
• Nagarjuna Sagar
• Tungabhadra (Along with rivers)
Chapter 4 : Agriculture-Identification only
(a) Major areas of rice and wheat.
(b) Largest / Major producer states of sugarcane; tea; coffee; rubber; cotton and jute.
( Location and labelling)
History- No Map 
Important Questions NCERT Class 10 Social Science Chapter 4 Agriculture
Question. Describe 'Jhumming cultivation' in one sentence.
Ans. Slash and burn cultivation in the NE region of India.
Question. Name the two most important staple food crops of India. Name the states where they are produced. Write the geographical conditions required for their growth.
Ans. The most important staple crops are rice and wheat. The states where they are grown and geographical conditions for the production of rice and wheat are :
Parameter

Rice

Wheat

States where grown (major states in decreasing order)

West Bengal, Andhra Pradesh, Uttar Pradesh, Punjab and Odisha

Uttar Pradesh, Punjab, Haryana, Rajasthan

and Madhya

Pradesh
Soil

Clay or clay loam (Good water retention capacity)

Well-drained fertile soil, heavy textured soil with lime, clayey loamy

soil or black soil

Temperature

Above 25° C

10° – 15°C during growth and 25° - 28°C at ripening

Rainfall

Above 100 cm

50-75 cm

Question. What is the importance of millets?
Ans. In addition to their good nutritional value, an important feature of these crops is that they require much less water to grow than rice and wheat. They can be successfully cultivated in semi-arid tropics and on poor soils.
Question. Why has Indian agriculture started to decline in the trend of food production? How can we overcome this problem?
Ans. Indian agriculture started a decline in the trend of food production because :
(i) More and more land is used for construction of factories, warehouses and shelters. This has reduced good land under cultivation.
(ii) Soil gets degraded by the use of pesticides, fertilizers, over-irrigation, etc., which leads to water logging and salinity.
Remedial measures:
(i) Use of agricultural techniques which are environmentally sustainable.
(ii) Use of biotechnology in modifying different crops and increase the yield per hectare. It reduces dependence on insecticides and also require less water.
Question. Categories the following as 'Rabi crops' and 'Zaid crops' :
(i) Wheat (ii) Watermelon
(iii) Fodder crops (iv) Mustard
(v) Cucumber (vi) Peas
Ans. 
| | |
| --- | --- |
| Rabi Crops | Zaid Crops |
| Wheat, pea, and mustard | Watermelon, cucumber, fodder crops |
Question. What are millets? Give brief description of the climatic conditions and producing states of the millets grown in India.
Ans. Millets are coarse grains but have high nutritional value e.g., ragi-rich in iron, calcium.
(i) Jowar – Rain fed crop mostly grows in moist area.
(ii) Bajra – grows well on sandy soils and shallow black soil.
States producing – Rajasthan, Maharashtra, Gujrat, Haryana and U.P.
(iii) Ragi – grows well in dry region on red, black, sandy and loamy soils.
States producing – Tamil Nadu, Himachal Pradesh, Uttarakhand and Sikkim.
Please click the link below to download pdf file for CBSE Class 10 Social Science Agriculture Notes
Click for more Social Science Study Material
›