Read and download free pdf of CBSE Class 8 Mathematics Squares and Square Roots Assignment Set D. Get printable school Assignments for Class 8 Squares and Square Roots. Standard 8 students should practise questions and answers given here for Squares and Square Roots in Grade 8 which will help them to strengthen their understanding of all important topics. Students should also download free pdf of Printable Worksheets for Class 8 Squares and Square Roots prepared as per the latest books and syllabus issued by NCERT, CBSE, KVS and do problems daily to score better marks in tests and examinations
Squares and Square Roots Assignment for Class 8
Class 8 Squares and Square Roots students should refer to the following printable assignment in Pdf in standard 8. This test paper with questions and answers for Grade 8 Squares and Square Roots will be very useful for exams and help you to score good marks
Class 8 Squares and Square Roots Assignment Pdf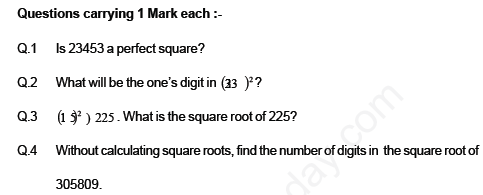 Questions carrying 2 Marks each:-
Q.5 Without adding, find the sum : 1+3+5+7+9.
Q.6 How many numbers lie between squares of 30 and 31?
Q.7 Find the square root of 144 by using method of repeated subtraction.
Questions carrying 3 marks each:-
Q.8 Using property, find the square of a number ending in 5, the number is 3 2-.
Q.9 Find the smallest number by which 2100 must be multiplied so that the product become a perfect square. Find the square root of the number so obtained.
Q.10 11025 students are sitting in a lawn in such a way that there are as many students in a row as there are rows in the lawn. Find the number of rows in the lawn.
Click on link below to download CBSE Class 8 Mathematics Squares and Square Roots Assignment Set D
Click for more Squares and Square Roots Study Material
›