Read and download free pdf of CBSE Class 10 English Notice Assignment. Get printable school Assignments for Class 10 English. Standard 10 students should practise questions and answers given here for Notice English in Grade 10 which will help them to strengthen their understanding of all important topics. Students should also download free pdf of Printable Worksheets for Class 10 English prepared as per the latest books and syllabus issued by NCERT, CBSE, KVS and do problems daily to score better marks in tests and examinations
Assignment for Class 10 English Notice
Class 10 English students should refer to the following printable assignment in Pdf for Notice in standard 10. This test paper with questions and answers for Grade 10 English will be very useful for exams and help you to score good marks
Notice Class 10 English Assignment
CBSE Class 10 English Notice Assignment. Students are advised to refer to the attached assignments and practice them regularly. This will help them to identify their weak areas and will help them to score better in examination. Parents should download and give the assignments to their children for practice.
A Notice is a short piece of writing, formal in style and it contains information that has to be brought to the notice of people.
Objectives
to announce events/celebrations
to issue important instructions
to make appeals
to extend invitations
Points to Remember
(1) The name of the organization /school/colony and place should be on the top.
(2) The word 'NOTICE' should be mentioned in capital letters.
(3) A precise title should be given.
(4) Date of the issue of the notice should be written clearly .Date of the deadline or the last date should be clearly stated.
(5) Target-group, i.e. the classes or students for whom the notice is meant.
(6) Every notice should be undersigned with the designation of the person, who is issuing the notice.
7) The language is formal or semi-formal depending upon the objective of the notice.
(8) Other details like duration of the programme, chief guest etc can also be included.
Occasions
Cultural and extra-curricular activities
Picnics, tours and trips
And Requests Lost and Found
Sport sand Tournaments Change of Name
Relating to Common Problem
FORMAT OF THE NOTICE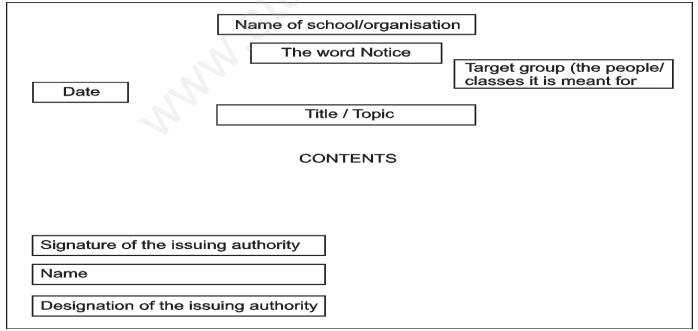 Please click the link below to download CBSE Class 10 English Notice Assignment
Books recommended by teachers