Read and download free pdf of CBSE Class 10 English Email Assignment. Get printable school Assignments for Class 10 English. Standard 10 students should practise questions and answers given here for Email English in Grade 10 which will help them to strengthen their understanding of all important topics. Students should also download free pdf of Printable Worksheets for Class 10 English prepared as per the latest books and syllabus issued by NCERT, CBSE, KVS and do problems daily to score better marks in tests and examinations
Assignment for Class 10 English Email
Class 10 English students should refer to the following printable assignment in Pdf for Email in standard 10. This test paper with questions and answers for Grade 10 English will be very useful for exams and help you to score good marks
Email Class 10 English Assignment
CBSE Class 10 English Email Assignment. Students are advised to refer to the attached assignments and practice them regularly. This will help them to identify their weak areas and will help them to score better in examination. Parents should download and give the assignments to their children for practice.
E-mail is one of the most widely used services on the Internet. It has replaced most conventional means of interpersonal and official communication. With the advent of the Internet, this kind of communication has grown by leaps and bounds and is most favoured by people of all age groups. Today it has replaced the telegram and the telex.
Advantages
¶ E-mail speeds up information; making it almost instantaneous.
¶  It is usually a free service.
¶ It is the easiest way to communicate with a large number of people or groups.
¶ E-mail is very easy to use.
¶ There are many sites where contacts can be made – allowing one to search by area, country or any part of the world.
¶ E-mail is an excellent means of developing collaborative learning or researching.
¶ E-mail is ideal for educational benefits and a great motivation for learning. It is most useful and convenient for Distance Education.
¶ It has reduced paper work to a great extent.
¶ Since less manpower is required, e-mail has become very economical over a period of time.
*Word limit 120 words
Format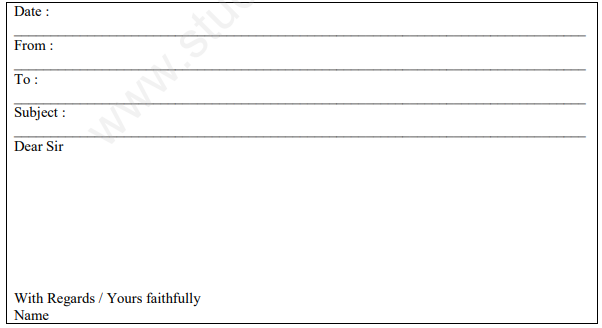 Please click the link below to download CBSE Class 10 English Email Assignment
Books recommended by teachers