Read and download free pdf of CBSE Class 10 English Mrs Packletides Tiger Assignment Set B. Get printable school Assignments for Class 10 English. Standard 10 students should practise questions and answers given here for English in Grade 10 which will help them to strengthen their understanding of all important topics. Students should also download free pdf of Printable Worksheets for Class 10 English prepared as per the latest books and syllabus issued by NCERT, CBSE, KVS and do problems daily to score better marks in tests and examinations
Mrs Packletides Tiger Class 10 English Assignment Pdf
Class 10 English students should refer to the following printable assignment in Pdf for Mrs Packletides Tiger in standard 10. This test paper with questions and answers for Grade 10 English will be very useful for exams and help you to score good marks
Class 10 English Assignment for Mrs Packletides Tiger
CBSE Class 10 English Mrs Packletides Tiger Assignment Set B. Students are advised to refer to the attached assignments and practice them regularly. This will help them to identify their weak areas and will help them to score better in examination. Parents should download and give the assignments to their children for practice.
SUMMARY
The story is a sarcastic remark on the artificiality prevailing in modern 'civilized' society with the depiction of the event of tiger 'hunting' undertaken by 'Nimrod' like Mrs. Packletide.
Mrs. Packletide wishes to kill a tiger out of her jealousy for her bete noire, Miss LoonaBimberton's recently achieved popularity.
She has the intention of killing two birds with the same stone by killing a tigergaining fame and humiliating Loona.
A manipulated tiger hunting expedition is arranged by the 'commercial instinct' villagers of a nearby village at the outskirt of which a tired, old, weak, domestic animal's dependent tiger lives.
The artificial hunting exercise is given a natural look by involving over-anxious, money minded 'paid companion' Miss Louisa Mebbin.
On the destined day of hunting, Mrs. Packletide misfires the bullet which hits the bait (a high pitched bleating goat) which dies then and there; the targeted tiger also dies because of heart failure as it could not bear the sound of the bullet.
Villagers celebrate the killing of the tiger, but Miss Mebbin draws the attention of Mrs. Packletide towards the fact that the wrong animal is killed.
Mrs. Packletide believes that she can manage everyone by using his money power but she doesn't know that she will have to pay heavily to her 'paid companion' to keep mum.
Miss Mebbin blackmails her and gets financial gains and is ultimately able to manage a week-end-cottage from her money.
Mrs. Packletide now avoids indulging herself in any new sports as she realises that 'incidental' expenses of such misadventures are very hard to bear.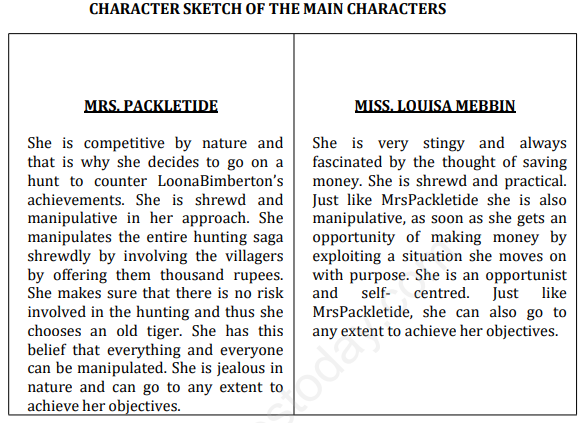 Please click the link below to download CBSE Class 10 English Mrs Packletides Tiger Assignment Set B
Click for more English Study Material
›