Read and download PDF of CBSE Class 12 Multimedia WebTech Sample Paper 2019 Solved designed as per the latest curriculum and examination pattern for Class 12 issued by CBSE, NCERT and KVS. The latest Class 12 Multimedia and Web Technology Sample Papers have been provided with solutions so that the students can solve these practice papers and then compare their answers. This will help them to identify mistakes and improvement areas in Multimedia and Web Technology Standard 12 which they need to study more to get better marks in Grade 12 exams. After solving these guess papers also refer to solved Class 12 Multimedia and Web Technology Question Papers available on our website to build strong understanding of the subject
Multimedia and Web Technology Sample Paper Class 12 2019
Students can refer to the below Class 12 Multimedia and Web Technology Sample Paper designed to help students understand the pattern of questions that will be asked in Grade 12 exams. Please download CBSE Class 12 Multimedia WebTech Sample Paper 2019 Solved
Multimedia and Web Technology Class 12 Sample Paper 2019
CBSE Class 12 Multimedia WebTech Sample Paper 2019 Solved. CBSE issues sample papers every year for students for class 12 board exams. Students should solve the CBSE issued sample papers to understand the pattern of the question paper which will come in class 12 board exams this year. The sample papers have been provided with marking scheme. It's always recommended to practice as many CBSE sample papers as possible before the board examinations. Sample papers should be always practiced in examination condition at home or school and the student should show the answers to teachers for checking or compare with the answers provided. Students can download the sample papers in pdf format free and score better marks in examinations. Refer to other links too for latest sample papers.
Q1. (a) Shreya wants to work on database management software. Suggest her any two examples of common database management  ystem. 
(b) What is field in a database? Give an example. 
(c) Define and identify the primary key in the following table: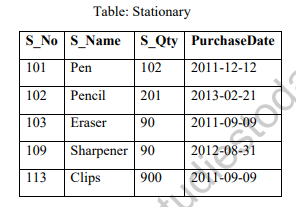 (d) Shweta wants to delete the records where the "FirstName" is "Rahul" in the "Emp" Table. She has entered the following SQL statement. An error is being displayed. Rewrite the correct statement. 
DELETE "Rahul" FirstName FROM Emp;
(e) Differentiate between JPEG and GIF image. 
(f) Explain the term "Publishing a Flash Movie"? Name the extension of the file created when a Flash movie is published using a Macintosh projector. 
(g) Mention any one use of Multimedia in healthcare. 
Q2. Answer the following question based on Macromedia Flash:
(a) What is Frame rate?
(b) Differentiate between Motion Tweening and Shape Tweening. 
(c) Name any two movie file formats. 
(d) Define layer. Write one advantage of using layers in Flash.
Please click the link below to download full pdf file for CBSE Class 12 Multimedia WebTech Sample Paper 2019 Solved.
Click for more Other Subjects Study Material
›