CBSE Class 12 Reconstitution of Partnership. Learning the important concepts is very important for every student to get better marks in examinations. The concepts should be clear which will help in faster learning. The attached concepts made as per NCERT and CBSE pattern will help the student to understand the chapter and score better marks in the examinations.
CHAPTER 3
Reconstitution of Partnership
Meaning of Reconstitution:
Any change in agreement of partnershipis called reconstitution of partnership firm. In following circumstances a partnership firm may be reconstituted:
1. Change in Profit Sharing Ratio
2. Admission of a partner
3. Retirement/Death of a partner
Change in profit sharing ratio among the existing partners 
Meaning:
When all the partners of a firm agree to change their profit sharing ratio, the ratio may be changed. In this case one profit is purchasing a share of partner from another one. In other words, share of one partner may increase and share of another partner may decrease.
Accounting treatment of goodwill: 
In case of change in profit sharing ratio, the gaining partner must compensate the sacrificing partner by paying the proportionate amount of goodwill. 
Illustration 1 Amit and Kajal were partners in a firm sharing profits in the ratio of 3:2. With effect from January 1,2012 they agreed to share profits equally. For this purpose the goodwill of the firm was valued at '60,000. Pass the necessary journal entry.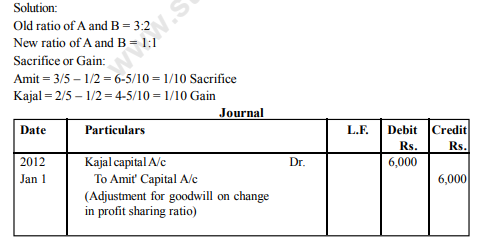 Accounting treatment of Reserves and Accumulated Profits: Case (i) When reserves and accumulated profits/losses are to be distributed At the time of change in profit sharing ratio, if there are some reserves or accumulated profits/losses existing in the books of the firm, these should be distributed to partners in their old profit sharing ratio. 
Illustration 2 : Vaishali, Vinod and Anjali are partners sharing profits in the ratio of 4:3:2. From April 1,2011, they decided to share the profits equally. On that date their books showed a credit balance of '3,60,000 in the profit and loss account and a balance of ' 90,000 in the General reserve. Record the journal entry for distribution of these profits and reserves.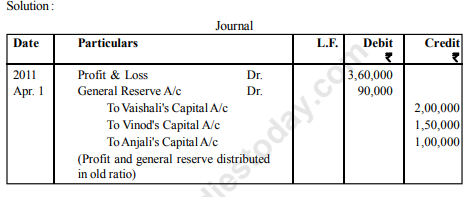 Please click the link below to download pdf file for CBSE Class 12 Reconstitution of Partnership.
Click for more Accountancy Study Material
›