Download CBSE Class 12 Accountancy Financial Statement Of Companies Notes in PDF format. All Revision notes for Class 12 Accountancy have been designed as per the latest syllabus and updated chapters given in your textbook for Accountancy in Standard 12. Our teachers have designed these concept notes for the benefit of Grade 12 students. You should use these chapter wise notes for revision on daily basis. These study notes can also be used for learning each chapter and its important and difficult topics or revision just before your exams to help you get better scores in upcoming examinations, You can also use Printable notes for Class 12 Accountancy for faster revision of difficult topics and get higher rank. After reading these notes also refer to MCQ questions for Class 12 Accountancy given our website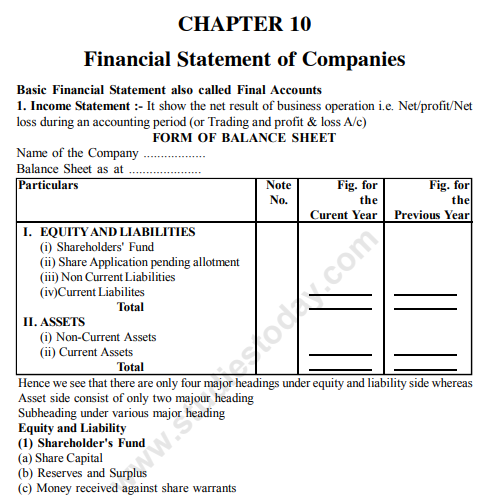 Financial Statement Analysis
Meaning ­ In the words of Finney and miller 'Financial Analysis consists in separating facts according to some definite plan arranging them in groups according to certain circumstances and then presenting them in a convenient and easily readable and understandable form.'
Objectives/Need
­• To measure the profitability of the business
­­• To measure the financial strength of the business
­•­ To make comparative study within the firm and with other forms
­­• To judge the effciency of Management
­­•To provide useful information to the Management
­•To find out the capability of payment of interest, dividend etc.
­­• To find out the trend of the business
Significance or Importance of Financial Analysis
For Management ­ To know the profitability, liquidity and solvency condition to measure the effectiveness of own decision taken and take corrective measure in future.
For Investors :­ Want to know the earning capacity and future growth prospects of the business which helps in assessing the safety of their investment and reasonable return. For Creditors :­ Short term creditors want to know the liquidity condition of the business where as long term creditors want to know the solvency will be able to pay the interest constantly.
For Govt. :­ To know the profitability condition for taking taxation decision and to find out the company.
For Employees :­ To know the progress of the company for assessing Bonus, increase in wages and ensure stability of their job.
Limitation of Financial Analysis
­­• Based on basic financial statement which themselves suffer from certain limitations.
­­• Don't reflect changes in price level.
­•­ Affected by the personal ability and bias of the Analyst.
­ ­•Lack of qualitative analysis as only those transaction and events are recorded which can be measured in terms of money.
­ ­• When different accounting policies are followed then the comparison of two financial statement becomes unreliable.
­•­ Single years' Analysis of financial statement have limited use.
Types of financial Analysis
Horizontal Analysis :­ In this, figure for two or more years are compared and analyzed. It is also called dynamic Analyses.
Examples :­ Comparison of sales, profits, cost of goods sold for two or more than 2 years. Vertical Ananlysis :­ In this type, Financial Statement for a single year is analyzed. It involves the study of relationship between two quantities of balance sheet or P & L A/c of a single years or period.
Example :­ Common size statements.
Tool of Financial Analysis
Comparative Statement :­ Financial Statement of two years is compared. Absolute change and then the percentage change in figure are calculated. It is a form of Horizontal Analysis Common Size Statement : Various figure of single year Financial Statement are converted in to percentage with resepect to some common base. In Income Statement sales in take as base (i.e.100) where as in Balance Shettotal assets are taken as base.
Trend Analysis :­ Here trend percentage are calculted for a number of years taking one year as a base year. This helps is assessing the trend of increase or decrease in various items.
Accounting Ratios :­ Study of relationship between various items is known as Ratio analysis.
Cash Flow Statement :­ It shows the inflow and outflow of cash and cash equivalents during a particular period which helps in finding out the causes of changes in cash between the two dates.
Fund Flow Statement :­ It indicates the reasons of changing in working capital during a particular time period. It shows sources (inflow) and Applications (Outflow) of funds.

Break ­ even Analysis :­ It is a point where total of sales is exactly equal to the total of cost to the total of cost of sales i.e. the firm has neither any profit nor any loss. It is also
calledas No Profit­No Loss Point. Comparative Statement Preparation :­ Steps :­
­Put the fig. of Financial Statement of two year side by side (previous year amount in the Ist column
­In the next column write the difference of the two fig. For increase with respect to the previous year's (+) sign and Decrease put (­) sign.­ Percentage increase or decrease is calculated by the formula given below :­
Absolute increase or decrease * 100
Fig. for the previous year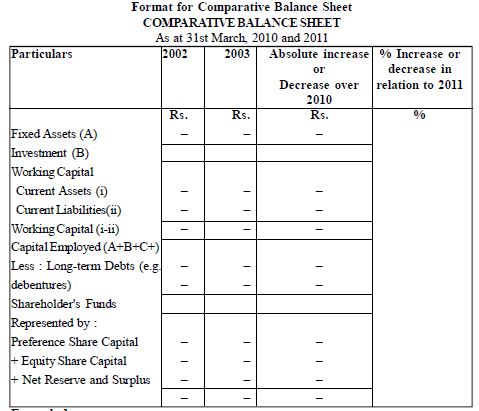 Format for Comparative Balance Sheet COMPARATIVE BALANCE SHEET
Please click the link below to download pdf file for CBSE Class 12 Financial Statement of Companies.
Click for more Accountancy Study Material
›