Download printable Social Science Class 7 Worksheets in pdf format, CBSE Class 7 Social Science Inside Our Earth Worksheet Set A has been prepared as per the latest syllabus and exam pattern issued by CBSE, NCERT and KVS. Also download free pdf Social Science Class 7 Assignments and practice them daily to get better marks in tests and exams for Grade 7. Free chapter wise worksheets with answers have been designed by Standard 7 teachers as per latest examination pattern
Worksheet for Class 7 Social Science Our Environment Chapter 2 Inside our Earth
Class 7 Social Science students should refer to the following printable worksheet in Pdf for Our Environment Chapter 2 Inside our Earth in Grade 7. This test paper with questions and solutions for Standard 7 Social Science will be very useful for tests and exams and help you to score better marks
Our Environment Chapter 2 Inside our Earth Class 7 Social Science Worksheet Pdf
Very Short Answer Type Questions
Question. How many shells of the earth are there? Name them.
Answer : There are three shells of the earth: -
1. Lithosphere (crust)
2. Mantle,
3. Core.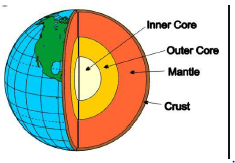 Question. Write down about the Mantle part of the earth.
Answer : Below the upper layers of earth is Mantle. It is 2900 km deep. It is also called SIMA because of its' main elements Silicon and Magnesium.
Question. How can we avoid soil erosion?
Answer : 1. By planting new trees
2. By adopting better agricultural practices
3. By checking over grazing etc.
Short Answer Type Questions
Question. What are the Sedimentary rocks? How many types are there of these rocks?
Answer : These rocks are formed by the hardening of the layers of the matter brought by agents of denudation (like water, air and river etc.).
There are three types of sedimentary rocks: -
1. Clastic
2. Chemical
3. Organic.
Question. What kind of mineral is Mica? For what purpose is it used?
Answer : Mica is a non-metallic mineral. It is used in making electric goods. It is also used in making lamps, paints, radars, rubber, paper, aeroplanes etc.
Question. Write down the importance of the soil on the earth.
Answer : Fertile soil has always been very important for human civilizations. The fertile soils of Indus, Nile etc. led to the development of the civilizations. Even today high density of population is found in fertile river valleys and plains.
I NAME THE FOLLOWING:
1. The remains of dead plants and animals trapped in the layers of rocks –________________________
2. The upper most layer of the earth's surface - _____________________
3. The rocks formed when molten magma cools – ________________
4. The rocks formed by change of form of original rocks -____________________________
5. The innermost layer of the earth – ____________________
II COMPLETE THE TABLE :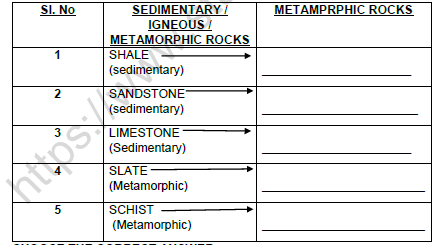 III CHOOSE THE CORRECT ANSWER :
1. Red Fort is made up of ___________________________
a. Red marble b. Red sandstone c. Red limestone
2. The Taj Mahal is made up of ____________________
a. White marble b. white limestone c. white quartzite
3. The main constituent of the continental mass are _________________
a. silica & alumina b. silica & magnesium c. silica & nickel
4. Grinding stones are made up of ________________
a. quartzite b. granite c. basalt
5. ________________ makes up 84% of the earth by volume.
a. crust b. mantle c. core
IV ANSWER THE FOLLOWING QUESTIONS IN 2 POINTS:
1. What are rocks?
2. Define minerals.
3. State any two uses of rocks.
V ANSWER THE FOLLOWING QUESTIONS IN THREE POINTS:
4. How are extrusive rocks formed?
5. How are intrusive rocks formed?
VI ANSWER THE FOLLOWING QUESTIONS IN FOUR POINTS:
6. Explain in detail the formation of sedimentary rocks.
7. Describe the rock cycle.
VII LABEL THE FOLLOWING DIAGRAMS:
Please click on below link to download CBSE Class 7 Social Science Inside Our Earth Worksheet Set A
Books recommended by teachers