Download printable Social Science Class 7 Worksheets in pdf format, CBSE Class 7 Social Science On Equality Worksheet Set A has been prepared as per the latest syllabus and exam pattern issued by CBSE, NCERT and KVS. Also download free pdf Social Science Class 7 Assignments and practice them daily to get better marks in tests and exams for Grade 7. Free chapter wise worksheets with answers have been designed by Standard 7 teachers as per latest examination pattern
Worksheet for Class 7 Social Science Social and Political Life II Chapter 1 On Equality
Class 7 Social Science students should refer to the following printable worksheet in Pdf for Social and Political Life II Chapter 1 On Equality in Grade 7. This test paper with questions and solutions for Standard 7 Social Science will be very useful for tests and exams and help you to score better marks
Social and Political Life II Chapter 1 On Equality Class 7 Social Science Worksheet Pdf
Very Short Answer Type Question

Question. What do you understand by democracy?
Answer : Democracy is a form of government which is elected by the people.
Question. What is the importance of 'Universal Adult Franchise'?
Answer : People elect the Govt. by casting their votes. If a Govt. does not work as per the will of the citizens, they can change the Govt.
Question. In which country there is still 'Direct Democracy'?
Answer : Switzerland.
Short Answer Type Question
Question. Where and when democracy emerged?
Answer : Democracy emerged in Greek city of Athens around 2500 years ago.
Question. Write about any two features of the democracy.
Answer : 1. Enlightened citizens: - Only enlightened and educated citizens can elect a good govt.
2. Matured leadership: - Mature and honest leaders are must for the success of democracy.
Question. Why democracy is the most popular form of government in modern times?
Answer : 1. In democracy, there is rule of law.
2. People are free from any type of pressure. They can adopt any profession.
3. People participate actively in the working of the govt.
Fill in the Blanks

1. India is a democratic Republic.
2. The nominal executive head of Central Govt. is President and heads of state Govt.'s are Governors.
3. Democracy originated in city of Athens.
4. Switzerland is the country where there is Direct Democracy.
5. The basic principle of democracy is Equality and Freedom.
Write true (√) or false (X) for each statement

1. India is a democratic republic. (√)
2. Switzerland is the only country where there is direct democracy. (√)
3. To cast vote is a universal adult franchise to only some persons. (X)
4. In a democratic country rule of law prevails. (√)
5. Modern democracy has emerged firstly in France. (X)
ON EQUALITY- WORKSHEET
I FILL IN THE BLANKS:
a. _________________ is the key feature of democracy.
b. When people are treated unequally, their _______________is violated.
c. The Indian _____________________recognizes every person as equal.
d. There are several __________in India that protect every person's right to be treated equally.
e. It is only when people begin to believe that every person deserves to be treated with dignity , _________can be established in a democratic society.
f. Article ______ of the Indian constitution prohibit discrimination on grounds of religion , race, caste, gender or place of birth.
g. Midday meal programme has helped increase the enrolment and attendance of the ___________children in school.
II NAME THE FOLLOWING:
a. The idea of Universal adult franchise is based on this principle. _________
b. One of the most common inequality seen in India. __________________
c. The corner stone of Indian democracy and we are represented in it through our elected representative. ___________________
d. Book written by Om Prakash Valmiki, which talks about his experiences of growing up as a Dalit boy. ___________________
e. The first Indian state to start midday meal scheme. ___________________
III ANSWER THE FOLLOWING QUESTIONS IN 2 POINTS:
1. What do you mean by Universal Adult Franchise? How can you say that it is based on the idea of equality?
2. Mention two ways in which the government has tried to implement the principle of equality guaranteed in the constitution.
3. Write a note on mid-day meal scheme.
IV ANSWER IN THREE POINTS:
4. What are the positive effects of the midday meal scheme3
V ANSWER IN FOUR POINTS:
5. State the provisions in the Constitution that recognizes the principles of equality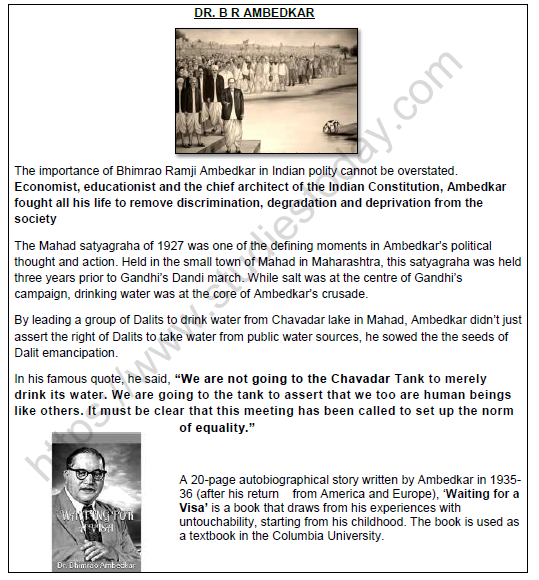 Please click on below link to download CBSE Class 7 Social Science On Equality Worksheet Set A