Download printable Social Science Class 7 Worksheets in pdf format, CBSE Class 7 Social Science Geography Human Environment Worksheet has been prepared as per the latest syllabus and exam pattern issued by CBSE, NCERT and KVS. Also download free pdf Social Science Class 7 Assignments and practice them daily to get better marks in tests and exams for Grade 7. Free chapter wise worksheets with answers have been designed by Standard 7 teachers as per latest examination pattern
Worksheet for Class 7 Social Science Our Environment Chapter 1 Environment
Class 7 Social Science students should refer to the following printable worksheet in Pdf for Our Environment Chapter 1 Environment in Grade 7. This test paper with questions and solutions for Standard 7 Social Science will be very useful for tests and exams and help you to score better marks
Our Environment Chapter 1 Environment Class 7 Social Science Worksheet Pdf
Very Short Answer Type Questions
Question. Which are the main spheres of environment?
Answer :
1. Atmosphere
2. Lithosphere
3.Hydrosphere
4. Biosphere.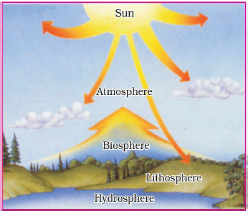 Question. Write down the names of layers of earth.
Answer :
1. SIAL (Silicon+ Aluminium)
2. SIMA (Silicon+ Magnesium)
3. NiFe (Nickel+ Ferrous/Iron)
Questions
Very Short Answer
Q1) Define site?
Q2) What is transhumance?
Q3) What are the two types of waterways?
Q4) Where do we found the dwellings made of ice?
Q5) What are subways?
Short Answer
Q6) What do you mean by mass media?
Q7) What do you mean by the airways?
Q8) Distinguish between temporary settlement and permanent settlement?
Q9) What are the advantages of the railways?
Q10) Distinguish between metalled road and unmetalled road?
Long Answer
Q11) Explain about settlements?
Q12) State the difference between compact settlement and scattered settlement?
Q13) Explain about communication?
Q14) What are the advantages and disadvantages of the waterways?
Q15) Explain the means of the transport?
Please click the link below to download CBSE Class 7 Social Science Geography Human Environment Worksheet