Read and download PDF of CBSE Class 10 Mathematics Sample Paper 2014 Set P designed as per the latest curriculum and examination pattern for Class 10 issued by CBSE, NCERT and KVS. The latest Class 10 Mathematics Sample Papers have been provided with solutions so that the students can solve these practice papers and then compare their answers. This will help them to identify mistakes and improvement areas in Mathematics Standard 10 which they need to study more to get better marks in Grade 10 exams. After solving these guess papers also refer to solved Class 10 Mathematics Question Papers available on our website to build strong understanding of the subject
Mathematics Sample Paper Class 10 2014
Students can refer to the below Class 10 Mathematics Sample Paper designed to help students understand the pattern of questions that will be asked in Grade 10 exams. Please download CBSE Class 10 Mathematics Sample Paper 2014 Set P
Mathematics Class 10 Sample Paper 2014
SECTION A
1. The perimeter (in cm) of square circumscribing a circle of radius a cm, is
A. 8 a
B. 4 a
C. 2 a
D. 16 a
2. If A and B are the points (-6,7) and (-1,-5) respectively, then the distance 2 AB is equal to
A. 13
B. 26
C. 169
D. 238
3. If the common difference of an A.P is 3, then a20-a15 is.
A. 5
B. 3
C. 15
D. 20
4. If P ( a/2,4) is the midpoint of the line segment joining the points A(-6,5) and B(-2,3), then the value of a is .
A. -8
B. 3
C. -4
D. 4
5. In Figure 1 .○ O is the centre of a circle, PQ is a chord and PT is the tangent at P. If <PQR=70°, then <TPQ is equal to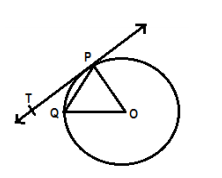 A. 55°
B. 70°
C. 45°
D. 35°
6. In Figure 2, AB and AC are tangent to the circle with centre O such that <BAC =40 Then <BOC is equal to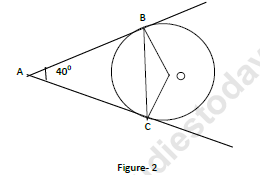 A. 40
B. 50
C. 140
D. 150
7. The roots of the equation x2-3x-m(m+3)=0, where m is a constant are
A. m, m+3
B. –m, m+3
C. m, -(m+3)
D. –m , -(m+3)
8. A tower stands vertically on the ground. From a point on the ground which is 25m away from the foot of the tower, the angle of elevation of the top of the tower is found to be 450. Then the height (in meters) of the tower is 
A. 25√2 
B. 25√3 
C. 25 
D. 12.5 
SECTION – B
9. Two cubes each of volume 27 cm3 are joined end to end to form a solid. Find the surface area of the resulting cuboid. 
OR 
A cone of height 20 cm and radius of base 5 cm is made up of modeling clay. A child reshapes it in the form of a sphere. Find the diameter of the sphere. 
10. Find the value of y for which the distance between the points A(3,-1) and B(11,y) is 10 units. 
11. A ticket is drawn at random from a bag containing tickets numbered from 1 to 40. Find the probability that the  selected ticket has a number which is a multiple of 5.
12. Find the value of m so that quadratic equation mx(x-7) + 49 =0 has two equal roots.
Please click the link below to download full pdf file for CBSE Class 10 Mathematics Sample Paper 2014 Set P
Click for more Mathematics Study Material
›