Read and download PDF of CBSE Class 10 Mathematics Sample Paper 2014 Set K designed as per the latest curriculum and examination pattern for Class 10 issued by CBSE, NCERT and KVS. The latest Class 10 Mathematics Sample Papers have been provided with solutions so that the students can solve these practice papers and then compare their answers. This will help them to identify mistakes and improvement areas in Mathematics Standard 10 which they need to study more to get better marks in Grade 10 exams. After solving these guess papers also refer to solved Class 10 Mathematics Question Papers available on our website to build strong understanding of the subject
Mathematics Sample Paper Class 10 2014
Students can refer to the below Class 10 Mathematics Sample Paper designed to help students understand the pattern of questions that will be asked in Grade 10 exams. Please download CBSE Class 10 Mathematics Sample Paper 2014 Set K
Mathematics Class 10 Sample Paper 2014
1] In the given figure, the respective values of y and x are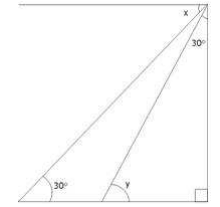 A. 30° and 45°
B. 60° and 45°
C. 45° and 60°
D. 60° and 30°
2] To draw a pair of tangents to a circle which are inclined to each other at an angle of 35°, it is required to draw tangents at the end points of those two radii of the circle, the angle between which is
A. 140°
B. 70°
C. 105°
D. 145°
3] The ratio in which the line segment joining A(3,4) and B(-2,1) is divided by the y-axis is
A. 2:5
B. 2:3
C. 1:2
D. 3:2
4] The radius of a cylindrical tank is 28m. If its capacity is equal to that of a rectangular tank of size 28mx16mx11m then,its depth is
A. 5m
B. 4m
C. 3m
D. 2m
5] In given figure, a circle of radius 7.5cm is inscribed in a square, the remaining area of the square is

A. 52.32 cm sq.
B. 46 cm sq.
C. 48.91 cm sq.
D. 48.375 cm sq.
6] If the 3rd and 6th term of an AP are 7 and 13 respectively, find the 10th term.
7] In the given figure, XP and XQ are tangents from X to the circle with centre O. R is a point on the circle. Prove that
XA+AR=XB+BR.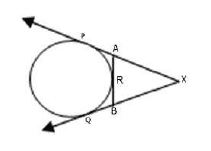 8] A letter is chosen at random from the letters of the word 'ASSASSINATION'. Find the probability that the letter chosen is a
(i) vowel (ii) consonant
OR
Two concentric circles are of radii 5cm and 3cm. Find the length of the chord of the larger circle which touches the smaller circle.
9] In given figure, ABCD is a square of side 14 cm and four congruent circles are inscribed in it. Find the remaining area of the square.
10] A bicycle wheel makes 5000 revolutions in moving 11 km.Find the diameter of the wheel.
11] Determine the set of values of p for which the quadratic equation px2+6x+1=0 has real roots.
Please click the link below to download full pdf file for CBSE Class 10 Mathematics Sample Paper 2014 Set K
Click for more Mathematics Study Material
›