Read and download PDF of CBSE Class 10 Mathematics Sample Paper 2018 Set E designed as per the latest curriculum and examination pattern for Class 10 issued by CBSE, NCERT and KVS. The latest Class 10 Mathematics Sample Papers have been provided with solutions so that the students can solve these practice papers and then compare their answers. This will help them to identify mistakes and improvement areas in Mathematics Standard 10 which they need to study more to get better marks in Grade 10 exams. After solving these guess papers also refer to solved Class 10 Mathematics Question Papers available on our website to build strong understanding of the subject
Mathematics Sample Paper Class 10 2018
Students can refer to the below Class 10 Mathematics Sample Paper designed to help students understand the pattern of questions that will be asked in Grade 10 exams. Please download CBSE Class 10 Mathematics Sample Paper 2018 Set E
Mathematics Class 10 Sample Paper 2018
SECTION – A
1  What is the smallest positive integer which should be multiplied with 6 (where n is a natural number) so that it ends with the digit 0 ?
(a) there does not exist any such integer
(b) 3
(c) 5
(d) 25
2 If p is a prime number and p divides a2 (where 'a' is a positive integer), then which of the following is true ?
(a) p does not divides a
(b) p divides a
(c) p2 divides a
(d) p divides√a
3 3x+7y=75 and 7x+3y=25 then the value of x+y is:
(a) 14
(b) 150
(c) 10
(d) 100
4.Which of the following graphs represents a polynomial with no real zeroes ?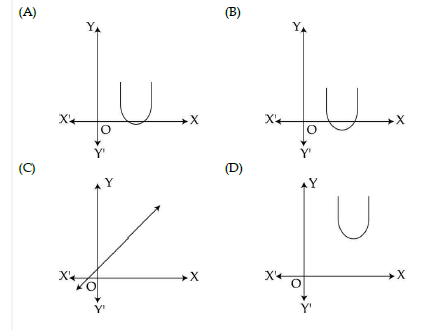 5 If sec2A = cosec(A - 27 0) where 2A is an acute angle, then the measure of ∠A is :
(a) 35
(b) 37
(c) 39
(d) 21 
6 If x=2sin2 θ and y=2cos2θ-2, then the value of x+y is : 
(a) 1/2 
(b)2 
(c) 0
(d)  1
7 Which of the following is not a measure of central tendency in a distribution ?
(a) Range
(b) Median
(c) Mode
(d)  Mean
SECTION – B
8 Find the HCF of 918 and 162 using Euclid's Division Algorithm.
9 In ΔABC, AB=24 cm, BC=10 cm, and AC=26 cm. Is it true to say that ΔABC is right-angled at B ? Give reason in support of your answer.
10 Find the mode of the following frequency distribution :

Please click the link below to download full pdf file for CBSE Class 10 Mathematics Sample Paper 2018 Set E
Click for more Mathematics Study Material
›