Read and download PDF of CBSE Class 10 Mathematics Sample Paper 2014 Set I designed as per the latest curriculum and examination pattern for Class 10 issued by CBSE, NCERT and KVS. The latest Class 10 Mathematics Sample Papers have been provided with solutions so that the students can solve these practice papers and then compare their answers. This will help them to identify mistakes and improvement areas in Mathematics Standard 10 which they need to study more to get better marks in Grade 10 exams. After solving these guess papers also refer to solved Class 10 Mathematics Question Papers available on our website to build strong understanding of the subject
Mathematics Sample Paper Class 10 2014
Students can refer to the below Class 10 Mathematics Sample Paper designed to help students understand the pattern of questions that will be asked in Grade 10 exams. Please download CBSE Class 10 Mathematics Sample Paper 2014 Set I
Mathematics Class 10 Sample Paper 2014
1] If the length of a shadow cast by a pole is √3times the Length of the pole, then the angle of elevation of the sun is
A. 60°
B. 30°
C. 45°
D. 90°
2] The mid-point of the line segment joining P(-2,8) and Q(-6,-4) is
A. (-4,-2)
B. (4,-2)
C. (4,2)
D. (-4,2)
3] In given figure, the length of BC is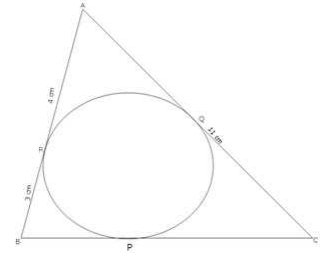 A. 8 units
B. 6 units
C. 4 units
D. 10 units
4] The condition that the point (x,y) may lie on the line joining (3,4) and (-5,-6) is
A. -5x-4y+1=0
B. -5x+4y+1=0
C. 5x+4y+1=0
D. 5x-4y+1=0
5] A largest sphere is carved out of a cube of side 7cm. The volume of the sphere is
A. 176.42 cu.cm
B. 182 cu.cm
C. 180.5 cu.cm
D. 179.67 cu.cm
6] Two dice are thrown simultaneously.Find the probability of getting an even number as the sum.
OR
Find the sum of the first 20 terms of the AP: -
6,0,6,12,……..
7 ] A wheel has diameter 84cm. Find how many complete revolutions it must make to cover a distance of 792 metres?
8 ] An umbrella has 10 ribs which are equally spaced.Assuming umbrella to be a flat circle of radius 40 cm, find the area between the two consecutive ribs of the umbrella.
9 ] Check whether the equation 6x2 – 7x + 2 = 0 has real roots,and if it has, find them by the method of completing the squares.
OR
For what value(s) of k, will the equation 4x2-2(k+1)x +(k+4)=0 have repeated roots?
10] Two unbiased coins are tossed. Calculate the probability of getting
(i) Exactly two heads
(ii) At least two tails
(iii) No tail
11] Find the ratio in which the line 2x+y-4=0 divides the line Segment joining the points A (2,-2) and B (3,7). Also, find their point of intersection.
12] Prove that the diagonals of a rectangle bisect each other and Are equal.
OR
Find the point on the y-axis, which is equidistant from the points (12,3) and (-5,10).
13] The mth term of an AP is n and the nth term is m. Find the rth term of the AP.
Please click the link below to download full pdf file for CBSE Class 10 Mathematics Sample Paper 2014 Set I
Click for more Mathematics Study Material
›