CBSE Class 10 Mathematics Sample Paper 2013 (14). CBSE issues sample papers every year for students for class 10 board exams. Students should solve the CBSE issued sample papers to understand the pattern of the question paper which will come in class 10 board exams this year. The sample papers have been provided with marking scheme. It's always recommended to practice as many CBSE sample papers as possible before the board examinations. Sample papers should be always practiced in examination condition at home or school and the student should show the answers to teachers for checking or compare with the answers provided. Students can download the sample papers in pdf format free and score better marks in examinations. Refer to other links too for latest sample papers.
SECTION-A
1. State fundamental theorem of arithmatic.
2. One card is drawn at random from a well shuffled deck of 52 cards. Find the probability of getting a king of red suit.
3. If kx+y=7 and 3x-2y=11o represent inte rsecting lines then find the value of K.
4.Find the 18th term of A.P. 2 , 3 2,5 2,........
5. If sec5A=cosec(A-36° ),where 5A is an acute angle. Find the value of A.
6. If mode of the following data is 15. Find K.
10,15,17,15, k/2+6,17, 20
7. In the given fig DE is parallel to BC.
If AD/ BD= 2/3 and AC=18 cm. Find AE.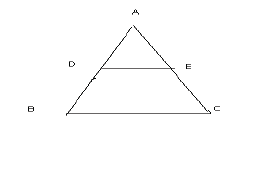 Please click the link below to download full pdf file for CBSE Class 10 Mathematics Sample Paper 2013 (14).

For more study material for Mathematics please click here -
Mathematics