Read and download PDF of CBSE Class 10 Mathematics Sample Paper 2013 Set K designed as per the latest curriculum and examination pattern for Class 10 issued by CBSE, NCERT and KVS. The latest Class 10 Mathematics Sample Papers have been provided with solutions so that the students can solve these practice papers and then compare their answers. This will help them to identify mistakes and improvement areas in Mathematics Standard 10 which they need to study more to get better marks in Grade 10 exams. After solving these guess papers also refer to solved Class 10 Mathematics Question Papers available on our website to build strong understanding of the subject
Mathematics Sample Paper Class 10 2013
Students can refer to the below Class 10 Mathematics Sample Paper designed to help students understand the pattern of questions that will be asked in Grade 10 exams. Please download CBSE Class 10 Mathematics Sample Paper 2013 Set K
Mathematics Class 10 Sample Paper 2013
Section A
1. Using Euclid's Division Lemma .Find H.C.F. of 96,144.
2. Find the zeros of the polynomial 4x2 -9
3. Find out whether the following pair of Linear equations are consistent or inconsistent:
3x+2y = 5 , 2x - 3y = 7.
4. Find the sum of first 30 natural numbers
5. What value of P will make ST║ QR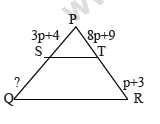 6. Cards each marked with numbers 4,5,6,…,.20 are placed in a box and mixed thoroughly . One card is drawn at random . Find the probability of getting an even prime number.
7. Evaluate sec 70o sin 20o – cos 20o cosec 70o .
8. The length of minute hand of a clock is 14 cm .Find the area swept by the minute hand in 5 minutes.
9. Give the relationship between mean , median and mode.
10. Prove that the length of the tangents drawn from an external point to a circle is equal.
Section B
11. Find the co-ordinates of the point of trisection of the line segment joining (4,-1) and (-2,-3 )
12. A lot of 20 bulbs contains 4 defective ones . One bulb is drawn at random from the lot .What is the probability that this bulb is not defective.
13. If the 8th term of an A.P is 31 and the 15th term is 16 more than the 11th term ,find the A.P. 
OR 
If 10th term of an A.P. is 47 and its first term is 2 .Find the sum of first 14 terms.
14. ABC is a right triangle rt angled at C. If p is the length of the perpendicular from C to AB and a,b,c, have thair usual meanings . Prove that : 1/a2 + 1/b2 = 1/p2
15. Evaluate :

Please click the link below to download full pdf file for CBSE Class 10 Mathematics Sample Paper 2013 Set K
Click for more Mathematics Study Material
›