Read and download PDF of CBSE Class 10 Mathematics Sample Paper 2017 Set J designed as per the latest curriculum and examination pattern for Class 10 issued by CBSE, NCERT and KVS. The latest Class 10 Mathematics Sample Papers have been provided with solutions so that the students can solve these practice papers and then compare their answers. This will help them to identify mistakes and improvement areas in Mathematics Standard 10 which they need to study more to get better marks in Grade 10 exams. After solving these guess papers also refer to solved Class 10 Mathematics Question Papers available on our website to build strong understanding of the subject
Mathematics Sample Paper Class 10 2017
Students can refer to the below Class 10 Mathematics Sample Paper designed to help students understand the pattern of questions that will be asked in Grade 10 exams. Please download CBSE Class 10 Mathematics Sample Paper 2017 Set J
Mathematics Class 10 Sample Paper 2017
SECTION – A
1. A letter is chosen at random from the letter of the "word PROBABILITY". Find the probability that it is a not a vowel.
2. Find the 17th term from the end of the AP: 1, 6, 11, 16….. 211, 216
3. A pole 6 m high casts a shadow 2√3 m long on the ground, then find the angle of elevation of the sun.
4. In the given figure PA and PB are tangents to a circle with centre O. If <APB = (2x+3)° and <AOB = (3x+7)° , then find the value of x
SECTION – B
5. Find the sum of all natural numbers that are less than 100 and divisible by 4.
6. Find the value of p for which the points ( -1 , 3 ) , ( 2 , p ) and ( 5 , - 1 ) are collinear.
7. Using the figure given below, prove that AR = 1/2(perimeter of triangle ABC)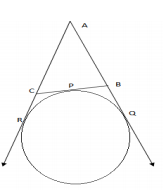 9. P and Q are the points with co-ordinates (2, -1) and (-3, 4). Find the coordinates of the point R such that PR is 2/5 of PQ.
SECTION – C
10. Solve the given equation by the method of completing the squares:
x2 + 12x – 45 = 0
11. The sum of first six terms of an A.P. is 42. The ratio of its 10th term to its 30th term is 1:3. Find the first term of the A.P.
12. From the top of a lighthouse 75 m high, the angles of depression of two ships are observed to be 30ᵒ and 45ᵒ respectively. If one ship is directly behind the other on the same side of the lighthouse then find the distance between the two ships.
13. The vertices of a triangle are A (-1, 3), B (1, -1) and C (5, 1). Find the length of the median through the vertex C.
14. The king, queen and jack of diamond are removed from a deck of 52 playing cards and then well shuffled. Now one card is drawn at random from the remaining cards. Determine the probability that the card drawn is :
i) A face card.
ii) A red card.
iii) A king.
15. Find the area of the minor segment of a circle of radius 42cm, if the length of the corresponding arc is 44 cm.
16. A cylindrical pipe has inner diameter of 4 cm and water flows through it at the rate of 20 meter per minute. How long would it take to fill a conical tank of radius 40 cm and depth 72cm?
Please click the link below to download CBSE Class 10 Mathematics Sample Paper 2017 Set J
Click for more Mathematics Study Material
›