Read and download PDF of CBSE Class 10 Mathematics Sample Paper 2017 Set A designed as per the latest curriculum and examination pattern for Class 10 issued by CBSE, NCERT and KVS. The latest Class 10 Mathematics Sample Papers have been provided with solutions so that the students can solve these practice papers and then compare their answers. This will help them to identify mistakes and improvement areas in Mathematics Standard 10 which they need to study more to get better marks in Grade 10 exams. After solving these guess papers also refer to solved Class 10 Mathematics Question Papers available on our website to build strong understanding of the subject
Mathematics Sample Paper Class 10 2017
Students can refer to the below Class 10 Mathematics Sample Paper designed to help students understand the pattern of questions that will be asked in Grade 10 exams. Please download CBSE Class 10 Mathematics Sample Paper 2017 Set A
Mathematics Class 10 Sample Paper 2017
SECTION-A
1 What is the 27th positive odd number?
2 If the ratio of the height of a tower and the length of its shadow is √3 : 1 . What is the elevation of the source of light ?
3.How can you show using distance formula three points A, B, C (in order) whose coordinates are given are collinear?
SECTION-B
5 Solve the equation 22X+3=65 (2x-2)+122. 
6 In a certain AP, the 32nd term is twice the 12th term. Prove that 70th term is twice the 31st term.
7 From an external point P, two tangents PA and PB are drawn to a circle with centre O as shown in the figure. Prove that OP is the perpendicular bisector of chord AB.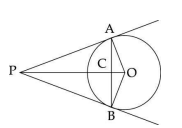 8 Draw a line segment of length 5 cm. divide it in the ratio 3 : 7. 2
9 Draw a circle of radius 2.8 cm.Take a point P at a distance of 5 cm from the centre the circle and construct a pair of tangents to the circle from point P.
10 The angles of elevation of the top of a tower from two points at distances 10 metres and 5 metres from the base of the tower and in the same straight line with it are complementary. Find the height of the tower.
11 Sum of digits of a 2 digit number is 12 :
(a) Find the probability that such a number is odd.
(b) Find the probability that such a number is less than 30.
(c) Find the probability that such a number is divisible by 4.
12 If two adjacent vertices of a parallelogram are (8, 2) and (-5, 10) and the diagonals intersect at the point (3, 5), find the other vertices of the parallelogram.
13 The numerator of a fraction is 1 less than the denominator. If 3 is added to each of the numerator and demoninator, the fraction is increased by 3/28. Find the fraction.
14 The four angles of a quadrilateral form an AP. If the sum of the first three angles is twice the fourth angle, then find all the angles.
15 Prove that the intercept of a tangent between two parallel tangents to a circle subtends a right angle at the centre of the circle.
Please click the link below to download full pdf file for CBSE Class 10 Mathematics Sample Paper 2017 Set A
Click for more Mathematics Study Material
›