CBSE Class 12 Informatics Practices Sample Paper 2014 (12). Revision worksheets, Sample papers, Question banks and easy to learn study notes for all classes and subjects based on CBSE and CCE guidelines. Students and parents can download free a collection of all study material issued by various best schools in India. The study material has been carefully compiled by the best teachers in India. The students should practice the questions database to get better marks in examination. Please refer to other links for free download of high quality study material. Based on CBSE and CCE guidelines. Based on the same pattern as released by CBSE every year. Study material for final/ term/ SA1/ SA2 Examinations conducted by various schools affiliated to Central Board of Secondary Education (CBSE) in India and abroad. CBSE Study material has been compiled to help students preparation which will helps the students to concentrate more in areas which carry more marks.
Q.1 Differentiate between <P> and <Br>. 
Q2. How is HTML different from XML. 
Q.3 What is the difference between for and while loop. 
Q.4 Write HTML code to set background image and change color of a document . 
Q.5 Write Java code to accept loan amount and time from the user .Calculate rate of Interest based on the following criteria 
If loan >=10,000 rate is 2.2%
loan <10,000 rate is 2.4%
Also calculate the interest and display it in the textbox t4. 
Q.6 . Define :
1) Relation 2) Candidate key 3) Transaction 
Q.7 Name MYSQL command to : 
1) display the structure of table
2) change the widthe of a column
Q.8 What are column constraints ? Explain any two with example. 
Q.9 Give the value of x after executing following Java code. Also find how many times the following loop will execute? :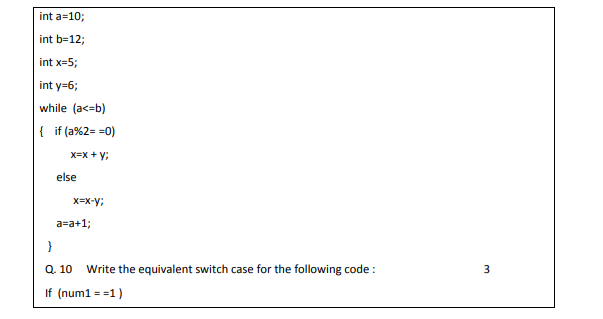 Please refer to attached file for CBSE Class 12 Informatics Practices Sample Paper 2014 (12)

For more study material for Informatics Practices please click here -
Informatics Practices