Read and download free pdf of CBSE Class 12 English Should Wizard Hit Mummy John Updike Assignment. Get printable school Assignments for Class 12 English. Standard 12 students should practise questions and answers given here for Vistas Chapter 5 Should Wizard Hit Mommy English in Grade 12 which will help them to strengthen their understanding of all important topics. Students should also download free pdf of Printable Worksheets for Class 12 English prepared as per the latest books and syllabus issued by NCERT, CBSE, KVS and do problems daily to score better marks in tests and examinations
Assignment for Class 12 English Vistas Chapter 5 Should Wizard Hit Mommy
Class 12 English students should refer to the following printable assignment in Pdf for Vistas Chapter 5 Should Wizard Hit Mommy in standard 12. This test paper with questions and answers for Grade 12 English will be very useful for exams and help you to score good marks
Vistas Chapter 5 Should Wizard Hit Mommy Class 12 English Assignment
CBSE Class 12 English Should Wizard Hit Mummy John Updike Assignment. Students are advised to refer to the attached assignments and practice them regularly. This will help them to identify their weak areas and will help them to score better in examination. Parents should download and give the assignments to their children for practice.
1. Story with the same characters (Everyday).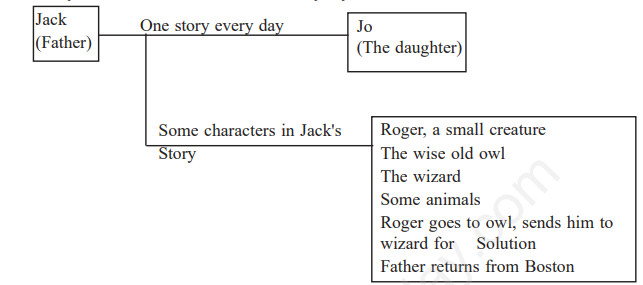 The story on the particular day (Saturday)
Main points
1. This time, Jack tells her the story of a baby Skunk who smelt very bad. No animal would play with Roger Skunk. He felt very bad and isolated
2. The Skunk went to the wise owl and the owl sent him to the wizard
3. The wizard changed his smell the sweet smell of roses. Skunk come back and played with other animals. Now, other animals liked him and he felt happy.
4. Roger's mother found his smell awful and took him back to wizard. She hit the wizard on his head and got her son's smell changed.
5. The end of the story is unacceptable to Jo. She is not happy with it. She wants the wizard to hit on the mother skunk's head.
6. She raised moral questions which baffled her father-she sticks to her points and does not accepts her father's perspectives
Moral Issues Raised
(1) Adult's perspective broad minded and practical
(2) Child's perspective Emotional, unrealistic according to limited intelligence and exposure.
(3) Discrimination and Rejection Here reason is bad smell
Please click the link below to download CBSE Class 12 English Should Wizard Hit Mummy John Updike Assignment