Read and download free pdf of CBSE Class 12 English Commercial Advertisements Assignment. Get printable school Assignments for Class 12 English. Standard 12 students should practise questions and answers given here for Commercial Advertisements English in Grade 12 which will help them to strengthen their understanding of all important topics. Students should also download free pdf of Printable Worksheets for Class 12 English prepared as per the latest books and syllabus issued by NCERT, CBSE, KVS and do problems daily to score better marks in tests and examinations
Assignment for Class 12 English Commercial Advertisements
Class 12 English students should refer to the following printable assignment in Pdf for Commercial Advertisements in standard 12. This test paper with questions and answers for Grade 12 English will be very useful for exams and help you to score good marks
Commercial Advertisements Class 12 English Assignment
CBSE Class 12 English Commercial Advertisements Assignment. Students are advised to refer to the attached assignments and practice them regularly. This will help them to identify their weak areas and will help them to score better in examination. Parents should download and give the assignments to their children for practice.
Commercial advertisements are designed for commercial purposes.
The following are the characteristics of s display advertisement.
• They occupy more space and are expensive in terms of advertising costs.
• They have to be attractive and eye-catching making use of catchy headlines / slogans, punch lines.
• The font size and type too vary according to the requirement.
• The text should be brief.
Remember the following points while designing a display advertisement.
• Must be attractive‐with a catchy caption, heading or sub‐headings.
• Figurative language. (alliteration and metaphors especially)
• Proportionate spacing of fonts with different sizes.
• Usually attractive with catchy slogans, punch lines, witty Expressions, pictures or sketches.
• Special offers or discount, if any.
• Details of the product or event given in a clear, precise way.
• Give name, contact number and address of the advertiser.
• Present the matter in a box.
• 1. Draft an advertisement of an electrical showroom opening shortly. Give necessary details.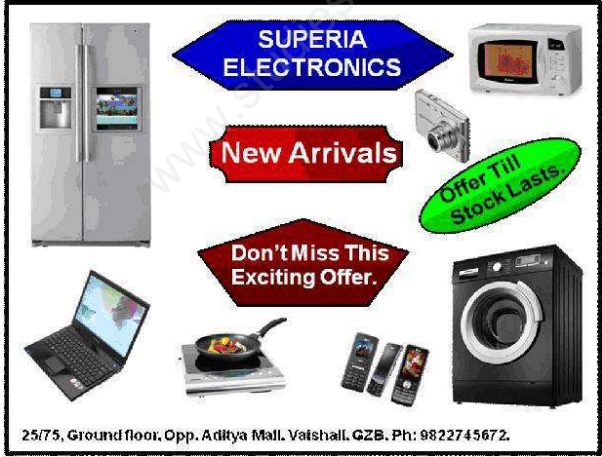 Please click the link below to download CBSE Class 12 English Commercial Advertisements Assignment