Read and download free pdf of CBSE Class 10 Social Science Agriculture Important Questions. Students and teachers of Class 10 Social Science can get free advanced study material, revision notes, sure shot questions and answers for Class 10 Social Science prepared as per the latest syllabus and examination guidelines in your school. Standard 10 students should download this study material which will give them more knowledge for all chapters in Social Science and all important topics which are scoring and can get you more marks. Students should also download free pdf of Chapter wise Notes for Class 10 Social Science prepared by school teachers as per the latest NCERT, CBSE, KVS books and syllabus issued this year and also download free worksheets and question papers available here to get higher scores in school exams and tests, also click here for more Study Material for Class 10 Social Science
Study Material for Class 10 Social Science Contemporary India II Chapter 4 Agriculture
Class 10 Social Science students should refer to the following Pdf for Contemporary India II Chapter 4 Agriculture in standard 10. These notes and test paper with questions and answers for Grade 10 Social Science will be very useful for exams and help you to score good marks
Class 10 Social Science Contemporary India II Chapter 4 Agriculture
Very Short Answer Question
Question : For what is the Indian coffee known in the world?
Answer : For the good quality.
Question : Which is the leading coffee producer state in India?
Answer : Karnataka.
Question : What is "Slash and burn"agriculture known as innoth eastern state of India in Jharkhand.
Answer : Jhumming.
Question : Which type of activity is agriculture?
Answer : Primary activity.
Question : Name the three cropping seasones of India.
Answer : Rabi,Kharif and zaid.
Question : Name some products which can be obtained from the Sugarcane.
Answer : Sugar, jaggary, khandsari.
Question : What is known as the golden fibre?
Answer : Jute
Question : Which are major five crops grown in India?
Answer : Cotton,jute and silk.
Question : What is known as sericulture?
Answer : Rearing of silk worm for the production of silk.
Question : From where is the silk obtained?
Answer : Silk is obtained from silkworm reared on mulberry tree.
Question : What is Subsitance agriculture?
Answer : Agriculture done for fulfill own requirents by the farmer is known as subsitence agriculture.
Question : What is mixed agriculture?
Answer : Agriculture along with animal husbandry together is called mixed agriculture.
Short Answer Question
Question : Describe the geographical condition for the cultivation of rubber.Name the major rubber growing states of India.
Answer : i.Many industries depent upon rubber as their raw material especially transport industry.
ii.rubber is an equatorial crop but under special conditions it is also grown in tropical and sub tropical areas.
iii. it requires moist and humid climate with rainfall of more than 200cm and temperature above 25degree celcious.
Question : What are the main characteristics of pulses grown in our country.
Answer : i. Pulses need less moisture and can survive even in dry condition.
ii. Being leguminous crops all this crops except arher help in restoring soil fertility by fixing nitrogen from the air.
iii. These are mostly grown in rotation with other crops.
Question : What are the difference between subsistence farming and Commercial farming.
Answer : Subsitence farming-
i.Most of theFarming depend on rain.
ii. production is low.
iii.No costly fertilizers are used.
Commercial farming
i.Irrigation facilities are available.
ii.production is high.
iii.Chemical fertilizers are used.
Question : What is "slash and burn" agriculture?
Answer : i. slash and burn is a primitive subsistence farming in which farmer cultivate a patch of land and produce cereals and other food crops to sustain their family.
ii. When the soil fertility decreases,the farmer shift and ciear a fresh patch for land for cultivation.
iii. This type of shifting allow nature to replenish the fertility of the soil through natural process.
Question : Why is agriculture important for Indian economy?
Answer : i. Two third of India's population is engaged in agricultural activities.
ii.Agriculture is a primary activity which produce most of the food that we consume.
iii.Agriculture also produces raw material for various industries.
Question : What are the factors responsible for the success of Rabi crops in the Northern India.
Answer : i.Availability of precipitation during winter months due to western disturbances helps in the success of this crops.
ii. The success of the green revolution in Panjab, Haryana, western Uttarpradesh and some parts of Rajasthan has also been an important factor in the growth of rabi crops.
iii. This crops are grown in large parts of Indian states from the north and north western parts.
Question : Name one staple crop in India and the regions where it is produced?
Answer : i. Rice is the staple food crop of the majority of people in India.
ii. Rice is grown in the plains of north and north-eastern India, coastal aeeas and the deltic region.
iii. Development of dence network of canal irrigation and tubewells have made itpossible to grow rice in Panjab,Haryana,uttar Pradesh and some parts of Rajasthan.
Long Answer Question
Question : What are millets?Give brief description of the climatic condition and producing states of the millets grown in india.
Answer : Millets are coarse grains but have high nutritional value e.g ragi rich in iron,calcium.
1 Jowar: Rain fed crop mostly grown in moist area
.State:Maharashtra,Karnataka and MP
Ii. Bajra:Grown well on sandy soils and shallow black soil.
State-Rajasthan Maharashtra,UP,Gujrat.
1 Ragi- Grown well in dry region on red ,black, sandy and loamy soils.
State- Tamilnadu, Himachal Pradesh ,Uttar Pradesh.
Question : Describe Four geographical conditions required for the growth of sugarcane.Name two major sugarcane producing states of north India.
Answer : i. Sugarcane is a tropical as well as sub tropical crop.
ii. It grow well in hot and humid climate with a temp of 21 degree c to 27degee c and an annual rainfall between 75cm and 100cm.
iii. Irrigation is required in the regions of low rainfall.
1. It can be grown in variety of soils and needs manual labours for harvesting.
2. Producing states are UP,Bihar,Panjab,Andhra Pradesh,Haryana.etc
Question : Why are technological and institutional reforms essential for Indian agriculture?
Answer : Technological and institutional reforms are essential for Indian agriculture due to following reason-
i.Sustained use of land without techno-institutional change have hindered the pace of agricultural development.
ii. inspite of development of sources of irrigation most of the farmers in large parts of the country still depend on mansoon and natural fertility .
iii. to fulfill the requirement of employment of 60% of population there is need for technical and institutional reforms.
iv. despite of land reforms the law has not be implemented properly.
v.Green revolution and white revolution are still concerntraited in few areas.
Question : Suggest by initiative taken by the govt to insure the increase in agriculture production.
Answer : initiative taken by the govt to insure the increase in agriculture production are
I.in 1960s and1970s green revolution and white revolution were initiated
ii.provision for crop insurance against drought,flood,cyclone,fire and disease are made
iii. Kisan credit card and personal accidental insurance are introduced
iv. Weather bulletins and agriculture programmes for farmers are introduced on radio and television.
v. Governmentt announces MSP and provide HYV seed and fertiliger.
Question : Difference between intensive agriculture and extensive agriculture.
Answer :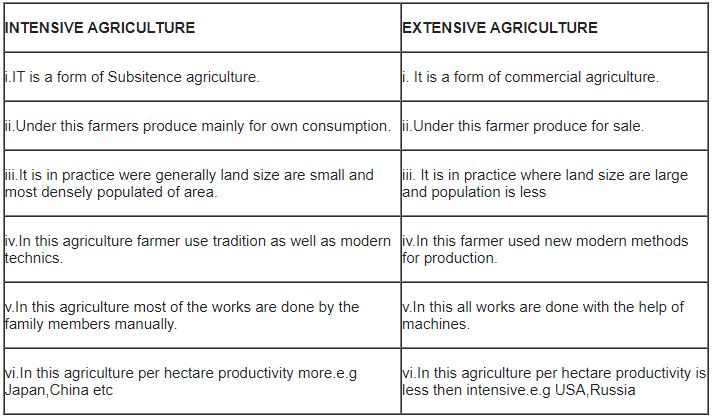 Books recommended by teachers