CBSE Class 12 Physics Sound Wave Theory and Examples. Please refer to the examination notes which you can use for preparing and revising for exams. These notes will help you to revise the concepts quickly and get good marks.
1. INTRODUCTION
(a) Material medium is required for the propagation of sound waves.
(b) Sound waves are longitudinal in nature.
(c) Speed of sound in air at N.T.P. is 332 m/s.
(d) Sound is audiable only between 20 Hz to 20 KHz.
(e) Sound waves can not be polarised.
2. PROPAGATION OF SOUND WAVES (LONGITUDINAL WAVES)
A longitudinal wave motion is that wave motion in which individual particles of the medium execute simple harmonic motion about their mean position
along the same direction along which the wave is propagated, as shown in figure. eg.
(i) Sound waves travel through air in the form of longitudinal waves.
(ii) Vibrations of air column above the surface of water in the tube of a resonance apparatus are longitudinal.
(iii) Vibrations of air column in organ pipes are longitudinal.
A longitudinal wave travel through a medium in the form of compressions or condensations C and rarefaction (R) as shown in figure.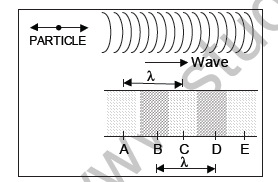 A compression is a region of the medium in which particles are compressed i.e. particles come closer i.e. distance between the particles becomes less than the normal distance between them. Thus there is a temporary decrease in volume and a consequent increase in density of the medium  A rarefaction is a region of the medium in which particles are rarefied i.e. particles get farther apart than what they normally are. Thus there is a temporary increase in volume and a consequent decrease in density of the medium in the region of rarefaction.
The distance between the centres of two consecutive compressions and two consecutive rarefaction is the wavelength (λ) of the wave. In above figure BD = AC = λ.
3. EQUATION OF A PROGRESSIVE SOUND WAVE
Sound wave is a longitudinal wave with regions of compression & rarefactions. The increase of pressure above its normal value may be written as,
δP = δP0 sinω (t – c/v) Where δP = increase in pressure at x position at time t δP0= maximum increase in pressure ω = 2πn where n is frequency If δP and δP0 are replaced by p & p0 then, p = p0 sinω(t – c/v)
4. VELOCITY OF SOUND IN A MEDIUM

Medium is necessary for sound propagation. These are longitudinal. In a medium, velocity of sound wave & mechanical wave depends on property of medium. It does not depends on amplitude & nature of wave.
WAVE VELOCITY IS AFFECTED BY FOLLOWING PROPERTIES OF MEDIUM :
(i) Elasticity (ii) Inertia
LAW OF NEWTON : In a medium, velocity of sound is given by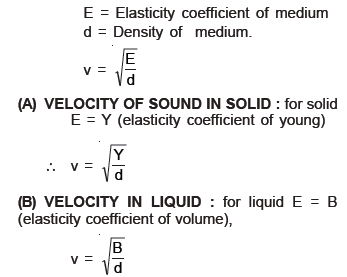 (C) VELOCITY OF SOUND IN GAS :
(I) NEWTON'S LAW : According to it, in a gaseous medium compression & rarefaction are formed slowly during wave propagation. So medium has sufficient time for energy transfer. Thus, temperature of medium remains constant. Sound wave motion is isothermal phenomenon.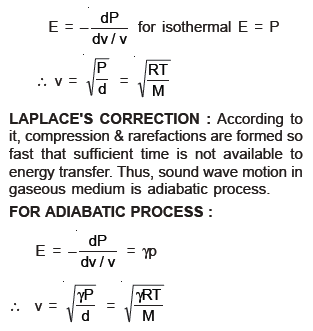 5. FACTORS AFFECTING VELOCITY OF SOUND IN GASEOUS MEDIUM
(A) EFFECT OF PRESSURE AT CONSTANT TEMPERATURE : No effect, because density increases on pressure increasing.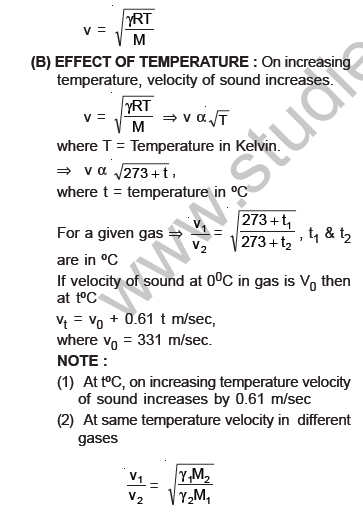 (C) EFFECT OF HUMIDITY :
On increasing humidity, velocity of sound increases because density decreases with humidity increase. Dry air has more density than humid air.
∴ Velocity of sound in dry air is less than in humid air.
(D) EFFECT OF AMPLITUDE & FREQUENCY : No effect. In a medium, all sound waves which falls in sonic range, travels with equal velocity. Resultant velocity of wave remain same due to superposition of these waves. (Sonic velocity = 20Hz - 20000 Hz)
(E) EFFECT OF MEDIUM VELOCITY : Sound velocity changes in a dynamic medium for anobserver.
6. CHARACTERISTICS OF SOUND
There are three important characteristics of musical sound. Loudness, Pitch and Quality.
6.1 LOUDNESS
(i) Loudness of sound is a subjective term and is related to the intensity of sound. The intensity of sound at any point may be defined as the amount of sound energy passing per unit time per unit area around that point in a perpendicular direction. It is a physical quantity which is measured in Watt meter–2 in SI.
(ii) The sound waves falling on the ear drum of the observer produces the sensation of hearing. The sensation of sound which enables us to distinguish between a loud and a faint sound is called loudness. It depends upon the intensity of sound at a place and the sensitiveness of the ear of the observer situated at that place. The same sound may appear to be loud to one person and may appear faint to other. This is the reason that loudness is not entirely a physical quantity. 
Please click on below link to download pdf file for CBSE Class 12 Physics Sound Wave Theory and Examples.
Click for more Physics Study Material
›