Read and download free pdf of CBSE Class 11 Biology Breathing and Exchange of Gases Assignments. Get printable school Assignments for Class 11 Biology. Class 11 students should practise questions and answers given here for Chapter 17 Breathing And Exchange Of Gases Biology in Class 11 which will help them to strengthen their understanding of all important topics. Students should also download free pdf of Printable Worksheets for Class 11 Biology prepared as per the latest books and syllabus issued by NCERT, CBSE, KVS and do problems daily to score better marks in tests and examinations
Assignment for Class 11 Biology Chapter 17 Breathing And Exchange Of Gases
Class 11 Biology students should refer to the following printable assignment in Pdf for Chapter 17 Breathing And Exchange Of Gases in Class 11. This test paper with questions and answers for Class 11 Biology will be very useful for exams and help you to score good marks
Chapter 17 Breathing And Exchange Of Gases Class 11 Biology Assignment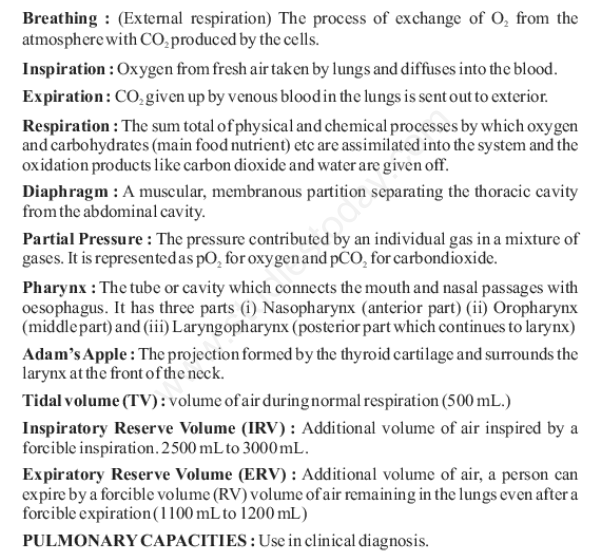 Important Questions for NCERT Class 11 Biology
Breathing and Exchange of Gases
Question. Lungs are enclosed in
(a) periosteum
(b) perichondrium
(c) pericardium
(d) pleural membrane.
Answer. D
Question. The presence of CO2 in blood will lower pH because CO2 combines with____, with the rate of reaction increased by_____ .
(a) H2O to form H+ and HCO3–, carbonic anhydrase
(b) H2O to form only HCO3–, carbonic anhydrase
(c) H2O to form only H+, carbonic ions
(d) H+ to form HCO3–, oxyhaemoglobin
Answer. A
Question. Skin is an accessory organ of respiration in
(a) humans
(b) frog
(c) rabbit
(d) lizard.
Answer. B
Question. Select the correct events that occur during inspiration.
(1) Contraction of diaphragm
(2) Contraction of external inter-costal muscles
(3) Pulmonary volume decreases
(4) Intra pulmonary pressure increases
(a) (1) and (2)
(b) (3) and (4)
(c) (1), (2) and (4)
(d) only (4)
Answer. A
Question. Tidal volume and expiratory reserve volume of an athlete is 500 mL and 1000 mL respectively. What will be his expiratory capacity if the residual volume is 1200 mL?
(a) 2700 mL
(b) 1500 mL
(c) 1700 mL
(d) 2200 mL
Answer. B
Question. Oxidative breakdown of respiratory substrates with the help of O2 is called as
(a) fermentation
(b) anaerobic respiration
(c) R. Q.
(d) aerobic respiration
Answer. D
Question. Severe Acute Respiratory Syndrome (SARS)
(a) is caused by a variant of Pneumococcus pneumoniae.
(b) is caused by a variant of the common cold virus (corona virus).
(c) is an acute form of asthma.
(d) affects non-vegetarians much faster than the vegetarians.
Answer. B
Question. Select the correct statement.
(a) Expiration occurs due to external intercostal muscles.
(b) Intrapulmonary pressure is lower than the atmospheric pressure during inspiration.
(c) Inspiration occurs when atmospheric pressure is less than intrapulmonary pressure.
(d) Expiration is initiated due to contraction of diaphragm.
Answer. B
Question. Match the items given in column I with those in column II and select the correct option given below.
Column I Column II
(A) Tidal volume (i) 2500 – 3000 mL
(B) Inspiratory reserve (ii) 1100 – 1200 mL volume
(C) Expiratory reserve (iii) 500 – 550 mL volume
(D) Residual volume (iv) 1000 – 1100 mL
(A) (B) (C) (D)
(a) (iii) (ii) (i) (iv)
(b) (iii) (i) (iv) (ii)
(c) (i) (iv) (ii) (iii)
(d) (iv) (iii) (ii) (i)
Answer. B
Question. Lungs are made up of air-filled sacs, the alveoli. They do not collapse even after forceful expiration, because of
(a) inspiratory reserve volume
(b) tidal volume
(c) expiratory reserve volume
(d) residual volume.
Answer. D
Question. Lungs do not collapse between breaths and some air always remains in the lungs which can never be expelled because
(a) there is a negative pressure in the lungs
(b) there is a negative intrapleural pressure pulling at the lung walls
(c) there is a positive intrapleural pressure
(d) pressure in the lungs is higher than the atmospheric pressure.
Answer. B
Question. Which one of the following is a possibility for most of us in regard to breathing, by making a conscious effort?
(a) One can breathe out air totally without oxygen.
(b) One can breathe out air through Eustachian tube by closing both nose and mouth.
(c) One can consciously breathe in and breathe out by moving the diaphragm alone, without moving the ribs at all.
(d) The lungs can be made fully empty by forcefully breathing out all air from them.
Answer. B
Question. Listed below are four respiratory capacities (i–iv) and four jumbled respiratory volumes of a normal human adult.
Respiratory capacities Respiratory volumes
(i) Residual volume 2500 mL
(ii) Vital capacity 3500 mL
(iii) Inspiratory reserve volume 1200 mL
(iv) Inspiratory capacity 4500 mL
Which one of the following is the correct matching of two capacities and volumes?
(a) (ii) 2500 mL, (iii) 4500 mL
(b) (iii) 1200 mL, (iv) 2500 mL
(c) (iv) 3500 mL, (i) 1200 mL
(d) (i) 4500 mL, (ii) 3500 mL
Answer. C
Question. What is vital capacity of our lungs?
(a) Inspiratory reserve volume plus expiratory reserve volume
(b) Total lung capacity minus residual volume
(c) Inspiratory reserve volume plus tidal volume
(d) Total lung capacity minus expiratory reserve volume
Answer. B
Question. Which one of the following statements is incorrect?
(a) The principle of countercurrent flow facilitates efficient respiration in gills of fishes.
(b) The residual air in lungs slightly decreases the efficiency of respiration in mammals.
(c) The presence of non-respiratory air sacs, increases the efficiency of respiration in birds.
(d) In insects, circulating body fluids serve to distribute oxygen to tissues.
Answer. B
Question. When 1500 mL air is in the lungs, it is called
(a) residual volume
(b) inspiratory reserve volume
(c) vital capacity
(d) tidal volume.
Answer. A
Question. The ventilation movements of the lungs in mammals are governed by
(a) muscular walls of lung
(b) diaphragm
(c) intercostal muscles
(d) both (b) and (c).
Answer. D
Question. In man and mammals, air passes from outside into the lungs through
(a) nasal cavity, larynx, pharynx, trachea, bronchi, alveoli
(b) nasal cavity, larynx, pharynx, trachea, bronchioles, alveoli
(c) nasal cavity, pharynx, larynx, trachea, bronchioles, bronchi, alveoli
(d) nasal cavity, pharynx, larynx, trachea, bronchi, bronchioles, alveoli.
Answer. D
Please click the link below to download CBSE Class 11 Biology Breathing and Exchange of Gases Assignments
CBSE Class 11 Biology Chapter 17 Breathing And Exchange Of Gases Assignment
We hope you liked the above assignment for Chapter 17 Breathing And Exchange Of Gases which has been designed as per the latest syllabus for Class 11 Biology released by CBSE. Students of Class 11 should download and practice the above Assignments for Class 11 Biology regularly. We have provided all types of questions like MCQs, short answer questions, objective questions and long answer questions in the Class 11 Biology practice sheet in Pdf. All questions have been designed for Biology by looking into the pattern of problems asked in previous year examinations. 
Assignment for Biology CBSE Class 11 Chapter 17 Breathing And Exchange Of Gases
Our team of expert teachers have referred to NCERT book for Class 11 Biology to design the Biology Class 11 Assignments. If you practice at least one test paper daily, you will get higher marks in Class 11 exams this year. Daily practice of Biology course notes and related study material will help you to clear all your doubts and have stronger understanding of all concepts. You can download all Revision notes for Class 11 Biology also from www.studiestoday.com absolutely free of cost.
Chapter 17 Breathing And Exchange Of Gases Assignment Biology CBSE Class 11
All questions and their answers for the assignment given above for Class 11 Biology have been developed as per the latest curriculum and books issued for the current academic year. The students of Class 11 can rest assured that the best teachers have designed the questions of Biology so that you are able to revise the entire syllabus if you do the assignments. Lot of MCQ questions for Class 11 Biology have also been given in the worksheets and assignments for regular use. All study material for Class 11 Biology students have been given on studiestoday.
Chapter 17 Breathing And Exchange Of Gases Assignment CBSE Class 11 Biology
Regular assignment practice helps to get a more comprehensive understanding of Chapter 17 Breathing And Exchange Of Gases concepts. Assignments play a crucial role in understanding Chapter 17 Breathing And Exchange Of Gases in CBSE Class 11. Students can download all the assignments of the same chapter in Class 11 Biology in Pdf format. You can print them or read them online on your computer or mobile.
CBSE Biology Class 11 Chapter 17 Breathing And Exchange Of Gases Assignment
CBSE Class 11 Biology latest books have been used for coming up with the latest questions and solutions for the above assignment. If you have revised all concepts relating to Chapter 17 Breathing And Exchange Of Gases then you should attempt all questions given in the test sheets above. We have also provided lot of Worksheets for Class 11 Biology which you can use to further make your self stronger in Biology
Where can I download in PDF assignments for CBSE Class 11 Biology Chapter 17 Breathing And Exchange Of Gases
You can download free Pdf assignments for CBSE Class 11 Biology Chapter 17 Breathing And Exchange Of Gases from StudiesToday.com
The assignments for Chapter 17 Breathing And Exchange Of Gases Class 11 Biology for have been made based on which syllabus
The Chapter 17 Breathing And Exchange Of Gases Class 11 Biology Assignments have been designed based on latest CBSE syllabus for Class 11 Biology issued for the current academic year
Can I download and print these printable assignments for Biology Chapter 17 Breathing And Exchange Of Gases Class 11
Yes, These printable assignments for Chapter 17 Breathing And Exchange Of Gases Class 11 Biology are free to download and print
How many topics are covered in Chapter 17 Breathing And Exchange Of Gases Biology assignments for Class 11
All topics given in Chapter 17 Breathing And Exchange Of Gases Biology Class 11 Book for the current academic year have been covered in the given assignment
Is there any charge for this assignment for Chapter 17 Breathing And Exchange Of Gases Biology Class 11
No, all Printable Assignments for Chapter 17 Breathing And Exchange Of Gases Class 11 Biology have been given for free and can be downloaded in Pdf format
How can I download the printable test assignments for Chapter 17 Breathing And Exchange Of Gases Biology Class 11
Just click on the View or Download button below, then another window with the Pdf will be visible, just click on the Pdf icon to download the free assignments for Chapter 17 Breathing And Exchange Of Gases Class 11 Biology
Are these assignments available for all chapters in Class 11 Biology
Yes, apart from Biology you can download free assignments for all subjects in Class 11
Can I download solved assignments for Chapter 17 Breathing And Exchange Of Gases CBSE Class 11 Biology
Our team of expert teachers at studiestoday.com have provided all answers for the practice questions which have been given in Class 11 Biology Chapter 17 Breathing And Exchange Of Gases assignments