CBSE Class 12 Physics Sample Paper SA2 2014 (2).Sample Papers are the very important for every student. The sample papers should be practiced to gain extra marks in examinations. The sample papers have been prepared based on summative assessment1 and summative assessment 2 pattern. The sample papers have been prepared based on pattern of last year examinations and as per latest changes in the syllabus. Students, teachers and parents can download all CBSE educational material and very well prepared worksheets from this website.  All CBSE educational material is developed by our panel of teachers, have also been submitted by CBSE teachers and students. 
1. What is the work done in moving a test charge over an equipotential surface?
2. Sketch a graph to show how the charge Q acquired by a capacitor of capacitance C varies with increase in potential difference between its plates.
3. Why is the terminal voltage of a cell less than its emf ?
4. What is the function of soft iron cylinder between the poles of a galvanometer?
5. Why is spark produced in the switch of a fan, when it is switched off?
6. The given graph shows the variation of charge q versus potential difference v for two capacitors c1 and c2. The two capacitors have same plate separation but the plate area of c2 is double than that of c1. Which of the lines in the graph corresponds to c1 and c2 and why?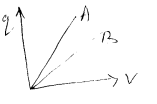 7. Nichrome and copper wires, having same length and same area of cross section, are connected across a battery in turn. In which case the rate of production of heat will be higher?
OR
Why an electric bulb becomes dim when an electric heater in parallel circuit is switched on.?
Why dimness decreases after some time?
Please click the below link to access CBSE Class 12 Physics Sample Paper SA2 2014 (2).
Click for more Physics Study Material
›