CBSE Class 12 Physics Sample Paper 2018 (2). It's always recommended to practice as many sample papers as possible before the examinations. Students can download the sample papers and also question papers of previous years to practice and score better marks in examinations. Refer to other links too for more sample papers.
1. A charge 'q' is moved from a point A above a dipole of dipole moment 'p' to a point B below the dipole in equatorial plane without acceleration. Find the work done in the process.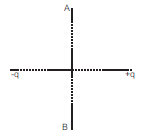 2. In what way is the behaviour of a daimagnetic material different from that of a paramagnetic, when kept in an external magnetic field ?
3. Name the essentail components of a communication system.
4. Why does sun appear red at sunrise and sunset ?
5. The plot of the variation of potential difference across a combination of three identical cells in series, versus current is shown below. What is the emf and internal resistance of each cell ?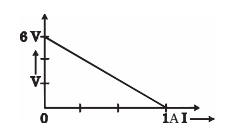 Please click the link below to download CBSE Class 12 Physics Sample Paper 2018 (2).
Click for more Physics Study Material
›