CBSE Class 12 Physics Sample Paper 2017 (3). CBSE issues sample papers every year for students for class 12 board exams. Students should solve the CBSE issued sample papers to understand the pattern of the question paper which will come in class 12 board exams this year. The sample papers have been provided with marking scheme. It's always recommended to practice as many CBSE sample papers as possible before the board examinations. Sample papers should be always practiced in examination condition at home or school and the student should show the answers to teachers for checking or compare with the answers provided. Students can download the sample papers in pdf format free and score better marks in examinations. Refer to other links too for latest sample papers.
SECTION A
Q1. Plot a graph showing the variation of de Broglie wavelength of electronb as a function of its K.E.
Q2. Why is frequency of outgoing and incoming signals different in a mobile phone?
Q3. An electron is not deflected in passing through a certain region of space. Can we be sure that there is no magnetic field in that region? Explain.
Q4. The ground state energy of hydrogen atom is ‐13.6eV. What are the kinetic and potential energies of the electron in this state?
Q5. 220V a.c. is more dangerous than 220V d.c. Commemt.
SECTION B
Q6. How many electrons pass through a wire in 2 minutes if the current passing through the wire is 300mA?
Q7. Calculate the current drawn from the battery by the network of resistorsshown in fig.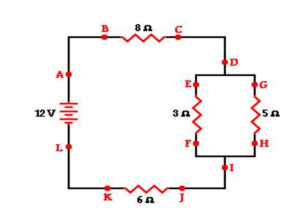 Please click the link below to download full pdf file for CBSE Class 12 Physics Sample Paper 2017 (3).
Click for more Physics Study Material
›