Download printable English Class 9 Worksheets in pdf format, CBSE Class 9 English Message Writing Worksheet has been prepared as per the latest syllabus and exam pattern issued by CBSE, NCERT and KVS. Also download free pdf English Class 9 Assignments and practice them daily to get better marks in tests and exams for Grade 9. Free chapter wise worksheets with answers have been designed by Standard 9 teachers as per latest examination pattern
MESSAGE
Message is a short piece of writing. Basically all the messages are conveyed through telephone or email, but still the importance of message-writing cannot be underestimated. A message is the result of a conversation, which is then converted into a message.
Objectives
• to retrieve information
• to interpret the conversation
• to convert it into a message
• precision and clarity in writing
Points to remember
• Date and time should be written at the top of the message. This can be written on either side of the box that is made for the message.
• The message begins with a brief salutation, e.g. Dear Brendon, or even a simple name can be written, and 'dear' can be avoided if a message is very informal.
• The message should be condensed, brief and to-the-point.
• Contents should be written in a box.
• No information should be added from your side, because the message can be misinterpreted many times.
•The name of the person who writes the message should be written below the message.
FORMAT
SAMPLE
1. Read the following telephonic conversation between an unsatisfied customer and a salesman of an electrical appliances shop. The Manager is away from the shop. The salesman leaves a message for him . Write the message using not more than 50 words.
Customer : Hello, is it Sanford Electrical Appliances?
Salesman : Yes, Madam . What can I do for you?
Customer : I've got a problem with the hair drier that I bought last week.
Salesman : I'm sorry to hear that. What is the problem?
Customer : Well, first of all , I ordered it two months ago but I received it only last week.
Secondly, I find it useless.
Salesman : Does it work?
Customer : It doesn't dry my hair. When I switch it on, it just goes 'buzzzzzzz' but it does not get hot at all.
Salesman : Madam I apologise. We'll be happy to replace the drier for you. Or we'll give you a refund instead.
Customer : Oh, great! I'd like a refund then.
The salesman writes a message for the manager in about 50 words, giving all the above details.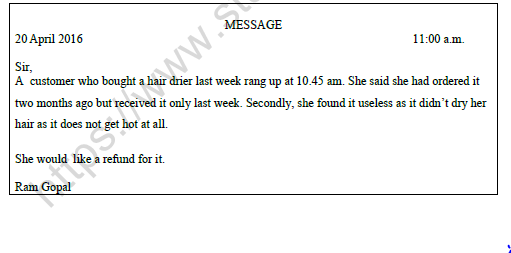 PRACTICE QUESTIONS
1. Read the telephone conversation between Bhavya and Karan. As Karan has to leave for his school, he will not be able to meet his Father. He leaves a message for him. Complete the following message in not more than 50 words.
Bhavya : Hello is that Mr. Shakujua's residence?
Karan : Yes.
Bhavya : May I speak to Mr. Shakuja? I am Bhavya Sharma, son of his colleague,
Mr . Ramnath Sharma
Karan : Papa is not at home as he has gone for his morning walk. Is there a message I can take for him?
Bhavya: My father had to leave for Dehradun all of a sudden as my grandfather is admitted in the hospital. So he won't be able to attend office for a week. Kindly tell your father to submit his leave application at the office.
Karan: Don't worry I' ll leave a message for Papa. Is there something else?
Bhavya: Yes! Please inform your father that he should attend the meeting of the Board of Directors today instead of Dad.
Karan : All right.
Bhavya : Thanks . Bye.
Karan : Bye.
2. Below is a telephone message noted down by you for your younger brother. Later you write a detailed message for him. Refer to your notes and write down your complete message in not more than 50 words. Put the message in a box.

3. You have just been informed that your friend has had a fall and fractured his/her hand. As some of your classmates are going to the hospital and you have been asked to join them, leave a message for your mother, informing her about your whereabouts and your time of return, in about 50 words only.
Please click on below link to download CBSE Class 9 English Message Writing Worksheet
Click for more English Study Material
›