Download printable English Class 9 Worksheets in pdf format, CBSE Class 9 English Bio Sketch Worksheet has been prepared as per the latest syllabus and exam pattern issued by CBSE, NCERT and KVS. Also download free pdf English Class 9 Assignments and practice them daily to get better marks in tests and exams for Grade 9. Free chapter wise worksheets with answers have been designed by Standard 9 teachers as per latest examination pattern
Worksheet for Class 9 English Bio Sketch
Class 9 English students should refer to the following printable worksheet in Pdf for Bio Sketch in Grade 9. This test paper with questions and solutions for Standard 9 English will be very useful for tests and exams and help you to score better marks
Bio Sketch Class 9 English Worksheet Pdf
BIO - SKETCH
A bio-sketch means biographical sketches in which a person's physical appearance, age, habits, qualities, etc., are mentioned. A bio-sketch can be constructed with the help of clues. A biographical sketch is always written by someone else other than the person on whom it is written. Most bio-sketches are interpretive; they not only present the facts but also tell what those facts mean.
• Title should be given to the Bio-sketch
• Important facts about the person's life should be highlighted.
• Accurate expression, fluency and accuracy should be maintained.
• Give introduction of the person whose bio-sketch is written
• Name, why he or she is famous.
• Write short paragraphs about the stages of his/her life in chronological sequence.
• Use phrases and appropriate connectors and pronouns to link ideas.
• Be consistent in the tense that you use.
• Use proper punctuation marks.
SAMPLE
Use the notes in the following box to write a bio-sketch of about 80 words.

Rabindranath Tagore
Rabindranath Tagore is one of the greatest writers of modern India. He was born in 1861 in a wealthy family of Kolkata in Bengal, but received no formal education and was left free to pursue his literary activities. He showed interest in literary creation even in his early childhood. He was the first man from the Eastern side of the world to win the Nobel Prize for literature, particularly ' Gitanjali ' his masterpiece. Tagore was a versatile genius. He painted, acted and composed music. He also took active interest in the freedom movement.
PRACTICE QUESTIONS
1. With the help of the given clues, complete the bio-sketch of a German Socialist, Karl Marx. in 80 words

2. Given below is a profile of Gary Sobers, the great West Indies cricketer, who is considered to be the greatest all rounder of all times. Use the information to write his bio-sketch. (80 words)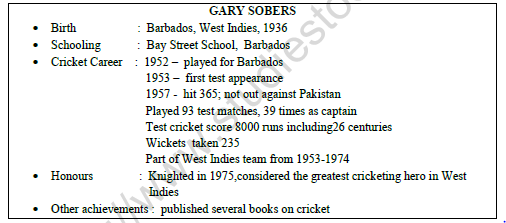 3.With the help of the given clues, complete the bio-sketch of Max Mueller in not more than 80 words.74

Max Mueller was born in __________________________.He displayed _______________________and learnt Greek and Latin, as well as Arabic, Persian and Sanskrit. He was a great_____________________ ________________________literature and was responsible for the _____________________________ ________________texts.
Please click on below link to download CBSE Class 9 English Bio Sketch Worksheet