Read and download free pdf of CBSE Class 11 Economics Introduction Assignment. Get printable school Assignments for Class 11 Economics. Standard 11 students should practise questions and answers given here for Economics in Grade 11 which will help them to strengthen their understanding of all important topics. Students should also download free pdf of Printable Worksheets for Class 11 Economics prepared as per the latest books and syllabus issued by NCERT, CBSE, KVS and do problems daily to score better marks in tests and examinations
Points to Remember
* Economics :
* Economics is a science that studies human behaviour as a relationship between ends scare means which have alternative uses.
* Scarcity means shortage of goods and resources in relation to their demand
* Resources are
(A) Scare / limited and
(B) have alternative uses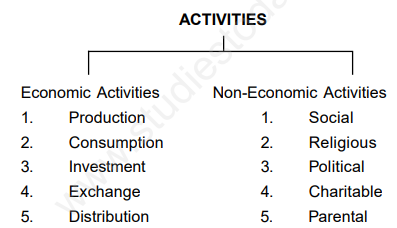 * Economic activities are thoise activities which are associated to earn money and wealth for life. These activities generate new income and increse the flow of goods and services.
* Non economic activities are those activities which are not related to earn money and wealth. These activities neither generate income nor increase the flow of goods & services.
* Consumer : Consumer is an economic agent who buys the goods and services to satisfy his wants.
* Producer : is one who produces goods and services for the generation of income.
* Serviceholder : A person who is in job and gives his services as a factor of production to earn wage or salary. i.g. Govt. teacher.
* Service Provider : A person who provides services to final consumer to earn money e.g. transporter, auto driver.
* Statistics : Statistics is a method of taking decisions on the basis of numerical data.
Question
1. Define economics.
2. State the meaning of scarcity.
3. Write the meaning of statistics in plural sense.
4. Give meaning of statistics in singular sense.
5. State one limitation of statistics.
6. What do you mean by economic activity?
7. What are non-economic activities?.
8. Write one function of statistics.
9. Define consumer.
10. Who is a producer?.
 Importance of Statistics in Economics
1. It enables an economist to present economic facts in a precise and definite form.

2. Helps in condensing mass data into a few numerical measures.
3. Statistics is used in finding relationship between different economic factors.
4. Economic forecasting through statistical studies.
5. Helpful to formulate appropriate economic polices that solve economic problems.
6. Help to analyse the performence of policies applied before.
Function of Statistics
1. Statistics simplified complexities.
2. Statistics expresses facts in numbers.
3. Statistics presents data in condensed form.
4. Statistics compares different phenomena and reasures relationship between them.
5. Statistics is helpful in formation of policies.
6. Statistics is helpful in economic forecastings.
Limitations of Statistics
1. Statistics does not study individuals.
2. Statistics results might lead to fallacious conclusions.
3. Statistics deals with quantitative facts only.
4. Statistics laws are true only on averages.
5. Only experts can make the best possible use of statistics.
6. Uniformity and homogeneity of data is essential.
Please refer to attached file for CBSE Class 11 Economics Introduction Assignment
Click for more Economics Study Material
›