Read and download free pdf of CBSE Class 11 Economics Growth Informalisation Assignment. Get printable school Assignments for Class 11 Economics. Standard 11 students should practise questions and answers given here for Economics in Grade 11 which will help them to strengthen their understanding of all important topics. Students should also download free pdf of Printable Worksheets for Class 11 Economics prepared as per the latest books and syllabus issued by NCERT, CBSE, KVS and do problems daily to score better marks in tests and examinations
Employment : Growth Informalisation and other Issues.
* Work plays an important role in our lives, as individuals and as members of society.
* A worker is an individual , who is involved in some productive activity, to earn a living,
* An economic activity refers to the activity performed by people to earn the living. The main three types of economic activities are consumption, production and distribution.
* Production activity refers to all those activities which are under taken to produce goods and services for generation of income.
Labour force : All persons, who are working (have a job) and those are not working but able to work and willing to work at the existing wage rate constitute labour force.
Labour Force : Persons working + persons seeking and / or available for work.
Work force : The number of persons, who are actually employed at a particular time are known as workforce, It includes all those persons who are actually engaged in productive activities.
Labour supply - It refers to amount of labour that people are willing to offer corresponding to a particular wage rate.
* About two fifth of the total population in the country in engaged in various economic activities.
* Men particularly rural men, form the major section of workforce in India.
* Majority of workers in India are self employed casual wage labourers and regular salaried employees together account for less than half the proportion of India's workforce.
* About three fifth of India's workforce depends on agriculture and other allied activities as the major source of livelihood.
* Jobless Growth : It is defined as a situation where GDP grows faster than the employment opprotunities resulting in unemployment.
* Casualisation and informalisation of employment. Casualisatoin refers to a situation when the percentage of casually hired workers in the total workforce tends to rise over time.
Informalisation : refers to a situation when people tend to find employment more in informal sector of the economy, and less in formal sector of the economy.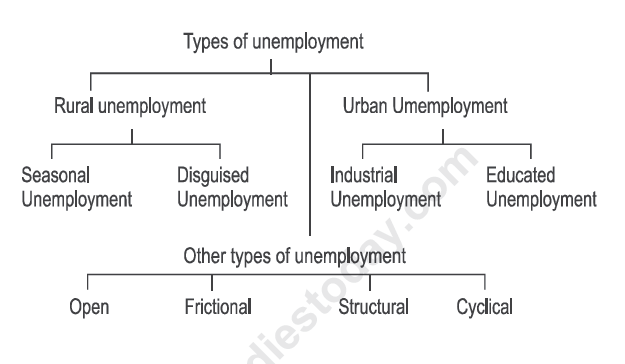 (Formal or organised sector, informal of unorganised sector)
Causes of unemployment
* Slow rate of economic growth
* Population explosion
* Underdeveloped agriculture
* Defective educational system
* Slow growth of Industry
* Decline of collage and small industry.
* Faulty planning
* Inadequate employment planning.
* Low capital formation.
 LONG ANSWER QUESTIONS 
1. What are the various types of unemployment?
2. What role does the government play in generating employment opprotunities.
3. What are the causes of unemployment?
4. Explain information of workforce.
5. Explain occupational structure of workforce.
6. What do you mean by organised sector? Discuss the reasons for fall in employment in the organised sector.
7. Discuss the various remedial measures, which are needed to solve the problem of unemployment in India.
8. What do you mean by casualisation of workforce? Discuss the concept with relevant facts.
9. Discuss the distribution of employment in different sectors of economy.
10. Discuss the concept of frictional and structural unemployment.
Please refer to attached file for CBSE Class 11 Economics Growth Informalisation Assignment
Click for more Economics Study Material
›