CBSE Class 12 Chemistry - Solutions VBQs Based on CBSE and NCERT guidelines. Value based questions are now being given in exams to promote morals and values in students, Students should read and understand the following VBQs to get better understanding and score good marks in exams
 VALUE BASED QUESTIONS
Chapter-2: Solutions
4. Scuba divers when come towards the surface, the pressure gradually decreases resulting in the release of dissolved gases leading to formation of bubbles of nitrogen gas in the blood which blocks the capillaries and thus harmful effects are created. Toavoid bends and toxic effects of high concentration of nitrogen gas, the air is diluted with helium.
After reading the above passage, answer the following questions.
(i) Which law is associated with this?
(ii) Why is the condition of bends overcome by the use of Helium
(iii) Mention the value associated with providing divers air diluted with helium.
Ans: (i) Henry's Law
(ii) Solubility inversely proportional to KH.
(iii )Critical thinking and self awareness
5.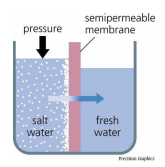 (a) Name the process observed when pressure on solution side is more than osmotic pressure.
(b) Write main use of this process.
(c) Mention the values associated with the above process
Ans: (a) Reverse osmosis
(b) desalination of seawater
(c) Critical thinking and self awareness.
Please refer to the link below for CBSE Class 12 Chemistry - Solutions VBQs

For more study material for Chemistry please click here -
Chemistry