Download printable Economics Class 11 Worksheets in pdf format, CBSE Class 11 Economics Worksheet Set D Solved has been prepared as per the latest syllabus and exam pattern issued by CBSE, NCERT and KVS. Also download free pdf Economics Class 11 Assignments and practice them daily to get better marks in tests and exams for Grade 11. Free chapter wise worksheets with answers have been designed by Standard 11 teachers as per latest examination pattern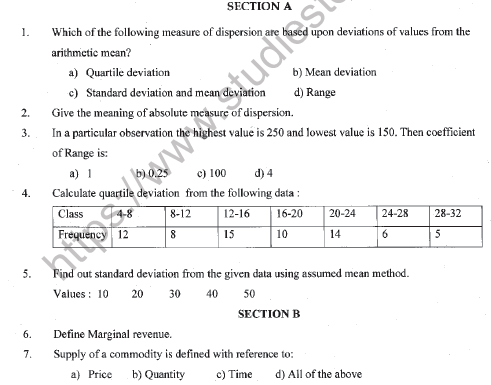 VALUE POINTS
1. Standard deviation and mean deviation 
2. The measure of dispersion can be expressed in terms of particular units like kg or meter etc
3. 0.25
4. Q1 = 10 .75 Q3 = 22.1 QD = 22.1- 10.7/2 = 5.7
5. S D = √ 200 = 14.1

6. It is defined as an additional revenue from the sale of additional output sold.
7. All of the above 
8. Upward 
9. When there is rise in the price of other commodity, the commodity under production decreases as the resources are shifted from the production of low price commodity to high priced commodity. So supply decreases and supply curve shifts to the left of the existing one.

10. Producer is in equilibrium at 6th output.
Because at that output MC = MR
And MR > MC after equilibrium output.
Please click on below link to download CBSE Class 11 Economics Worksheet Set D Solved
Click for more Economics Study Material
›