CBSE Class 7 Science All Chapters MCQs Set B. Multiple choice questions have become an integral part of the CBSE examination system. Almost all exams have a section for MCQs. Students are advised to refer to the attached MCQ database and practice them regularly. This will help them to identify their weak areas and will help them to score better in examination. Parents should download and give the MCQs to their children for practice.
1. Electric current is passed through a copper wire AB as shown in the diagram. What effect will it have on a compass needle brought near it?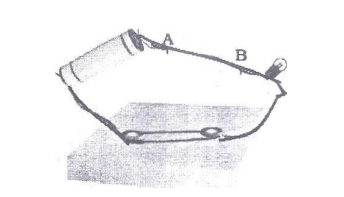 (a) Compass needle will show deflection
(b) Compass needle will not show deflection
(c) The compass needle will become red hot
(d) The compass needle will break
2. Which of the following is not the constituent of Loamy Soil?
(a) Sand (b) Clay
(c) Pieces of plastic· (d) Silt
3. The earthworm breathes through
(a) Gills  (c) Moist Skin
(b) Lungs  (d) Spiracles
4. Sita is standing 4m away from the plane mirror. Ifshemoves 2m towards the mirror, what will be the distance between Sita and her image in the mirror?
(a) 4m (b) 3m
(c) 2m (d) 8m
5. If the number of turns in the coil of an electromagnet is more, then the strength of the electromagnet will be :
(a) Greater   (c) Same
(b) Lesser   (d) Double
6. Mature ovary forms :
(a) Seed  (c) Fruit
(b}Flower  (d) Both (a) and (c)
7. They help to increase the surface areaof root for absorption of water and minerals:_
(a) Xylem (b)' Phloem
(c) Root hair (d) Both (a) and (c)
8. Which of the following is not a forest product?
(a) Gum (b) Plywood
(c) Sealing wax (d) Kerosene
9. Who discovered magnetic effect of electric current?
(a) Joule·' (b) Maxwell
(c) Oersted (d) Newton
10. Identify the plant that vegetatively propagates through leaves.
(a) Bryophyllum (b) Rose
(c) Potato (d) Jasmine
Click for more Science Study Material
›