CBSE Class XII HOTs Biology - Principles Of Inheritance And Variation questions database with answers (Please refer to other links for answers to HOTs questions) for Class 12 of CBSE exams for CBSE Students. Based on CBSE and NCERT guidelines. The students should practice these Question Papers to gain perfection which will help him to get more marks in CBSE examination. Please refer to more CBSE Class 12 question papers in other links.  
1) The following table shows the genotypes for ABO blood grouping and their phenotypes .
Fill in the gaps left in the table.. 2
2)A homozygous green seeded plant is crossed with yellow seeded plant. The progeny obtained was half yellow seeded and half green seeded . 2
i) Write the genotype of yellow seeded progeny.
ii)Write the technical name of the cross.
3 MARKS
1) In the following pedigree chart, state if the trait is autosomal dominant, autosomal recessive or sex linked. Give a reason for your answer 3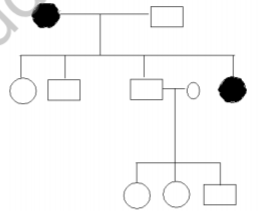 2) A man with blood group A married a woman with B group, they have a son with AB blood group and a daughter with blood group O, work out the possibility of inheritance with the help of a Punnet square. 3
3) In a hybrid cross the following recombination frequencies are observed, i.e. 10%, 22% and 6% of recombinants.
i)How is this recombinant percentage related to the loci of the gene responsible for recombinants.
ii) Which phenomenon is associated with this?

1) Two plants (snapdragon) with red flowers and white flowers are crossed and the following results are shown: 5
i) What phenomenon is shown in F1 generation?
ii) Write the genotype of F1 and phenotype of F2 generation.
iii) What is the phenotypic and genotypic ratio of the F2 generation?
iv) With the help of a punnet square illustrate the result.
ANSWER: Principles Of Inheritance And Variation
Ans1) IAi ,   IBi  , AB, ii
Ans 2 ) It is a back cross. The genotype of yellow seed is Yy.
3 Marks
1) The trait is autosomal dominant. The dark circle character is on autosomal dominant character in the heterozygous condition. The progeny is 1:1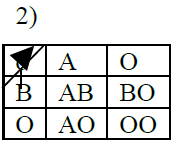 3. i)More the recombination frequency percentage more recombinants varieties..ii) linkage.
5 Marks
1.i) Incomplete dominance.
ii) Genotype F1 = Rr
    Genotype F2 = 1RR : 2 Rr : 1rr
iii) Phenotypic ratio Red : Pink : White
1 : 2 : 1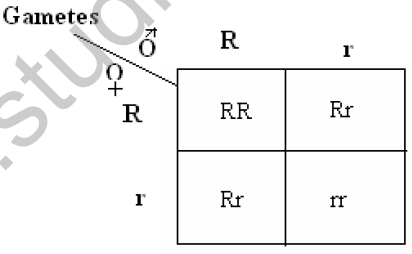 2 Rr-Pink
1 rr-White
iv) F1 Rr X rr 1 RR- Red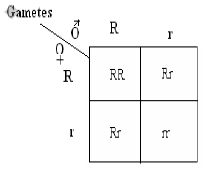 Click for more Biology Study Material
›