CBSE Class XII HOTs Biology - Human Health and Diseasequestions database with answers (Please refer to other links for answers to HOTs questions) for Class 12 of CBSE exams for CBSE Students. Based on CBSE and NCERT guidelines. The students should practice these Question Papers to gain perfection which will help him to get more marks in CBSE examination. Please refer to more CBSE Class 12 question papers in other links. 
 Chapter-8. HUMAN HEALTH AND DISEASE 
Q1) A person`s nails and lips turn grey to bluish. Find out the disease he is suffering from. Name the pathogen.
Ans.1. i) Pneumonia ii) Streptococcus pneumonia
Q.2) A group of viruses infect only nose and the respiratory passage but not the lungs.
Ans.2. Common cold
    Rhino virus
Q.3) The health department would like to control malaria without using chemicals in any form.
        Being a student of Biology what method would you suggest? 1
Ans.3. By the introduction of the mosquito larvae feeding fish Gambusia
Q.4) Only Female Anopheles mosquito acts as a vector? Why? 1
Ans.4. Because they require human blood protein for the production of egg.
Q.5) Name the missing organisms/ diseases in the table given below. 2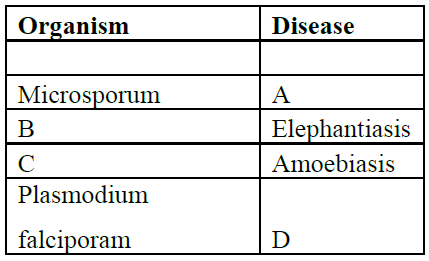 Ans.5. A. Ring worm
B. Wuchereria sps.
C.Entamoeba histolytica
D.Malignant malaria
Q 6) Why do children of metro cities of India suffer from allergies and asthma? 2
Ans.6. Because of the protected environment provided early in life and due to
exposure to high level of pollution.
Q.7) A doctor injects preformed antibodies against a snake bite. What type of immunity does it develop in the patient? 1
Ans.7. Passive immunity
Q.8) A person has developed allergic reactions like sneezing, watery eyes, running nose and difficulty in breathing. What could be the reason for these symptoms?
Ans.8. Secretion of Histamine & Serotonin by mast cells
Antihistamine, Adrenalin, steroid
Q.9) A patient has lost his immunity. 3
(i) Name the disease associated with it.
(ii) Name the confirmatory test to diagnose the disease.
(iii) Why did he lose his immunity?
Ans.9. i) AIDS
II) ELISA
III) His T-Lymphocytes were destroyed
Q.10) A person claimed that he has seen sounds, heard colours and smelt light. 3
(i) What could be the possible reason?
(ii) Name two chemicals responsible for this condition.
(iii) Mention any one source for these chemicals.
Ans.10. i) Hallucination
ii) LSD, cocaine
iii) Erythroxylum coca/Atropa belladona/Datura sps.
Q.11) Complete the following flow chart showing replication of retrovirus. 2


Ans.11. a)Viral RNA enters macrophages
b) Reverse transcriptase
c) HIV viral particles
d) T-Lymphocytes.
Click for more Biology Study Material
›