Download printable Science Class 7 Worksheets in pdf format, CBSE Class 7 Science Worksheet Set A has been prepared as per the latest syllabus and exam pattern issued by CBSE, NCERT and KVS. Also download free pdf Science Class 7 Assignments and practice them daily to get better marks in tests and exams for Grade 7. Free chapter wise worksheets with answers have been designed by Standard 7 teachers as per latest examination pattern
Science Worksheet for Class 7
Class 7 Science students should refer to the following printable worksheet in Pdf in Grade 7. This test paper with questions and solutions for Standard 7 Science will be very useful for tests and exams and help you to score better marks
Class 7 Science Worksheet Pdf
1.The term that is used for the mode of nutrition in yeast, mushroom and bread mould is
a) Autotrophic   b)Insectivorous    c) Saprotrophic    d) Parasitic
2 Four arrangements to measure temperature of ice in beaker with laboratory thermometer are shown below. Which one of them shows the correct arrangement for accurate measurement of temperature?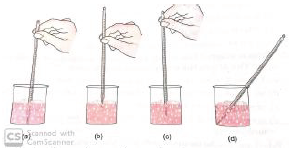 3 Which of the following statements is incorrect for a chemical reaction?
a) Heat may be given out but never absorbed.
b) Sound may be produced.
c) A color change may take place.
d) A gas may be evolved.
4 How would you show that setting of curd is a chemical change? 
5 Convert 250C to 0F. 1
6 Nitrogen is an essential nutrient for plant growth. But farmers who cultivate pulse crops like green gram, Bengal gram, black gram, etc do not apply nitrogenous fertilizers during cultivation. Why?
7 Give an example of a chemical/physical reaction for each of the following situations:
a) A change in colour is observed. b) A gas is evolved.
c) Sound is produced. d) Formation of precipitate.
e) Change of state from liquid to gas. f) Change of state from gas to liquid.
8 a) How do water and minerals absorbed by roots reach the leaves?
b) 'Life on the earth would be impossible in the absence of photosynthesis.' Give any two reasons to support this statement.
9 a) Starting from A, Paheli moves along a rectangular path ABCD as shown in figure below. She takes 2 minutes to travel each side. Plot a distance-time graph and explain whether the motion is uniform or non-uniform.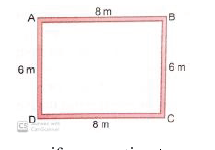 b) Distinguish between uniform and non-uniform motion.
Please click on below link to download CBSE Class 7 Science Worksheet Set A
Click for more Science Study Material
›