Download printable Science Class 7 Worksheets in pdf format, CBSE Class 7 Science Reproduction in Plants Worksheet Set A has been prepared as per the latest syllabus and exam pattern issued by CBSE, NCERT and KVS. Also download free pdf Science Class 7 Assignments and practice them daily to get better marks in tests and exams for Grade 7. Free chapter wise worksheets with answers have been designed by Standard 7 teachers as per latest examination pattern
Reproduction in Plants Class 7 Science Worksheet Pdf
Class 7 Science students should refer to the following printable worksheet in Pdf for Reproduction in Plants in Grade 7. This test paper with questions and solutions for Standard 7 Science will be very useful for tests and exams and help you to score better marks
Class 7 Science Worksheet for Reproduction in Plants
reproduction in plants
Question 1- What happens in regeneration method of reproduction?
Answer- The ability of living things to repair themselves or grow lost parts is called regeneration.
Question 2- Give two examples of organisms reproducing through binary fission.
Answer- Algae and fungi.
EXERCISE
Question 1- Fill In The Blanks.
(i) Anther and filament form the stamen of a flower.
(ii) In sexual reproduction seeds are formed.
(iii) Flowers having both stamens and pistil are called bisexual flowers.
(iv) Vegetative propagation is an asexual mode of reproduction.
Question 2- Write True Or False.
(i). Yeast reproduces by asexual and sexual means. (False)
(ii). Pollen grains are the male gametes of a flower. (True)
(iii). Ginger is a stem which bears nodes and internodes. (True)
(iv). Cutting and grafting are natural means of reproduction. (False)
Question 3- Match Column 'A' with Column 'B' :-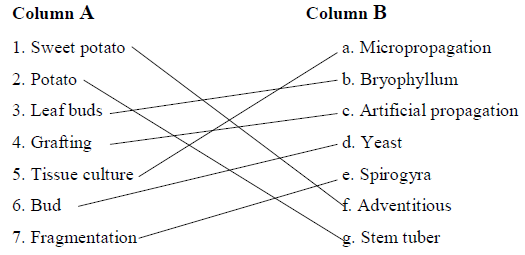 Question 4- Very Short Answer Type Questions.
(i) In which mode of reproduction new plants are formed from only one parent?
Answer- Asexual reproduction.
(ii) Which part of the flower develops into fruit?
Answer- Ovary.
(iii) How does yeast multiply?
Answer- With budding.
(iv) Give one example where air helps in pollination.
Answer- The pollen grains of grass like plants being light are carried by air from anther to stigma for pollination.
(v) Name the reproductive parts of a flower.
Answer- Stamen (male part) – Anther and filament,Pistil (female part) – Stigma, style and ovary.
Question 5- Short Answer Type Questions.
(i) Name different methods of asexual reproduction in plants.
Answer- Binary fission, budding, fragmentation, spore formation, regeneration and vegetative propagation.
(ii) What is the artificial propagation in plants?
Answer- Some plants are grown by cutting, layering, grafting and tissue culture. These are artificial methods of propagation on plants.
(iii) What is tissue culture technique or micro propagation?
Answer- In tissue culture a mass of dividing cells (callus) is grown in a suitable medium containing necessary nutrients and hormones. New plants are grown from these plantlets.
(iv) Describe advantages of seed dispersal.
Answer- Dispersal of seeds ensures that the plants are dispersed over wide areas.
(v) What is germination? What are the conditions needed for germination?
Answer-
On reaching the moist soil, the seed swells up by imbibing water. The embryo starts germinating. Its radical grows down into the soil and forms the root. The plumule grows upward in the air, develops leaves and forms the shoot of the young plant.
Question 6- Long Answer Type Questions.

(i) Describe different kinds of asexual reproduction with examples.
Answer-
(1) Vegetative propagation: It is a type of asexual reproduction in which new plants are produced from roots, stems, leaves and buds. For example new rose plant is grown by cutting of stem.
(2) Budding: In some plants like Hydra, new plant is formed from an outgrowth (bud) on main plant body.
(3) Spore formation: Bread mould (Rhizopus), mosses and ferns reproduce by spore formation. Spores are tiny spherical asexual reproductive bodies covered by thick wall which protect the spore in unfavorable conditions.
(4) Fragmentation: In this process, a new organism is developed from the fragments (small pieces) of the parent body. Example: Spirogyra (algae) breaks up into two or more fragments. These fragments or pieces grow into new individuals
(ii) Explain different ways with examples in which plants can be reproduced vegetatively by artificial means.
Answer-
(1) Cutting- Plants like rose, sugarcane are grown by stem or root cuttings. Cuttings are short lengths of stem with nodes which are placed in soil.
(2) Layering- In plants like jasmine and strawberry lower branch of the stem is bent and buried under the soil to grow new roots from the node of buried stem. When roots grow new plant can be cut from the parent plant and planted as a new independent plant.
(3) Grafting- In grafting we take stock (root portion) and scion (stem portion) from two desired plants.Grafting ends of stock and scion are obliquely cut, placed face to face, tied tightly and wrapped. Hence we get
a plant with desired qualities. Examples- plum and mango.
(4) Tissue culture- In tissue culture a mass of dividing cells (callus) is grown in a suitable medium containing necessary nutrients and hormones. New plants are grown from these plantlets. Examples: sugarcane and potatoes.
(iii) What is pollination? What are two types of pollination? Discuss different agents of pollination with examples.
Answer- Pollination- Transfer of pollen grains from anther to stigma is called pollination.
Types of pollination- (1) Self-Pollination, (2) Cross-Pollination.
Agents of pollination-
(1) By Air- The pollen grains of grass like plants being light are carried by air from anther to stigma .
(2) By Water- Some aquatic plants like Hydrilla have long pollen grains with water resistance layer (exine) on them. So these pollen grains transfer from anther to stigma with help of water flow.
(3) By insects- Insects get attracted to beautiful blooms and fragrance of flowers and transport pollen grains.
(iv) Explain the process of fertilization.
Answer-
After pollination, pollen grain develops a pollen tube which passes through style to the ovule.Pollen tube carries male gametes to the ovule. Through micropyle, it enters in the ovule where one male gamete fuses with female gamete to form zygote. This process of fusion of male and female gamete is called fertilization.
(v) List the different steps in formation of seeds and fruits.
Answer- After fertilization ovary grows into fruit. Other parts of flower fall off. The ovules develop into seed. A seed is a mature ovule that contains the embryo and stored food. It is enclosed by a protective covering called seed coat.
(vi) What is dispersal? Explain with examples the different ways in which seeds get dispersed.
Answer-
Transfer of seeds from one place to other by air, water or animals is known as dispersal.
(a) Dispersal by animals – Seeds dispersed by animals have spines and hooks which cling to the bodies of animals and are carried to long distances as in Xanthium and Urena.
(b) Dispersal by wind - Seeds of sunflower, grass and maple are usually dry and light in weight, so blown to far away places by wind.
(c) Dispersal by water – The fruits and seeds of plants like water lily, lotus and coconut float on water surface and are carried to far off places by water current.
(d) Dispersal by explosion – Fruits and seeds of balsam, castor burst with sudden jerks and get scattered away from their parent body.
            Questions
            Very Short Answer
Q1)      Define zygote?
Q2)      Difference between fruit and ovule?
Q3)      What is fertilisation?
Q4)      Define bud?
Q5)      Define reproduction?
            Short Answer
Q6)      What do you mean by the term pollination?
Q7)      What are spore formations?
Q8)      What do you understand by seed formation?
Q9)      What do you mean by the vegetative propagation?
Q10)    What do you understand by the seed dispersal?
            Long Answer
Q11)    Difference between unisexual flowers and bisexual flowers?
Q12)    State the difference between male gametes and female gametes?
Q13)    Distinguish between asexual reproduction and sexual reproduction?
Q14)    State the difference between internal and external fertilization?
Q15)    How cross pollination is different from self-pollination?
Please click on below link to download CBSE Class 7 Science Reproduction in Plants Worksheet Set A
Click for more Science Study Material
›