NEET UG Physics Thermodynaics MCQs. NEET UG students can acces the biggest database of MCQs on Studiestoday.com. This collection of MCQs have been prepared by the best NEET teachers in the country. NEET students should download and practice these questions to get better marks in examinations. 
 1. A difference of temperature of 250 C is equivalent to a difference of
(A) 720 F (B) 450 F (C) 320 F (D) 250 F
2. What is the value of absolute temperature on the Celsius Scale ?
(A) -273.150 C (B) 1000 C (C) -320 C (D) 00 C
3. The temperature of a substance increases by 270C What is the value of this increase of Kelvin scale?
(A) 300K (B) 2-46K (C) 7 K (D) 27 K
4. At Which temperature the density of water is maximum?
(A) 40 F (B) 420 F (C) 320 F (D) 39.20 F
5. The graph AB Shown in figure is a plot of a temperature of a body in degree Fahrenheit than slope of line AB is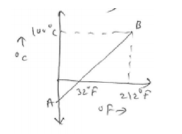 (A) 5/9 (B) 9/5  (C) 1/9 (D) 3/9
6. The temperature on Celsius scale is 250 C What is the corresponding temperature on the Fahrenheit Scale?
(A) 400 F (B) 450 F (C) 500 F (D) 770 F
7. The temperature of a body on Kelvin Scale is found to be x.K. when it is measured by Fahrenheit thermometers. it is found to be x0F, then the value of x is .
(A) 313 (B) 301.24 (C) 574-25 (D) 40
8. A Centigrade and a Fahrenheit thermometers are dipped in boiling water-The water temperature is lowered until the Fahrenheit thermometers registered 1400 what is the fall in thermometers
(A) 800 (B) 600 (C) 400 (D) 300
9. A uniform metal rod is used as a bas pendulum. If the room temperature rises by 100C and the efficient of line as expansion of the metal of the rod is, 2´10-6 0-1 Cwhat will have percentage increase in the period of the pendulum ?
(A) -2´ 10-3 (B) 1´ 10-3 (C) -1´ 10-3 (D) 2´ 10-3
10. A gas expands from 1 litre to 3 litre at atmospheric pressure. The work done by the gas is about
(A) 200 J (B) 2 J (C) 300 J
Please refer to the file below NEET UG Physics Thermodynaics MCQs
Click for more Physics Study Material
›