NEET UG Physics Kinetics MCQs with answers available in Pdf for free download. The MCQ Questions for NEET Physics with answers have been prepared as per the latest NEET Physics syllabus, books and examination pattern. Multiple Choice Questions form important part of competitive exams and NEET exam and if practiced properly can help you to get higher rank. Refer to more topic wise NEET Physics Questions and also download more latest study material for all subjects and do free NEET Physics Mock Test
Kinetics NEET Physics MCQ
NEET Physics students should refer to the following multiple-choice questions with answers for Kinetics in NEET. These MCQ questions with answers for NEET Physics will come in exams and help you to score good marks
Kinetics MCQ Questions with Answers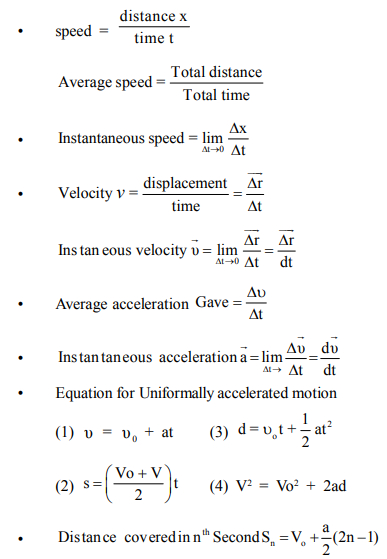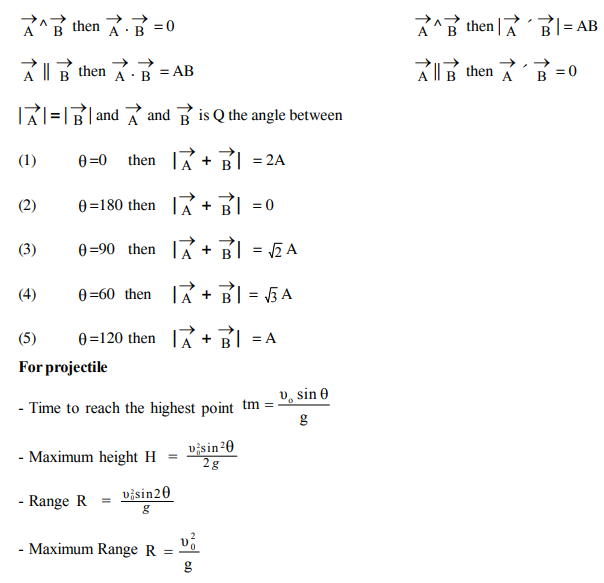 MCQ
For the answer of the following questions choose the correct alternative from among the given ones.
(1) A branch of physics dealing with motion without considering its causes is known as ___
(A) Kinematicas (B) dynamics
(C) Hydrodynemics (D) mechanics
(2) Mechanics is a branch of physics. This branch is ____
(A) Kinematics without dynamics (B) dynamics without Kinematics
(C) Kinematics and dynamics (D) Kinematics or dynamics
(3) To locate the position of the particle we need___
(A) a frame of referance (B) direction of the particle
(C) size of the particle (D) mass of the particle
(4) Frame of reference is a ___ and a ____ from where an obeserver takes his observation,
(A) place, size (B) size, situation
(C) situation, size (D) place, situation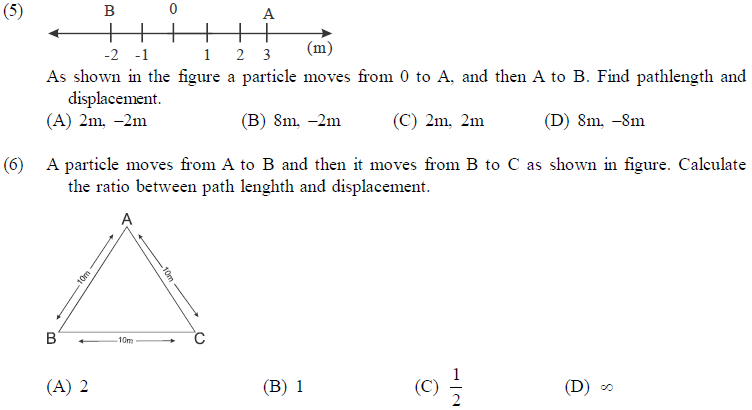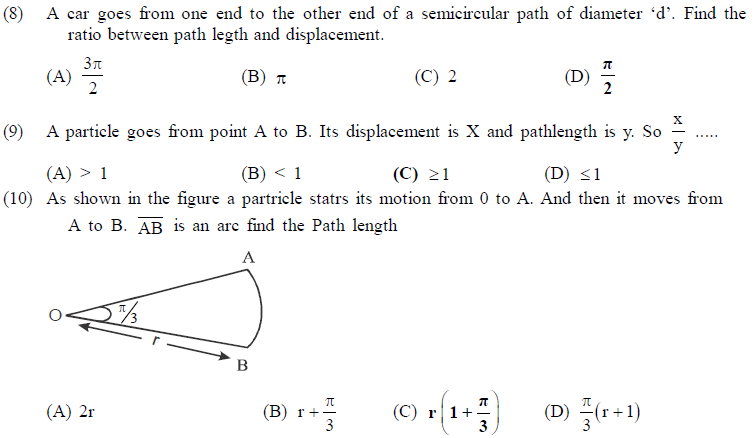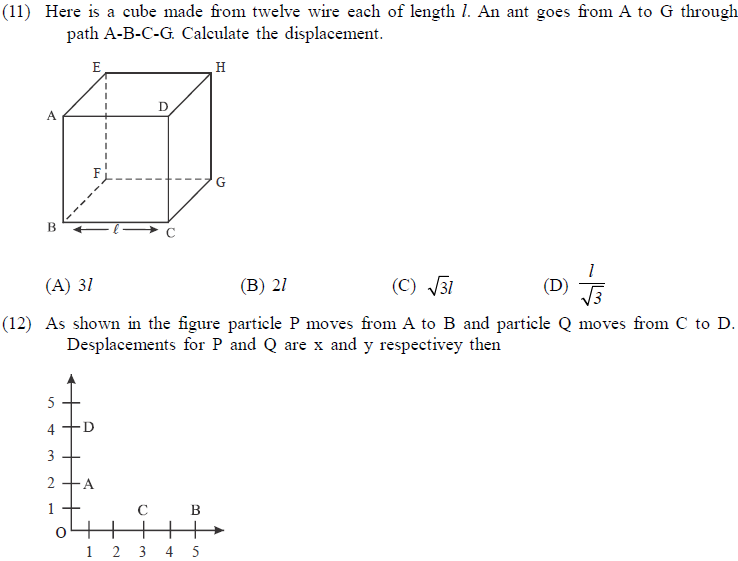 (A) x > y (B) x < y (C) x = y (D) x ≥ y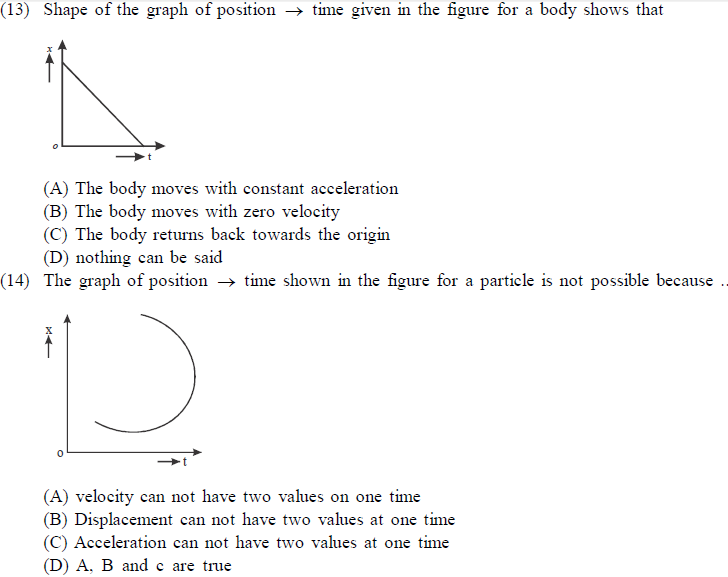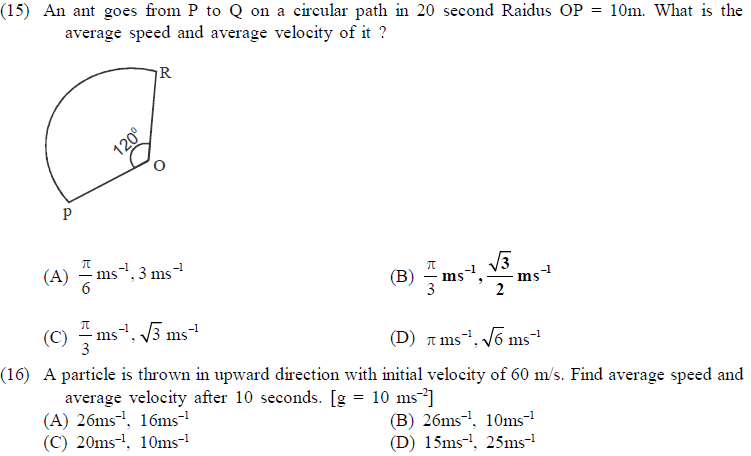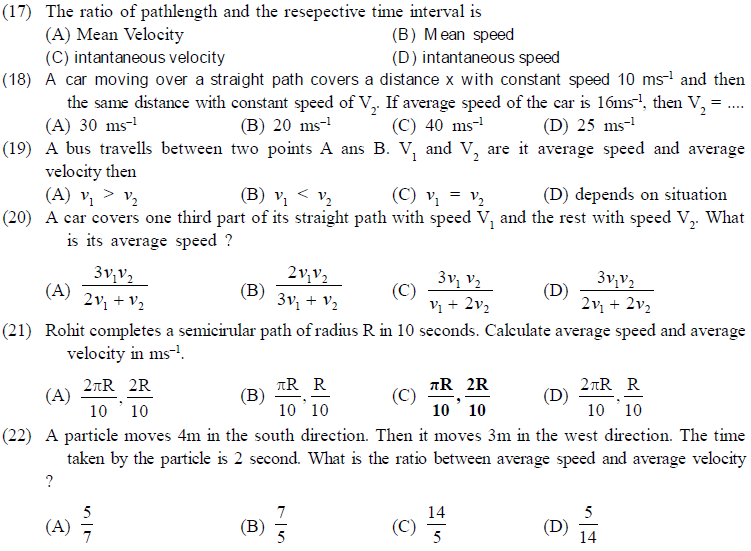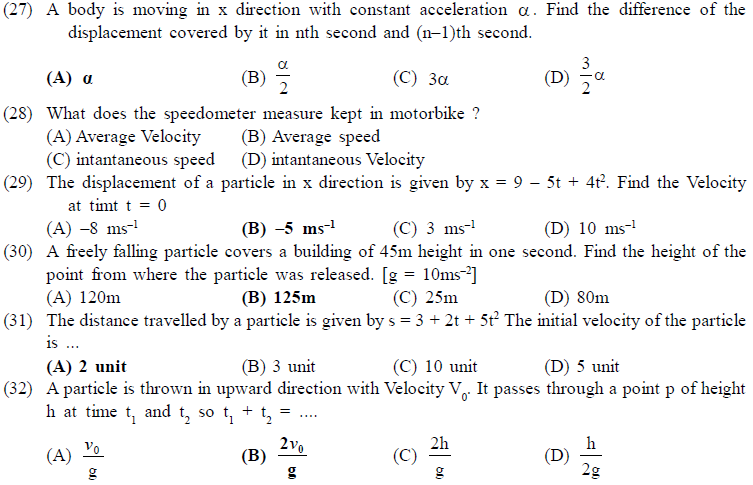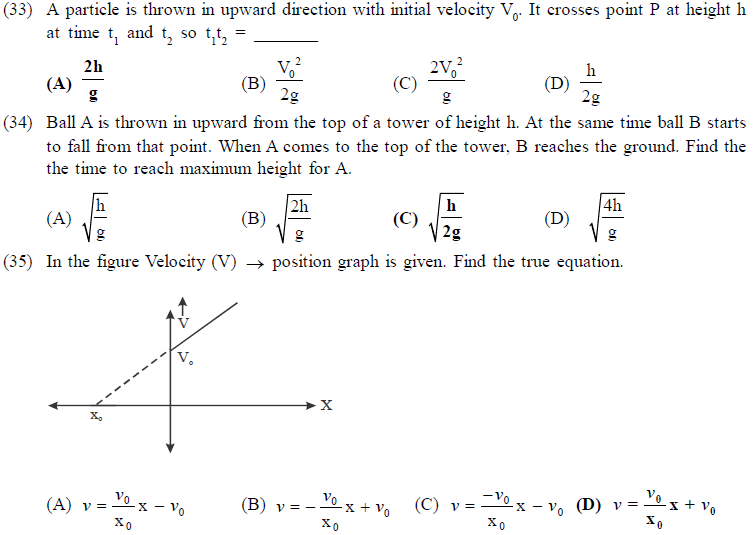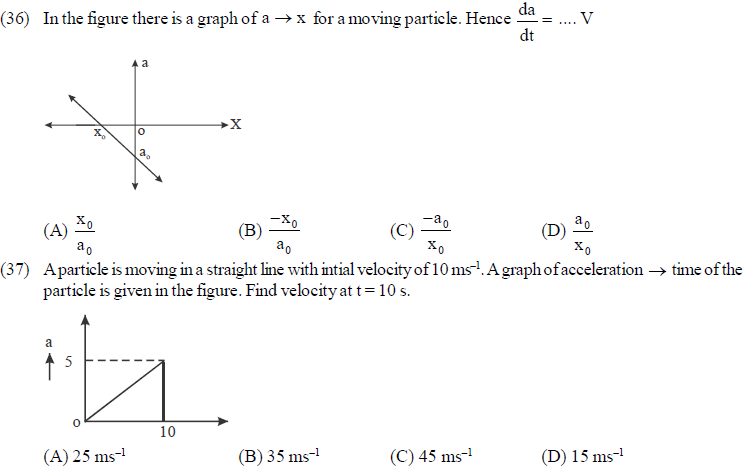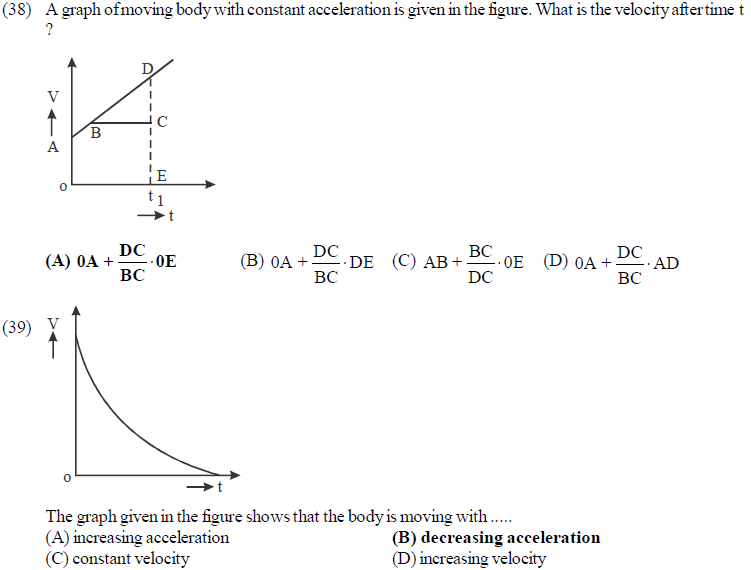 (40) Slope of the velocity-time graph gives of a moving body.
(A) displacement (B) acceleration (C) initial velocity (D) final velocity
(41) The intercept of the velocity-time graph on the velocity axis gives.
(A) initial velocity (B) final velocity (C) average velocity(D) instanteneous velocity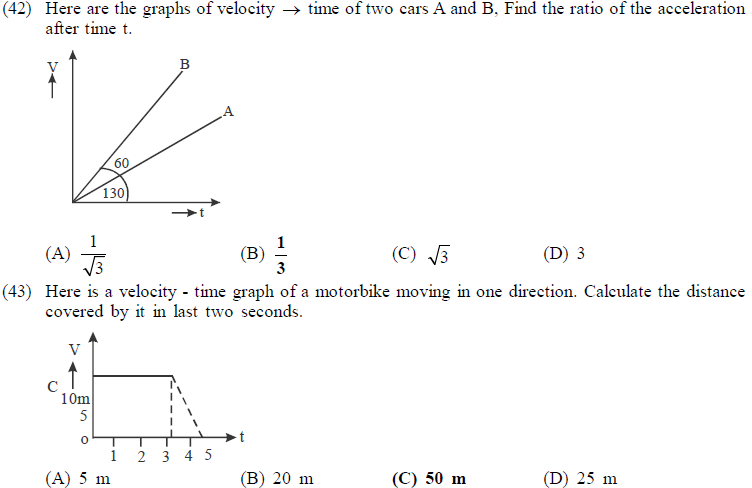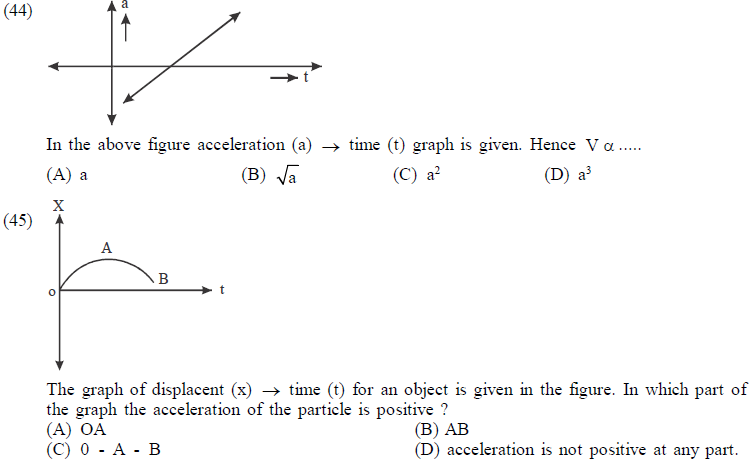 (46) In a uniformly accelerated motion the slope of velocity - time graph gives ___
(A) The instantaneous velocity (B) The acceleration
(C) The initial velocity (D) The final velocity
(47) The area covered by the curve of V – t graph and time axis is equal to magnitude of ___
(A) change in velocity (B) change in acceleration
(C) displacement (D) final velocity
(48) An object moves in a straight line. It starts from the rest and its acceleration is 2ms–2. After reaching a certain point it comes back to the original point. In this movement its acceleration is -3ms-2. till it comes to rest.
The total time taken for the movement is 5 second. Calculate the maximum velocity.
(A) 6 ms–1 (B) 5 ms–1 (C) 10 ms–1 (D) 4 ms–1
(49) The relation between time and displacement of a moving particle is given by t = 2αx2 where α is a constant. The shape of the graph x →y is ____
(A) parabola (B) hyperbola (C) ellips (D) circle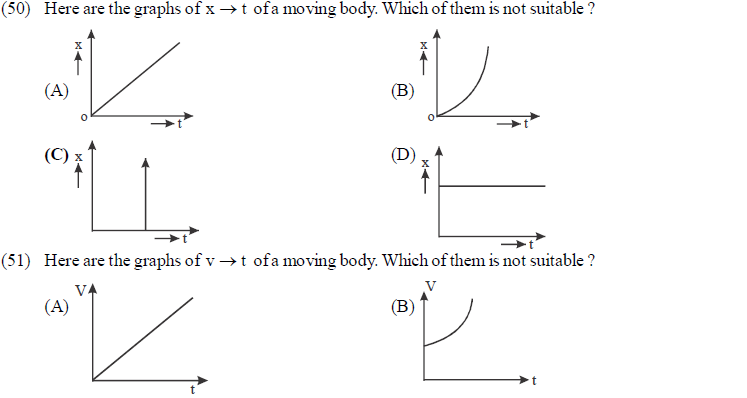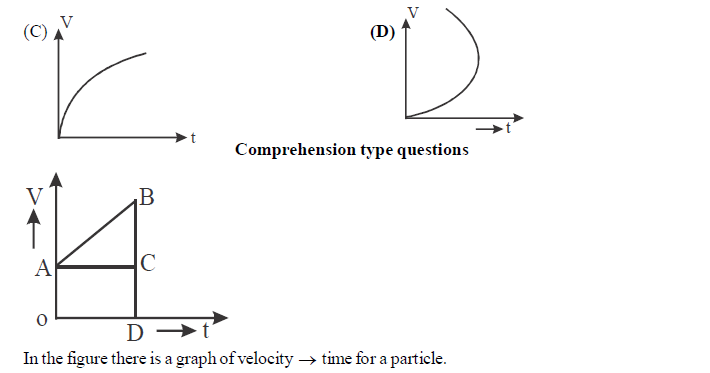 (52) Which area shows the displacement covered by the particle after time t
(A) closed fig AODCA (B) closed fig. ABCA
(C) closed fig. AODCBA (D) none of above
(53) Which part shows initial velocity of the particle ?
(A) OA (B) AB (C) AC (D) AOA
(54) How will you calculate the acceleration of the particle ?
(A) taking length of AB (B) taking magnitude of BC
(C) taking slope of AC (D) taking slope of AB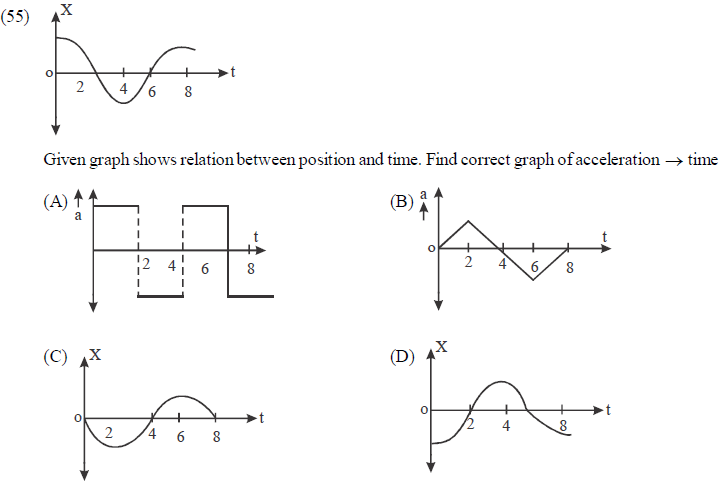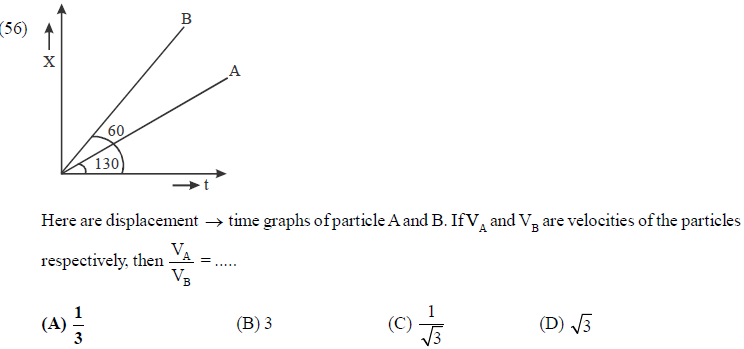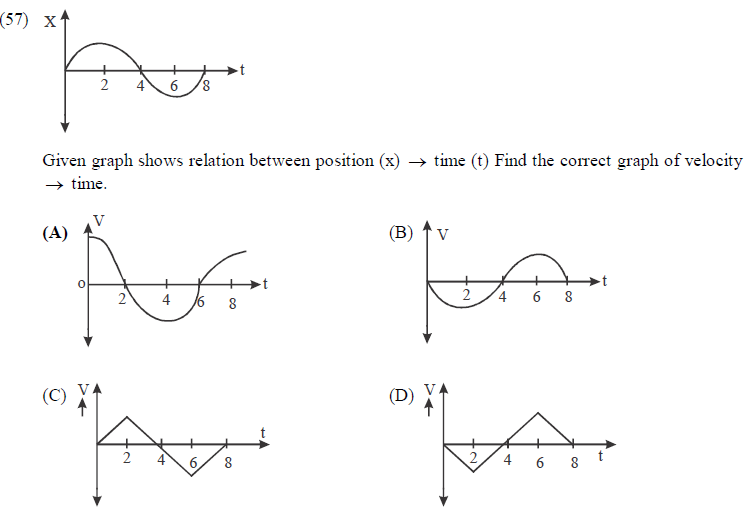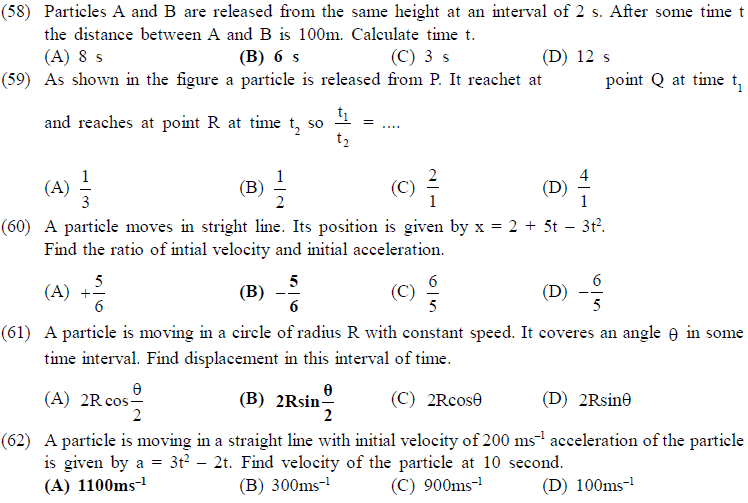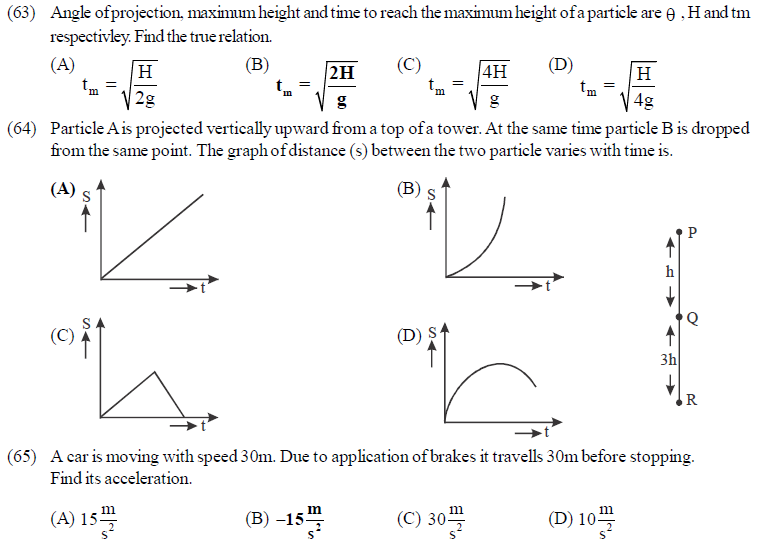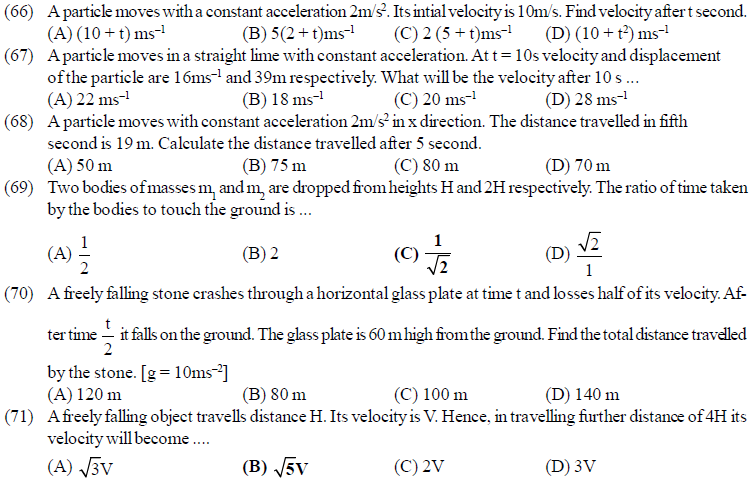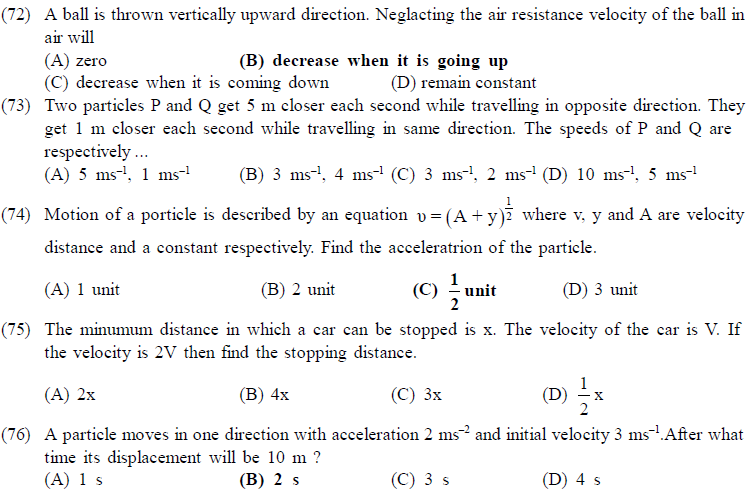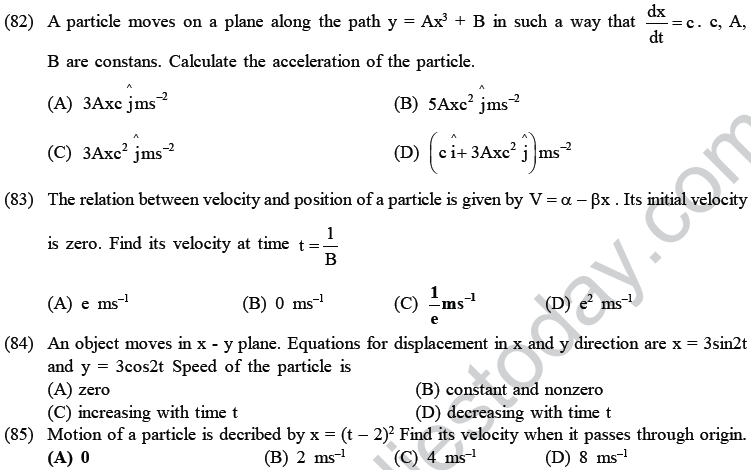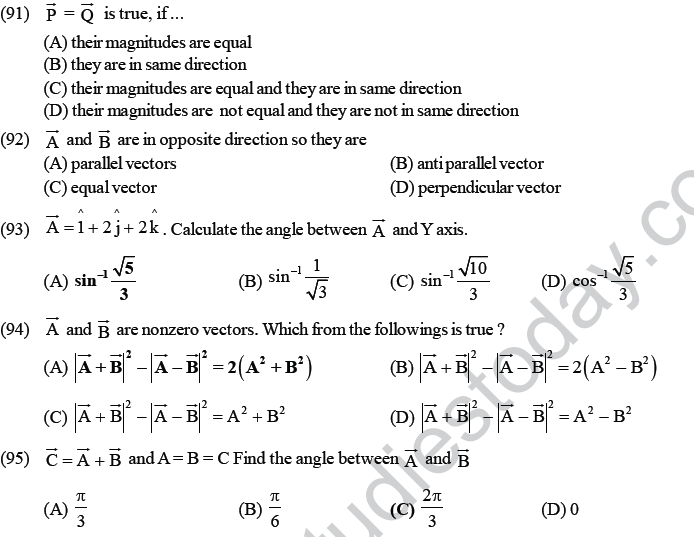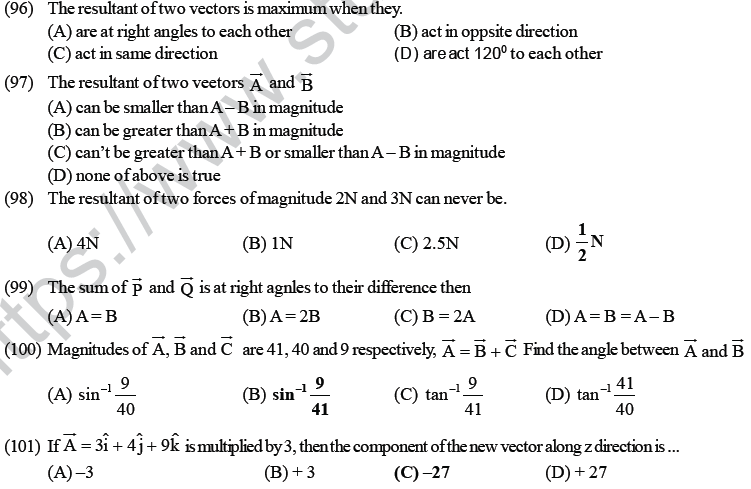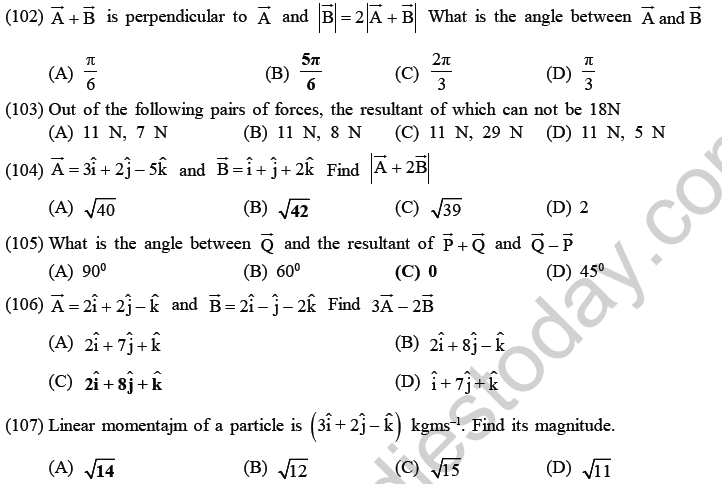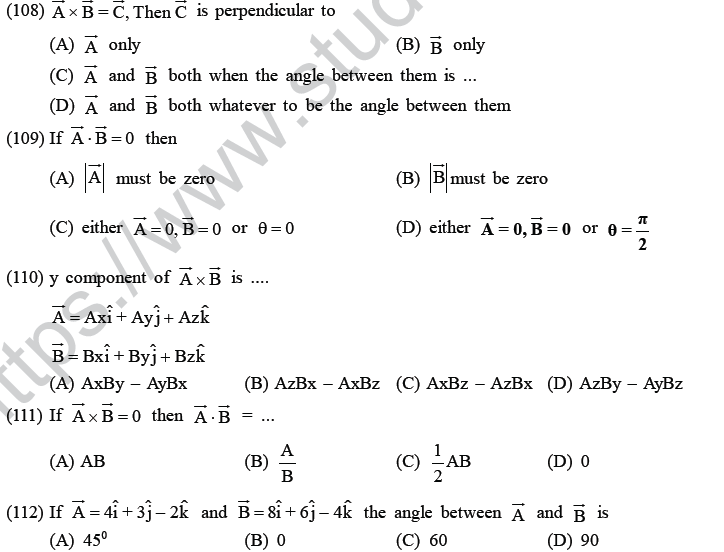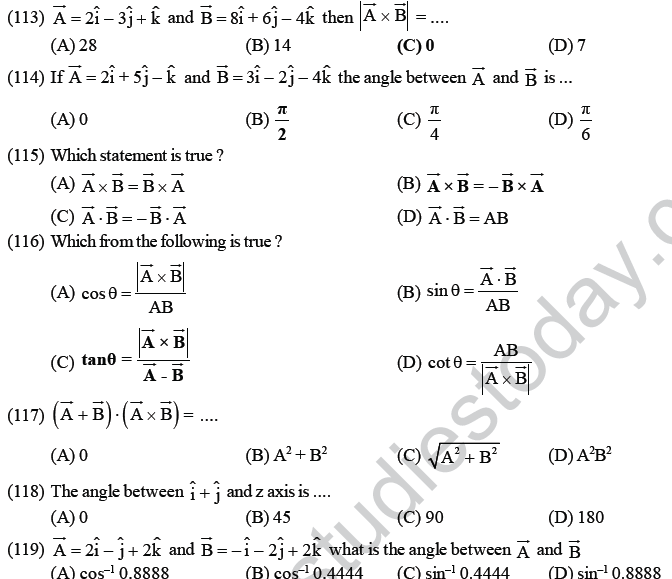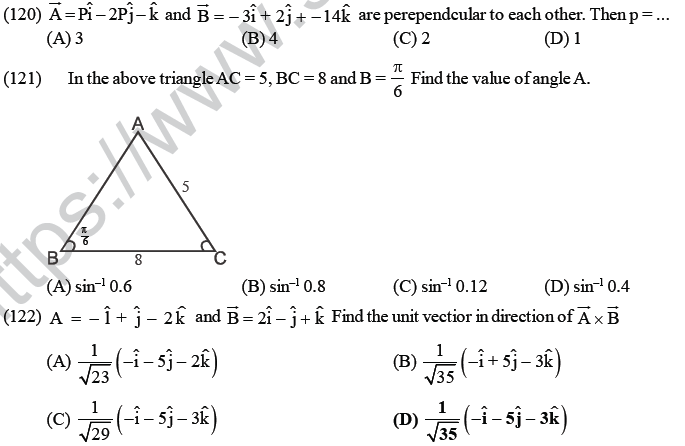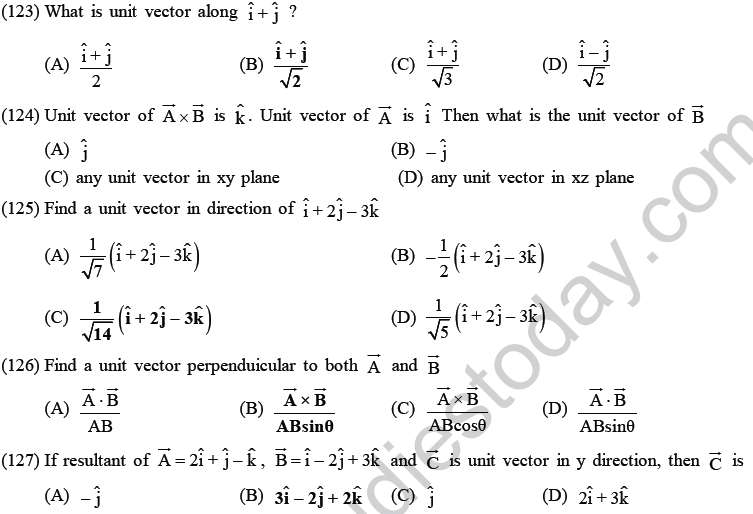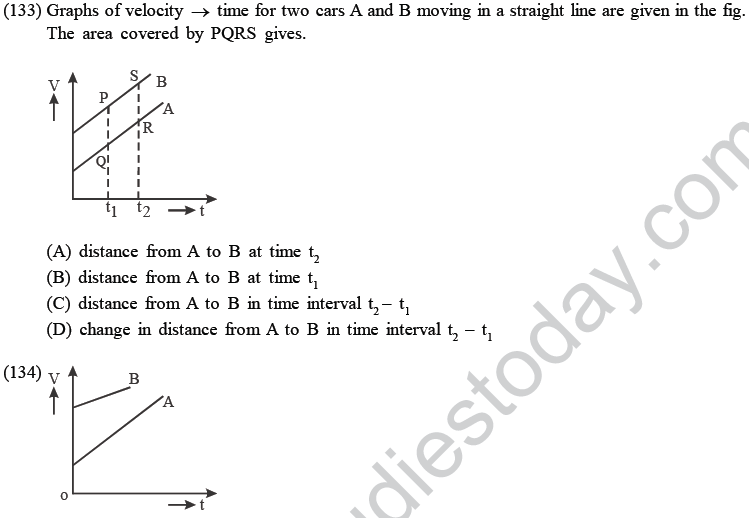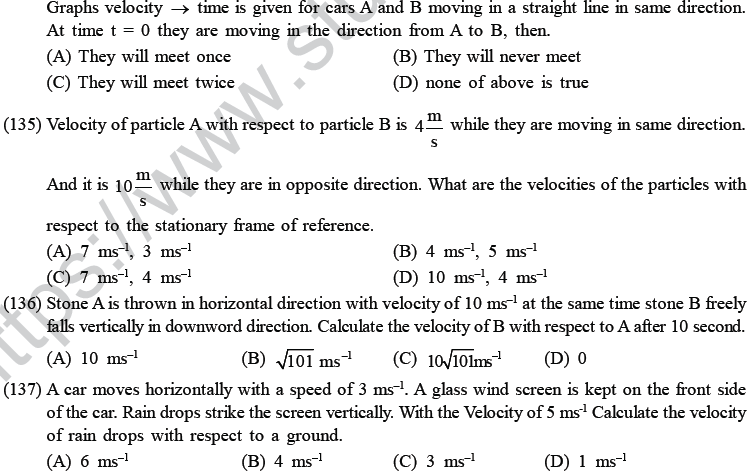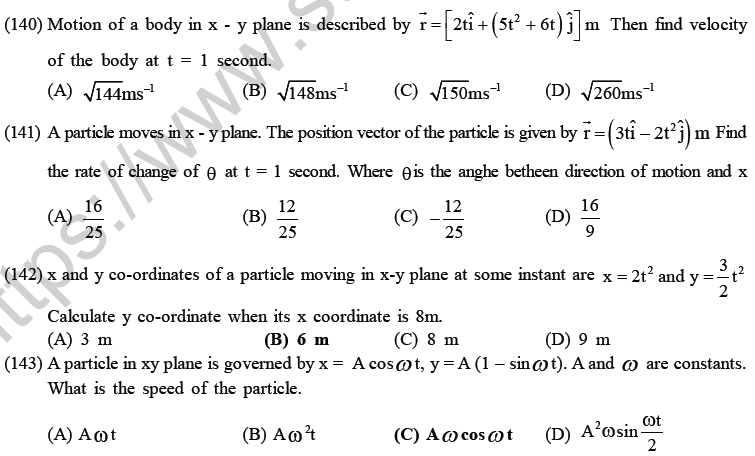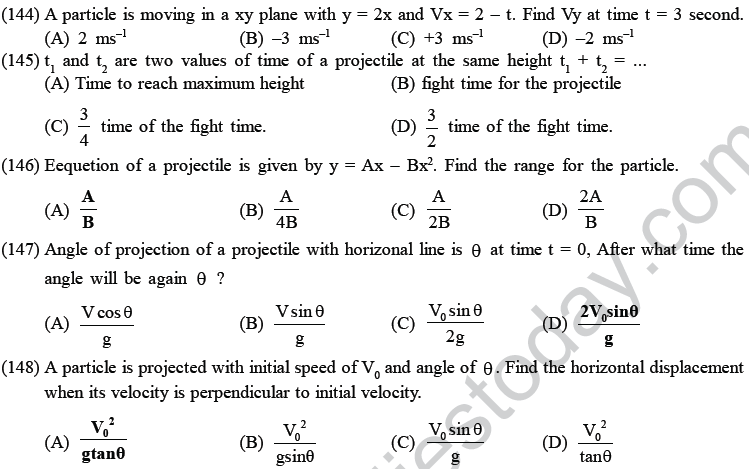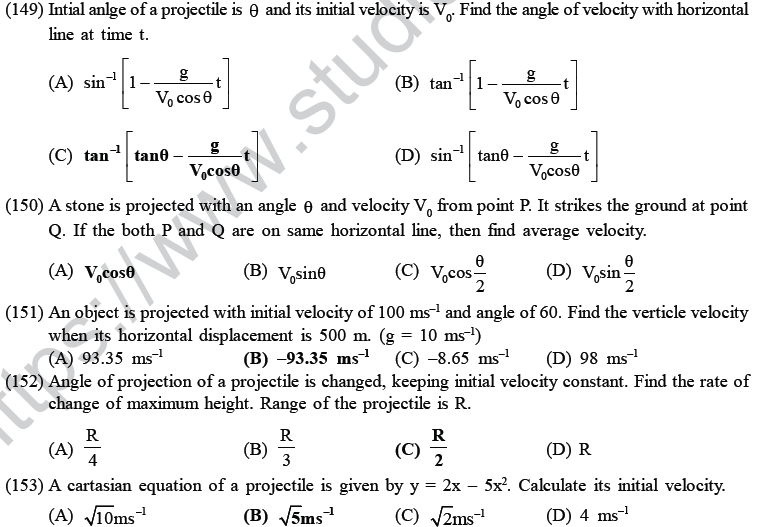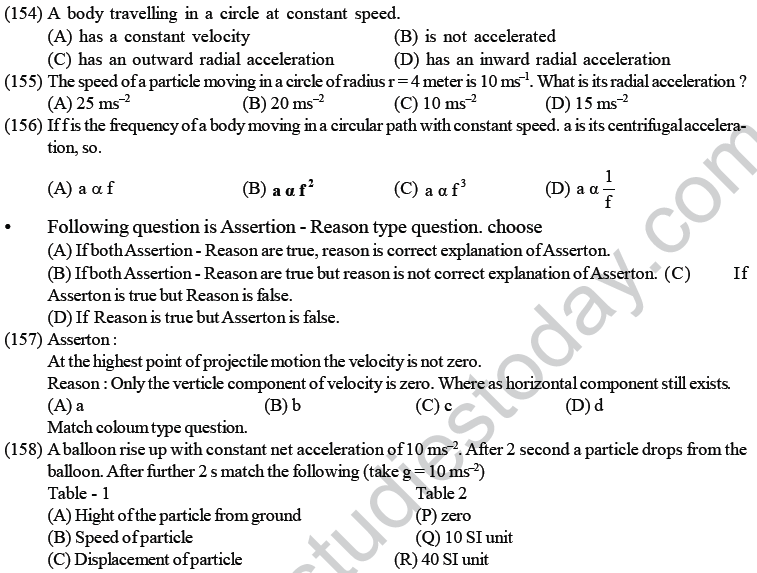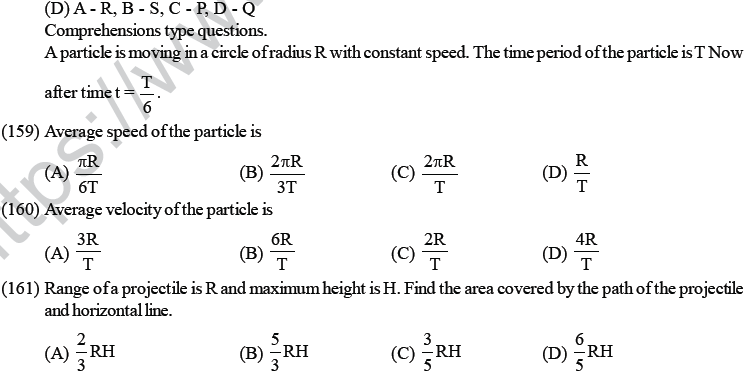 ANSWERS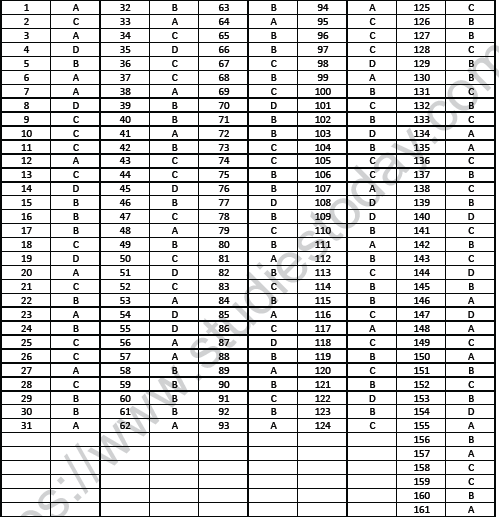 Click for more Physics Study Material
›