NEET UG Physics Dual Nature of Matter MCQs with answers available in Pdf for free download. The MCQ Questions for NEET Physics with answers have been prepared as per the latest NEET Physics syllabus, books and examination pattern. Multiple Choice Questions form important part of competitive exams and NEET exam and if practiced properly can help you to get higher rank. Refer to more topic wise NEET Physics Questions and also download more latest study material for all subjects and do free NEET Physics Mock Test
Dual Nature of Matter NEET Physics MCQ
NEET Physics students should refer to the following multiple-choice questions with answers for Dual Nature of Matter in NEET. These MCQ questions with answers for NEET Physics will come in exams and help you to score good marks
Dual Nature of Matter MCQ Questions with Answers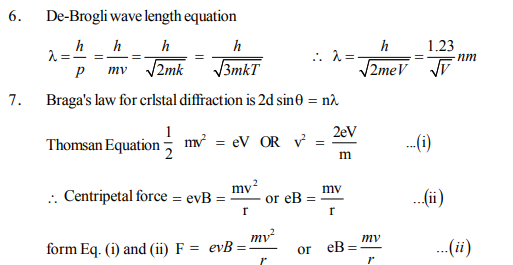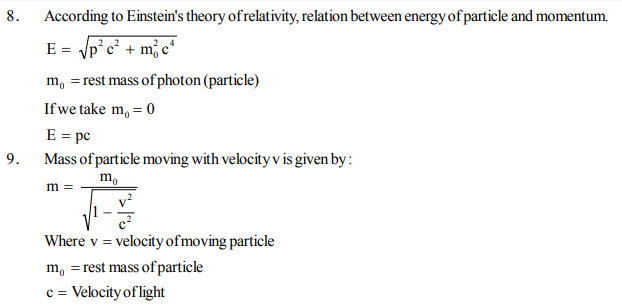 MCQ QUESTIONS
For the answer of the following questions choose the correct alternative from among the given ones.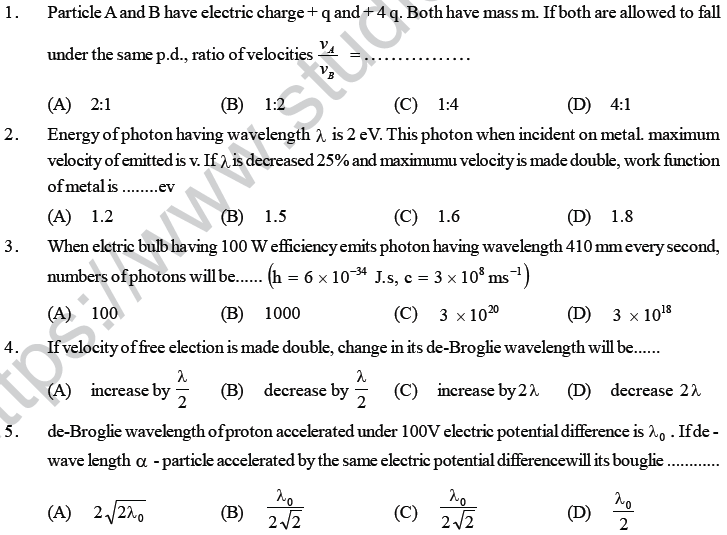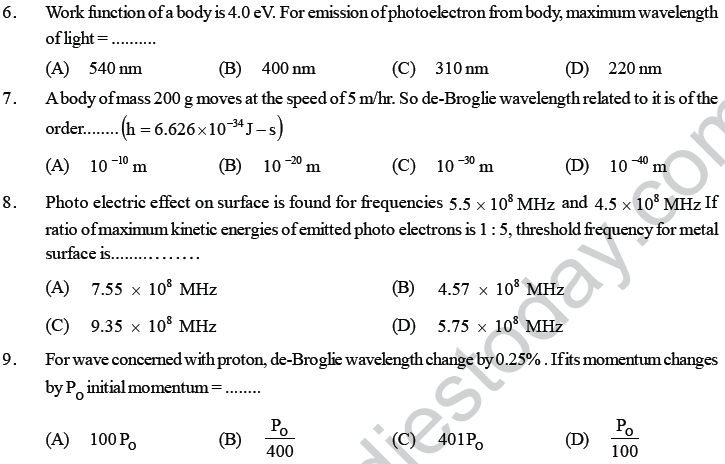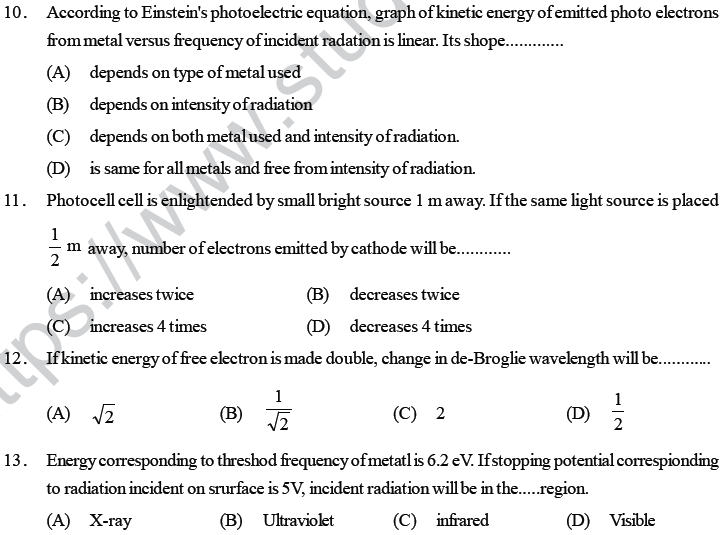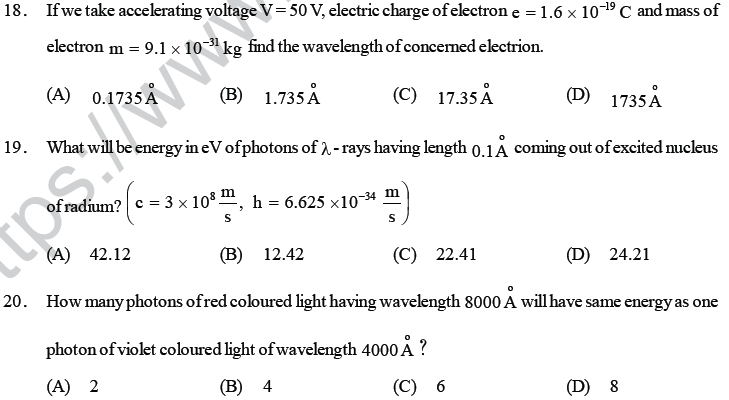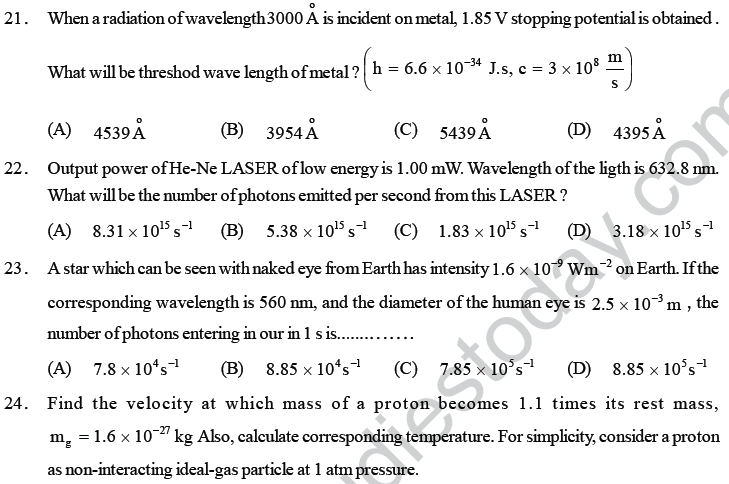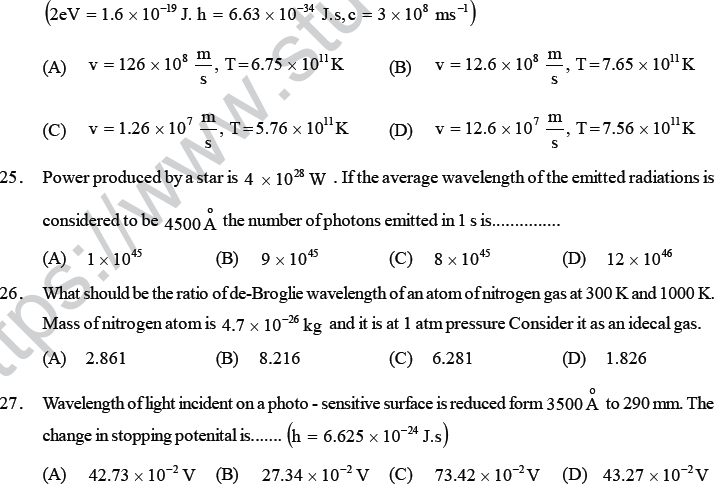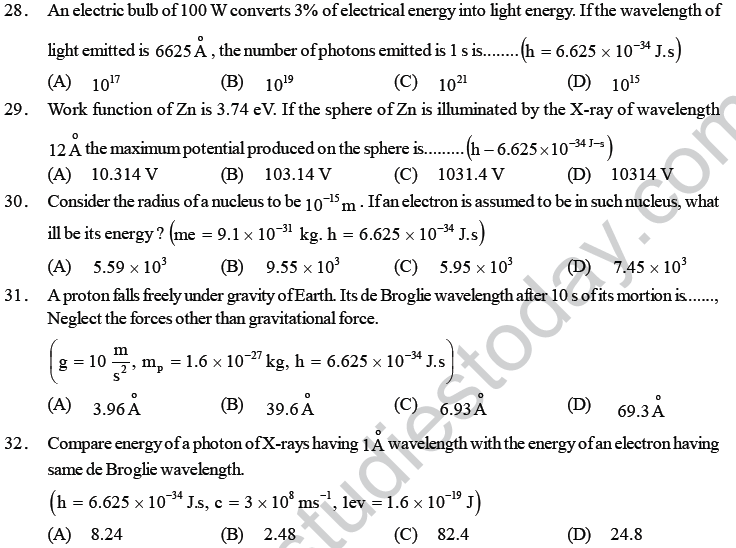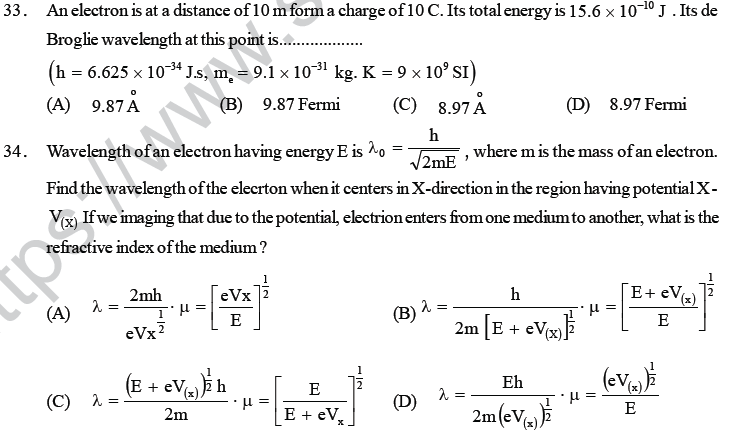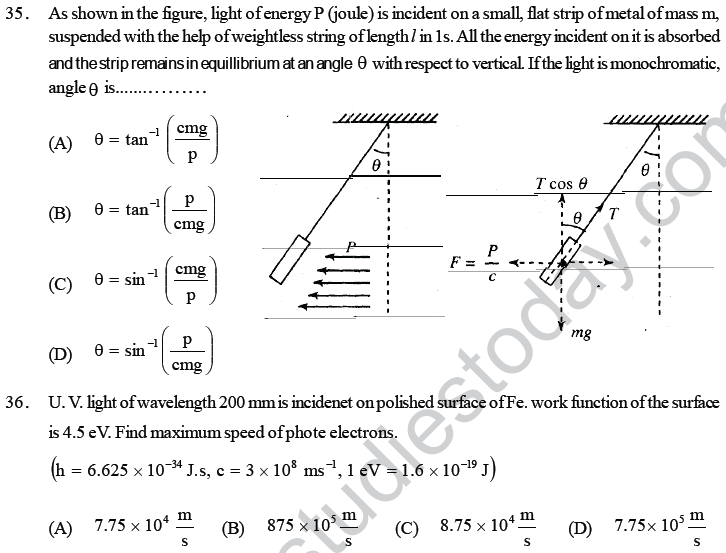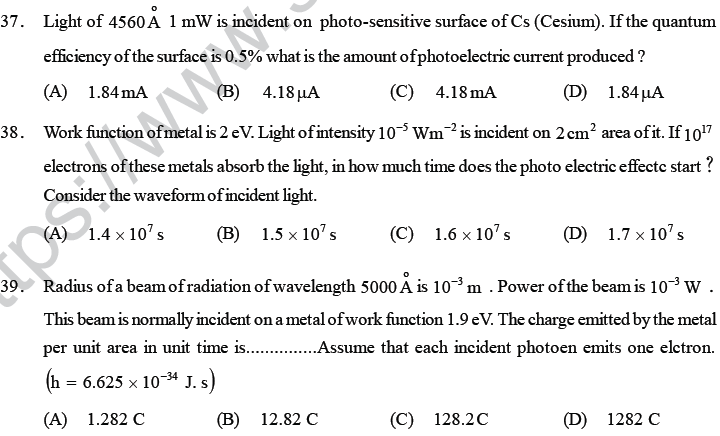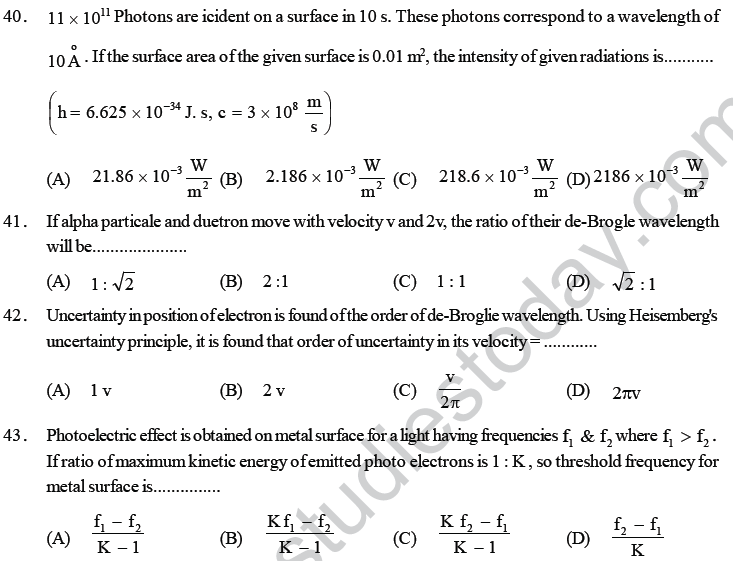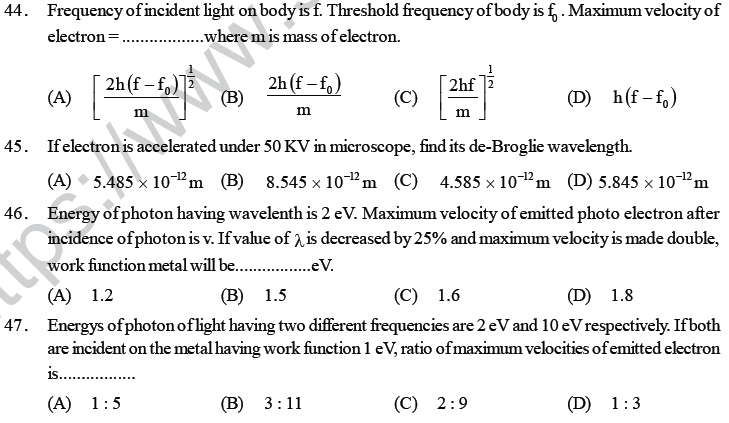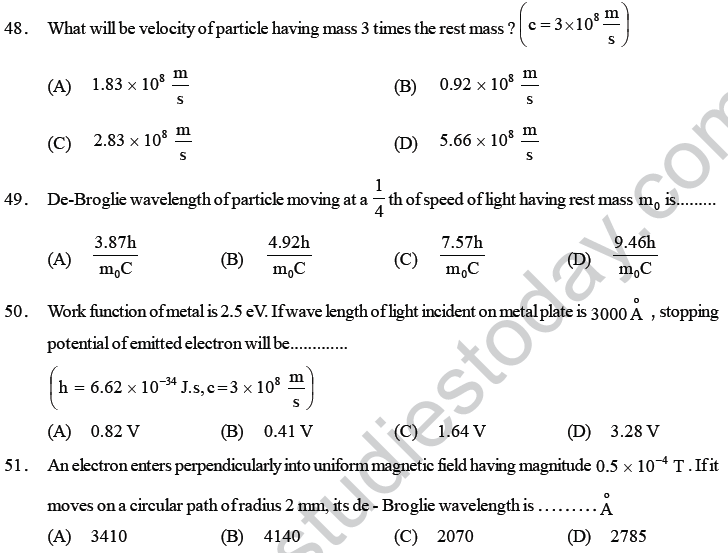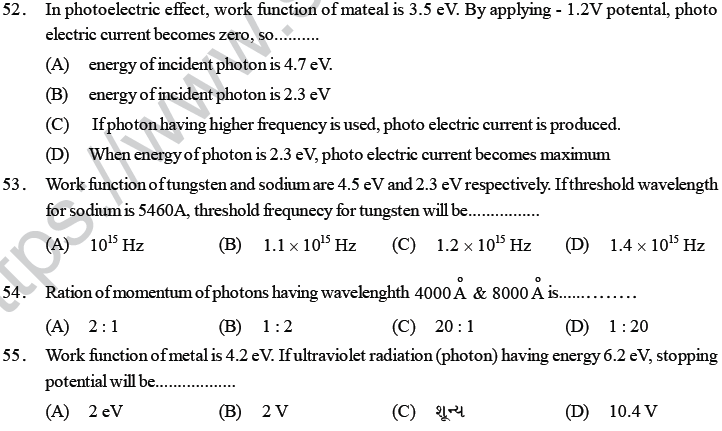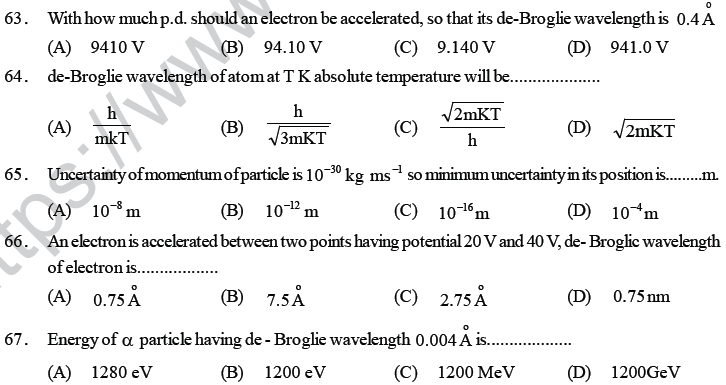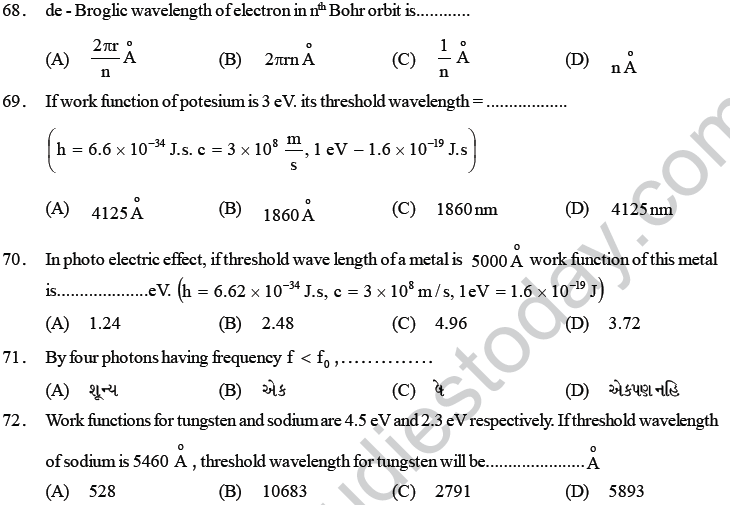 73. Photo senstive surface is incident by light having frequecy 3 times its threshold frequency. In this condition, if frequency of light is made half and intensity of light is made doubel, magnitude of photo electric current becoms____
(A) Fourth (B) double (C) half (D) zero
74. If ratio of threshold frequencies of two metals is 1 : 3, ratio of their work functions is ____
(A) 1 : 3 (B) 3 : 1 (C) 4 : 16 (D) 16 : 4
75. It work function of Na and Fe are 2.5 eV and 5eV respectively ratio of their threshold frequencies _______
(A) 2 :1 (B) 1 : 2 (C) 125 : 1 (D) 1 : 1
76. If electrion is accelerated under the effect of 200V p.d., its kinetic energy = ______
(A) 1.6 × 10-17 J (B) 23 × 10-17 J (C) 4.8 × 10-17 J (D) 6.4 × 10-10 J
77. In quantum mechaincs, a particle _____
(A) can be regarded as group of harmonic waves.
(B) can be regarded as a single wave of definite wavelength only
(C) Can be regarded as only a pair of two harmonic waves
(D) is a point-like object with mass.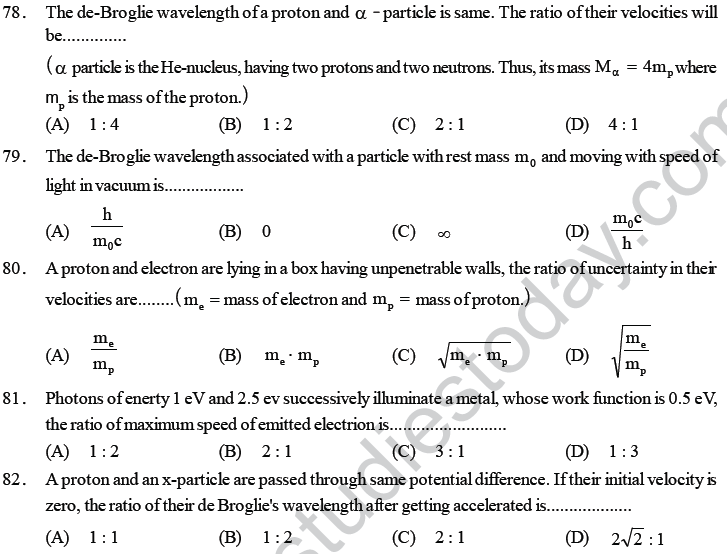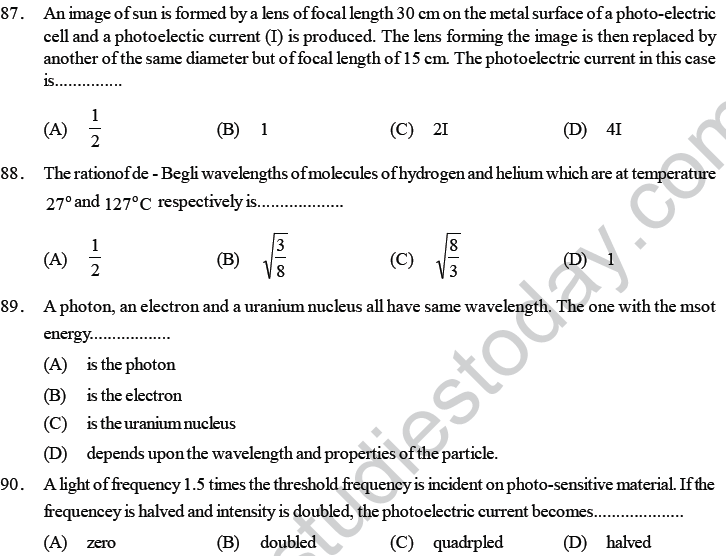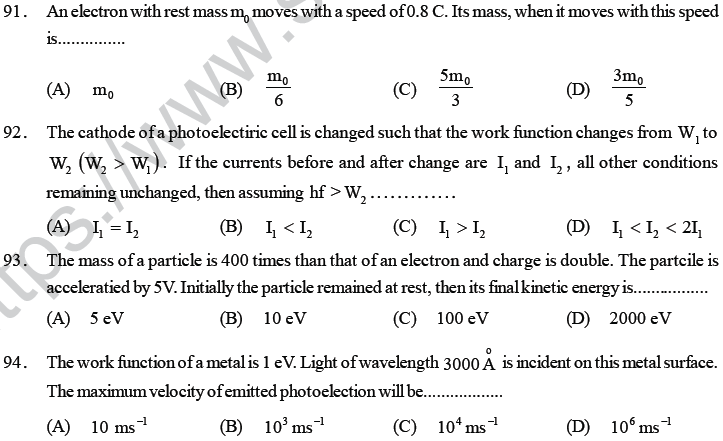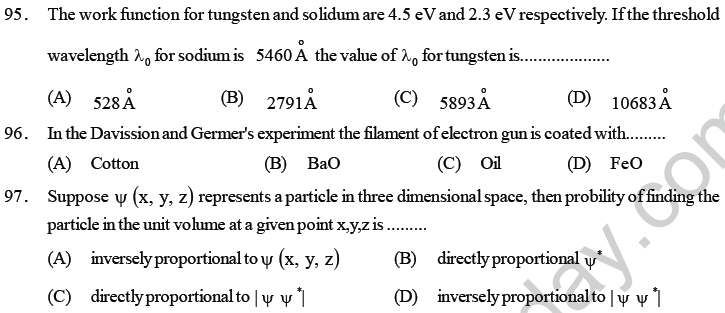 98. Select the correct statement from the following
(A) Radiantion and matter (particles) may not exhibit both the wave nature and particle nature simultaneously at the some moment.
(B) At some moment electromagnetic waves get divided in to small pieces named particles
(C) In a given circumstance a particle at one moment behaves like particle and the at the next moment as wave and so on
(D) Each microscopic particle is envloped by a wave
99. In which of the following phenomena the photon picture is required ?
(A) Energy distribution in black body radiation (B) Compton scattering
(C) Photoelectric effect (D) all of the none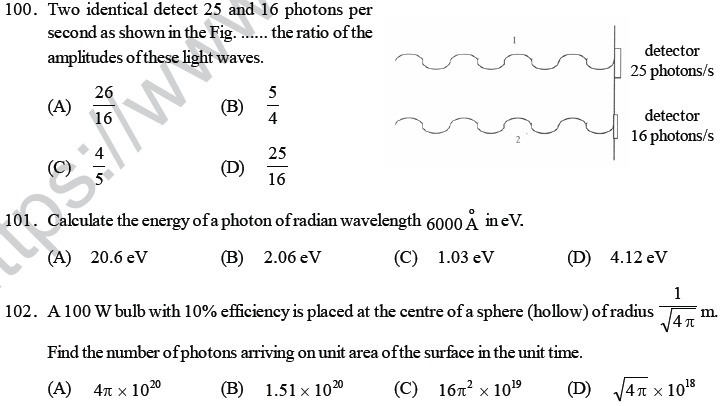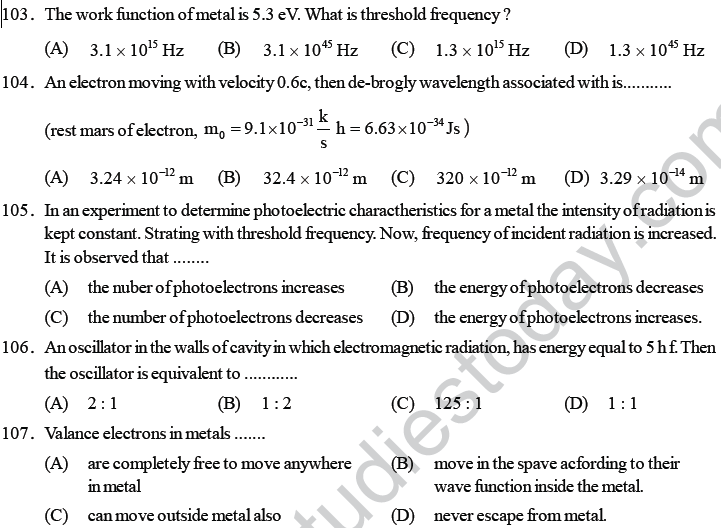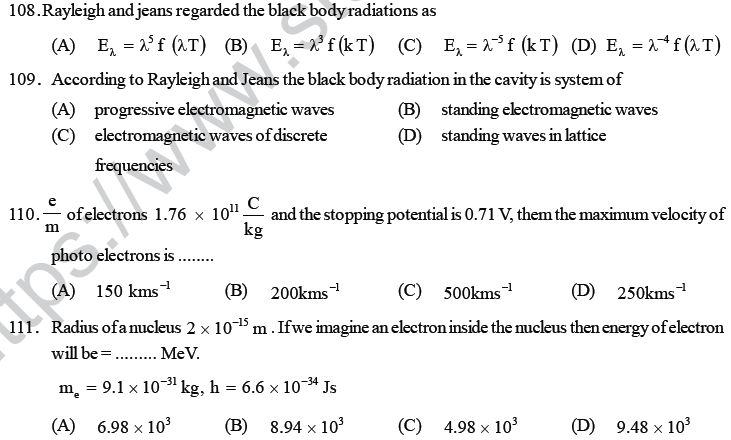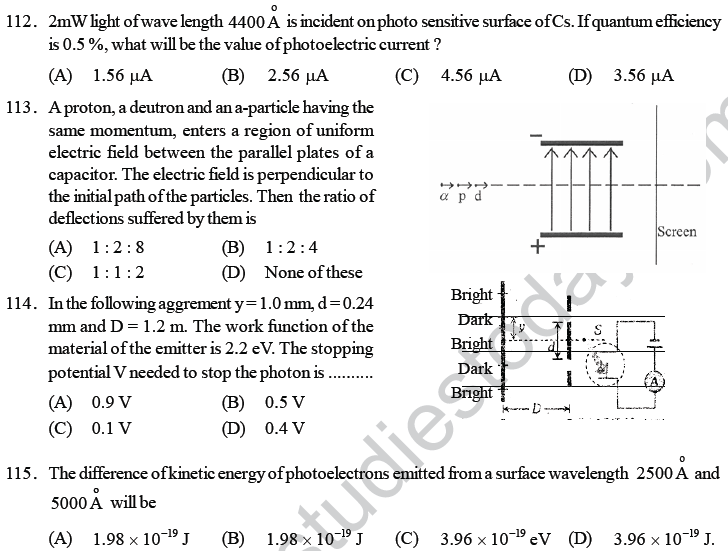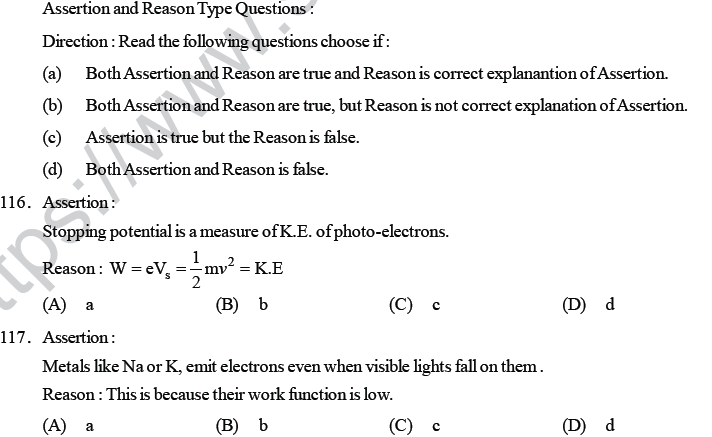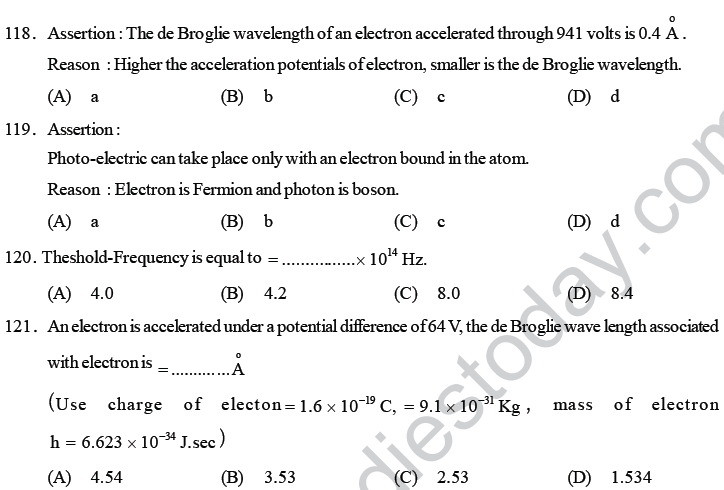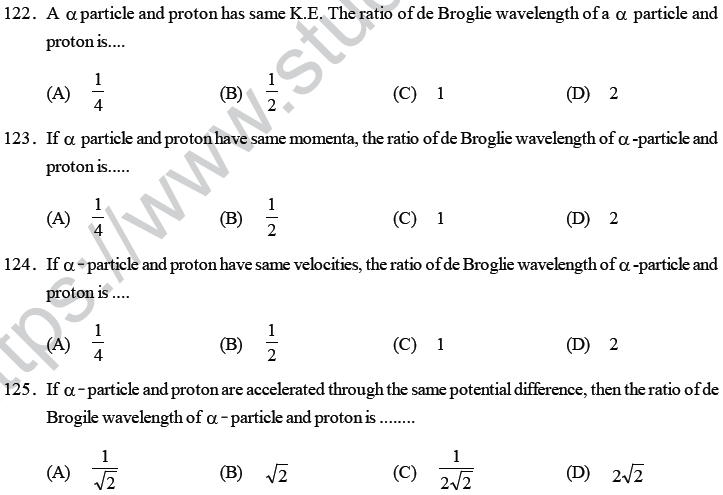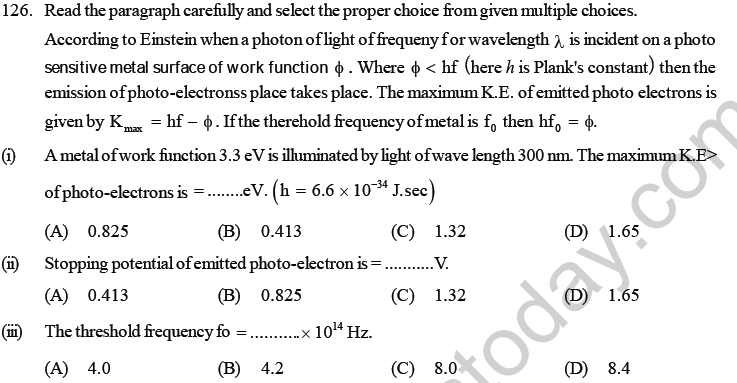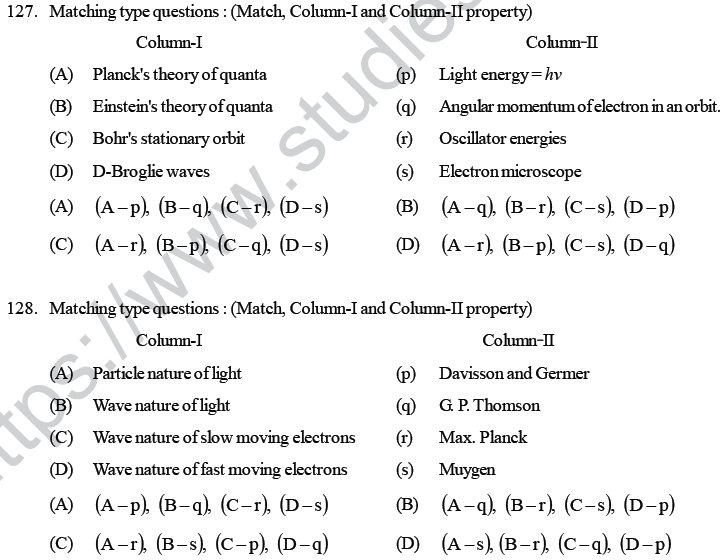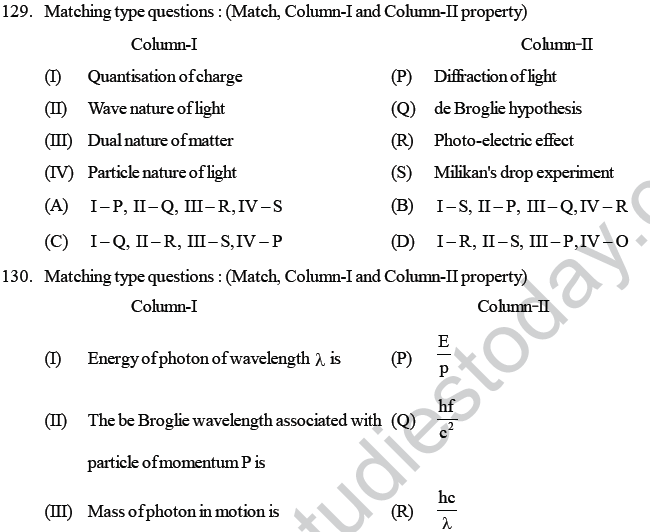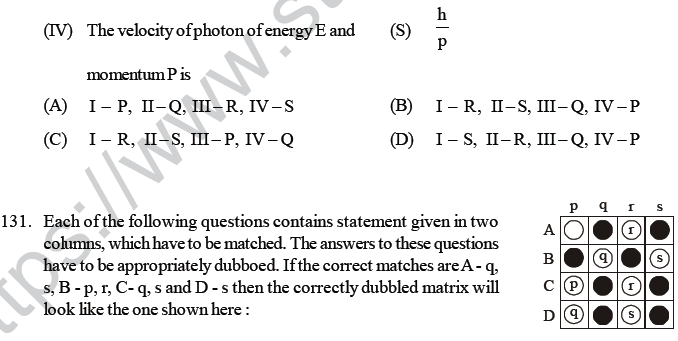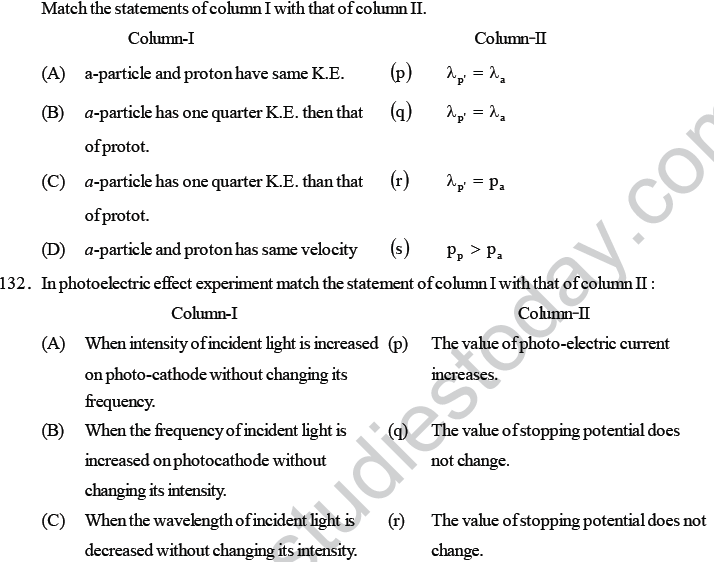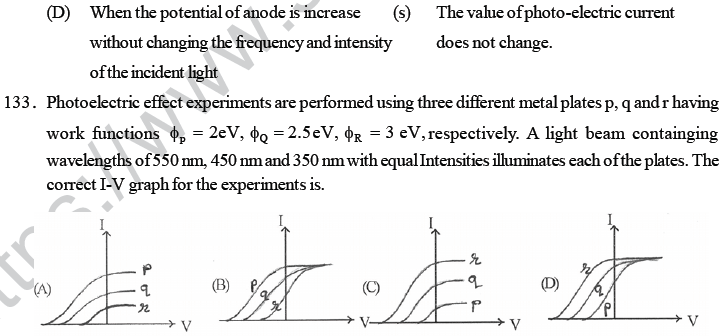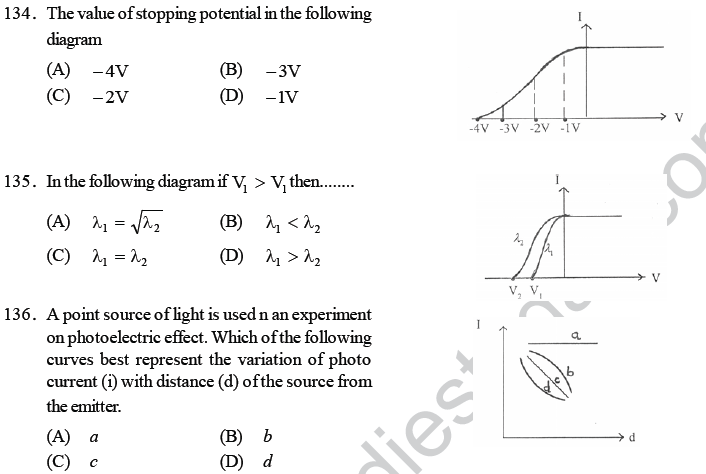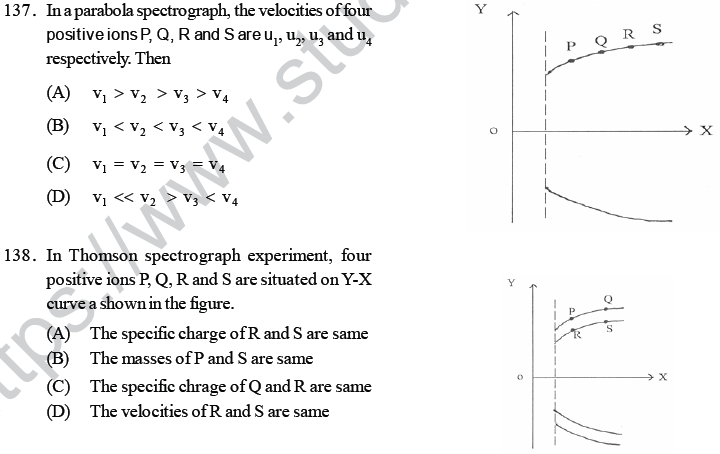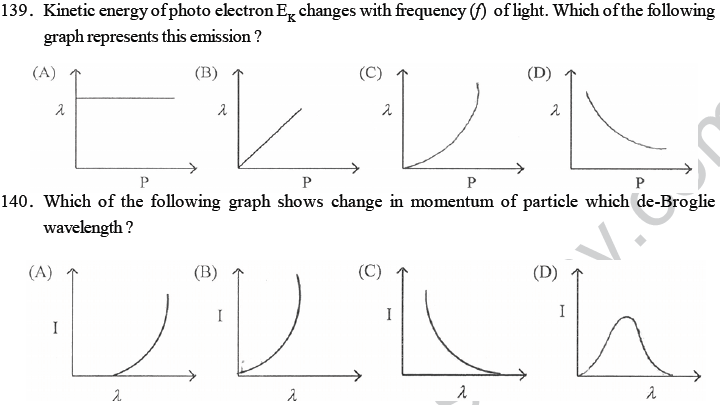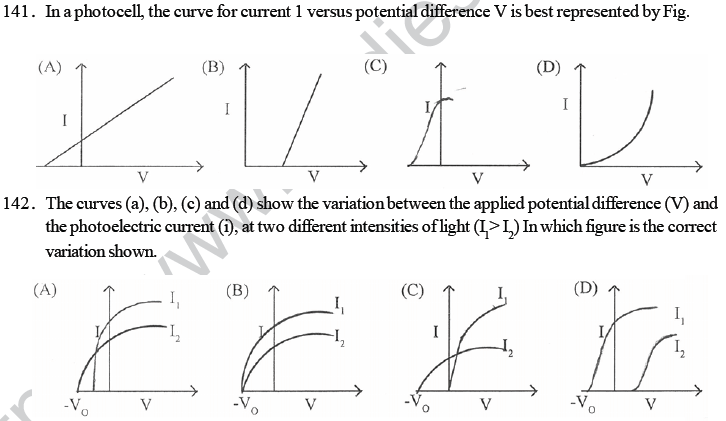 ANSWER KEY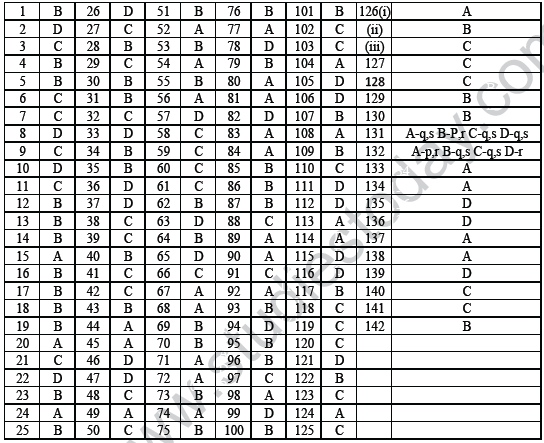 Click for more Physics Study Material
›