CBSE Class XII HOTs Biology - Reproductive Health questions database with answers (Please refer to other links for answers to HOTs questions) for Class 12 of CBSE exams for CBSE Students. Based on CBSE and NCERT guidelines. The students should practice these Question Papers to gain perfection which will help him to get more marks in CBSE examination. Please refer to more CBSE Class 12 question papers in other links.  
REPRODUCTIVE HEALTH
1MARK
1. A large number of couples are said to be infertile. The couples could be assisted to have children through certain special techniques. Name the techniques. 1
2. At what stage Zygote can be introduced in the fallopian tube in Zygote Intra Fallopian Transfer (Z.I.F.T)? 1
3. A woman's husband is infertile. So the lady has decided to have baby by taking sperms from sperm bank. Which technique will you suggest for her pregnancy? 1
4. A newly married couple does not want to produce children at least for one year and also not to use any contraceptives. Suggest a method to prevent pregnancy. 1
5. A doctor has been observed the chromosomal disorders in developing foetus and advised the couple to undergo abortion. suggest the technique by which doctor absorbed the chromosomal disorders. 1
6. What precautions a lady can take to prevent unwanted pregnancy? 1
i) Name the barrier
ii) Mention the composition of it. 
2 marks
1. During lactation chances of conception are almost zero. 1+1=2
(i) Give the reason
(ii) Give the term used to describe the phenomenon.
2. Following table gives certain terms associated with ARTS ½+½+½+½ Fill in the spaces a,b,c and d.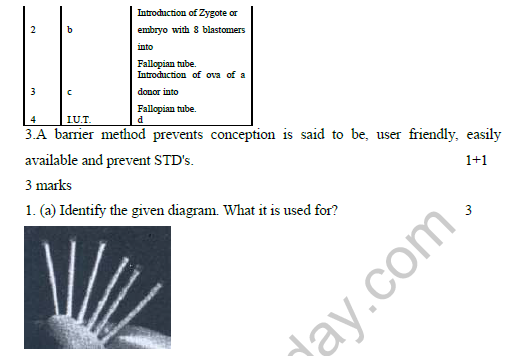 Reproductive Health
Answers
1 MARK
Ans1. Assisted reproductive technologies(ART) 1
Ans2. 8-celled stage 1
Ans3. Intra cytoplasmic sperm injection(ICSI) 1
Ans4.Periodic obstience or coitus interruptus
Ans5. Amniocentesis 1
Ans6. Pills (Progestogen-estrogen combination.)or Progestogen
2 MARKS
Ans1. a) Ovulation does not take place
          b) Lactational amenorrhea. 1+1
Ans2. a-In vitro fertilization and embryo transfer
          b-Z.I.F.T
          c- GIFT
          d-Intra uterine insemination
Ans3.a) Condom
         b) Latex/rubber
3MARKS
Ans1. Implants
Functions 1+1+1
i) They contain progestogens or progestogen. estrogen combination
ii) They inhibit ovulation and implantation of embryo to the uterine wall.
Click for more Biology Study Material
›