CBSE Class 9 Concepts for Probability. Learning the important concepts is very important for every student to get better marks in examinations. The concepts should be clear which will help in faster learning. The attached concepts made as per NCERT and CBSE pattern will help the student to understand the chapter and score better marks in the examinations.
Chapter 15
Probability
Chapter Notes
Top Definitions
1. Probability is a quantitative measure of certainty.
2. Any activity associated to certain outcome is called an experiment.
e.g. (i) tossing a coin (ii) throwing a dice (ii) selecting a card.
3. A trial is an action which will result in one and several outcomes.
4. An event for an experiment is the collection of some outcomes of the experiment. E.g (i) Getting a head on tossing a coin (ii) getting a face card when a card is drawn from a pack of 52 cards.
Top Concepts
1. Probability of an event lies between 0 and 1.
2. Probability can never be negative.
3. A pack of playing cards consist of 52 cards which are divided into 4 suits of 13 cards each. Each suit consists of one ace, one king, one queen, one jack and 9 other cards numbered from 2 to 10. Four suits named spades, hearts, diamonds and clubs.
4. King, queen and jack are face cards.
5. The two possible outcomes of tossing a coin are head and tail.
6. The sum of the probabilities of all elementary events of an experiment is 1.
Top Formulae
1. The empirical (experimental) probability of an event E denoted as P(E) is given by:
 P(E) =Number of trialin which the event happenend /TotalNumber of Outcomes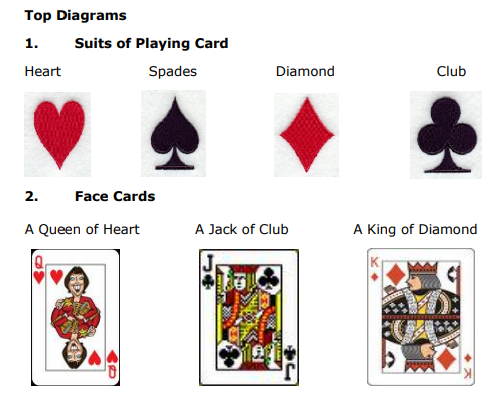 Please click the link below to download pdf file for CBSE Class 9 Concepts for Probability.
Click for more Probability Study Material
›